Having been dazzled by the amazing design inspiration on display at this year's Salone del Mobile, it only makes sense that we round up the very best from the extravaganza to give our readers a glimpse into this magical world. Having already shared with you the best kitchens, bathrooms and even dining room ideas from the event, today we shine the spotlight on living rooms. A fabulous living room is undoubtedly the most impressive room of the house and a setting that needs to please both the homeowner and guests as well.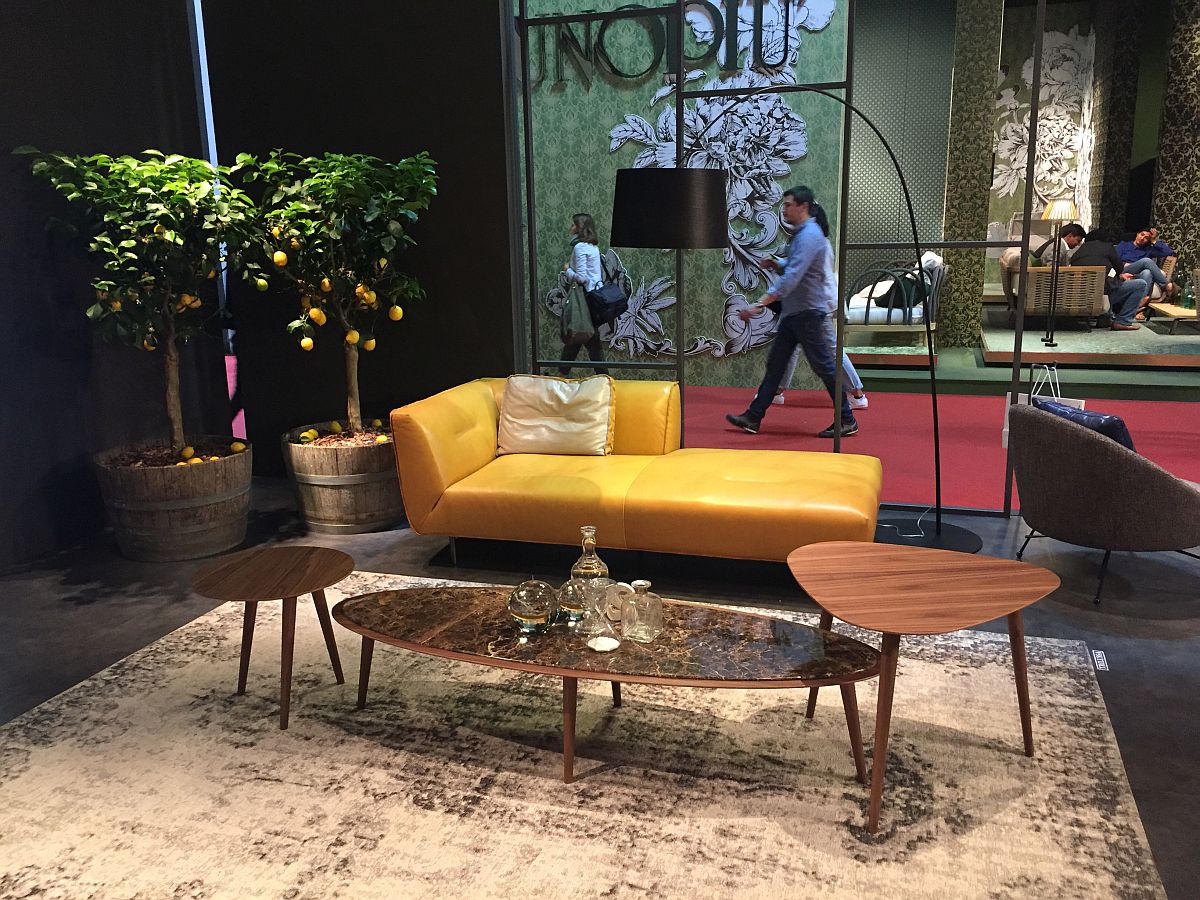 With that in mind, crafting a gorgeous living space means doing much more than filling it up with your favorite décor and the latest trends. The diverse and cutting-edge living room furniture from Milan 2016 will not only aid you in redecorating and revitalizing your home, but also should give you an idea of the direction in which the design industry is headed over the next 12 months. So without further ado, we unveil the 100 best living room ideas from Salone del Mobile 2016. Trust us, you don't want to miss this visual treat!
Best Sofas from Around the World!
The sofa is the central component of the living room – a starting point that defines its style, theme and even color scheme. While sofas in neutral hues from the likes of Alberta Salotti and Jori are as enticing as ever, there are also plenty of colorful options at this year's show, with luxurious sofas in bright red from Koinor and those in gentle purple from Gyform making a huge visual statement. The beautiful yellow sofas, sets and sectionals from MaxDivani are not far behind both in terms of comfort and class, as each of these delights promises to drape you in luxury and timeless Italian panache!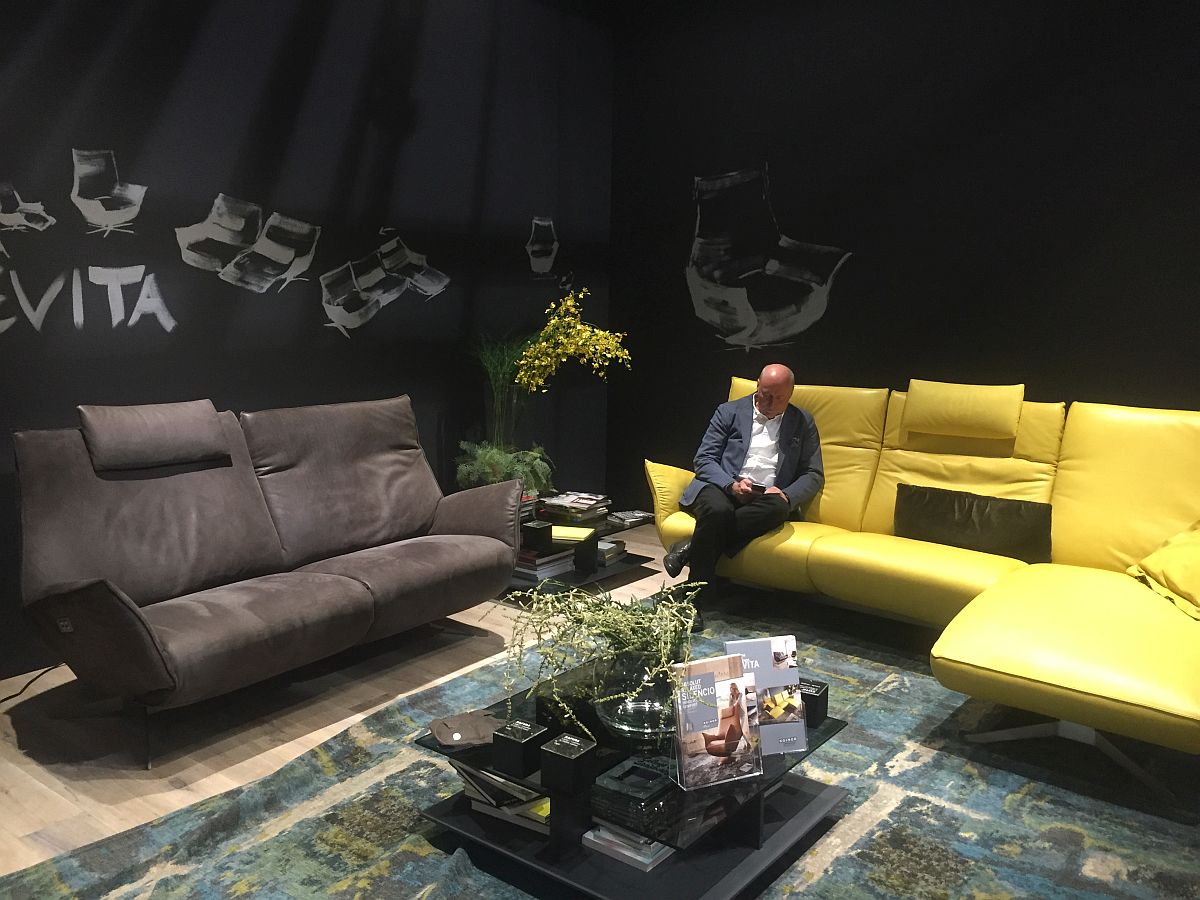 Another iconic piece at this year's Milan fair is the DS-373 sofa by Alfredo Häberli, which would easily fit into most contemporary and minimal spaces with absolute ease. With adjustable backrest and panels that turn it into a relaxing lounger, many of these amazing creations promise to make the TV viewing experience of your entire family a whole lot more comfy and pain-free.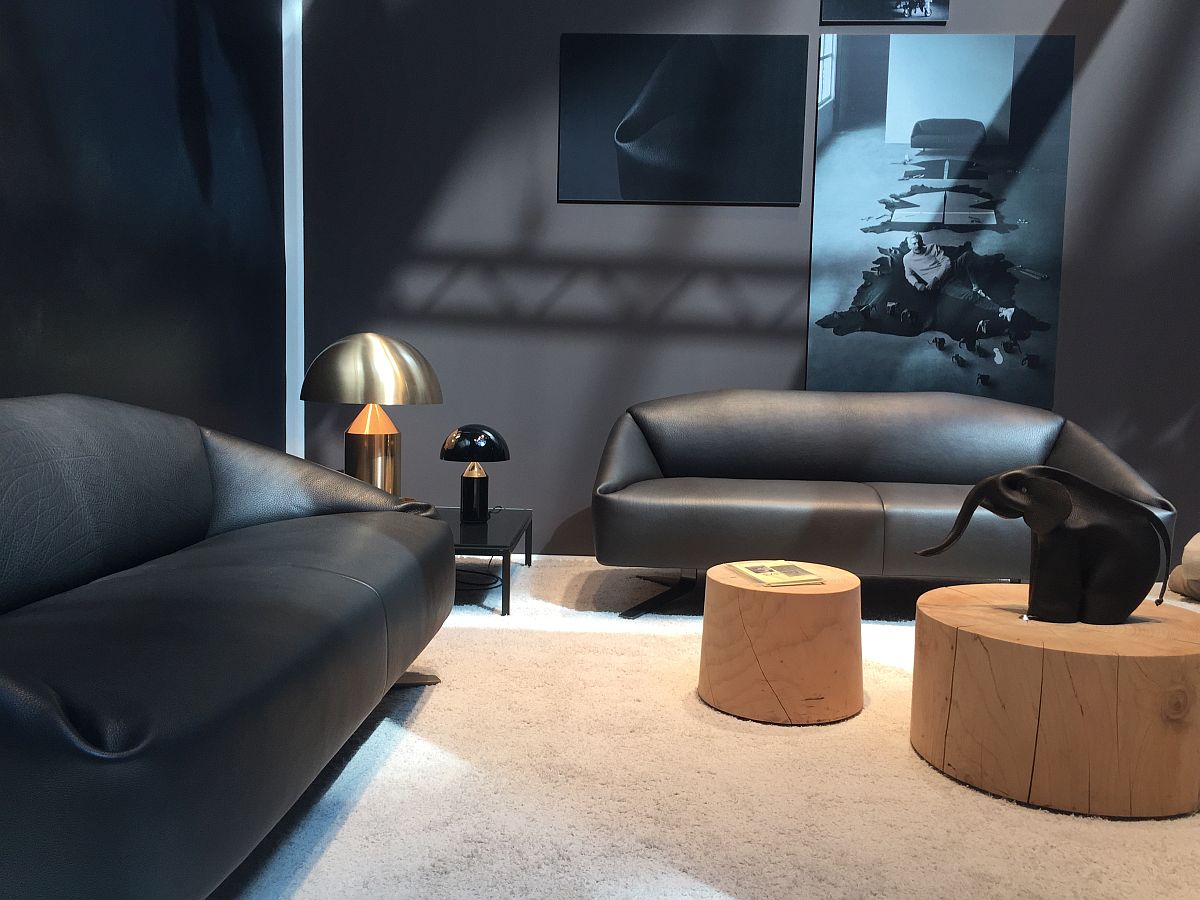 Stylish and Modular Sectionals
From relaxing and at times unassuming sofas, we move on to the bigger and bolder world of sectionals that floor you with both modular features and incredible adaptability. Topping the list here is undoubtedly the captivating DS-600 from de Sede, which combines smaller, modular units to create a large and almost seemingly endless sectional that curves its way into even the most awkward spaces. If you are looking for a showstopper that adds geometric contrast and turns heads, this is definitely the one to bring home.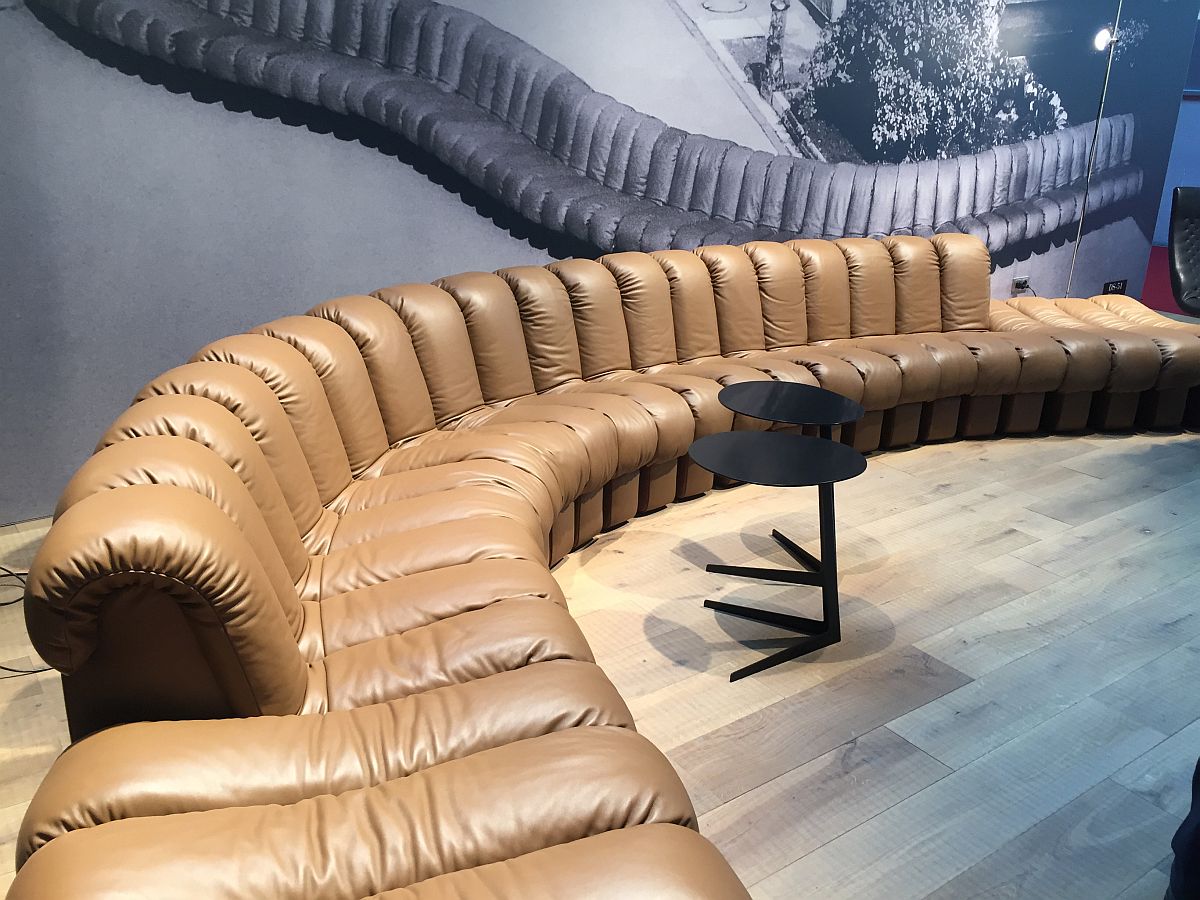 But that is not all as almost every living room décor maker has come out with an exquisite sectional or two at this year's Salone del Mobile and this list includes Leolux, Ditre Italy, Chateau d'Ax and JAB Anstoetz. As we alluded to earlier, it is modular ease that is at the top of the 'trends' list here while other brands like Royal Botania present dashing and luxurious options to shape an outdoor living zone that is as inspiring as the one indoors.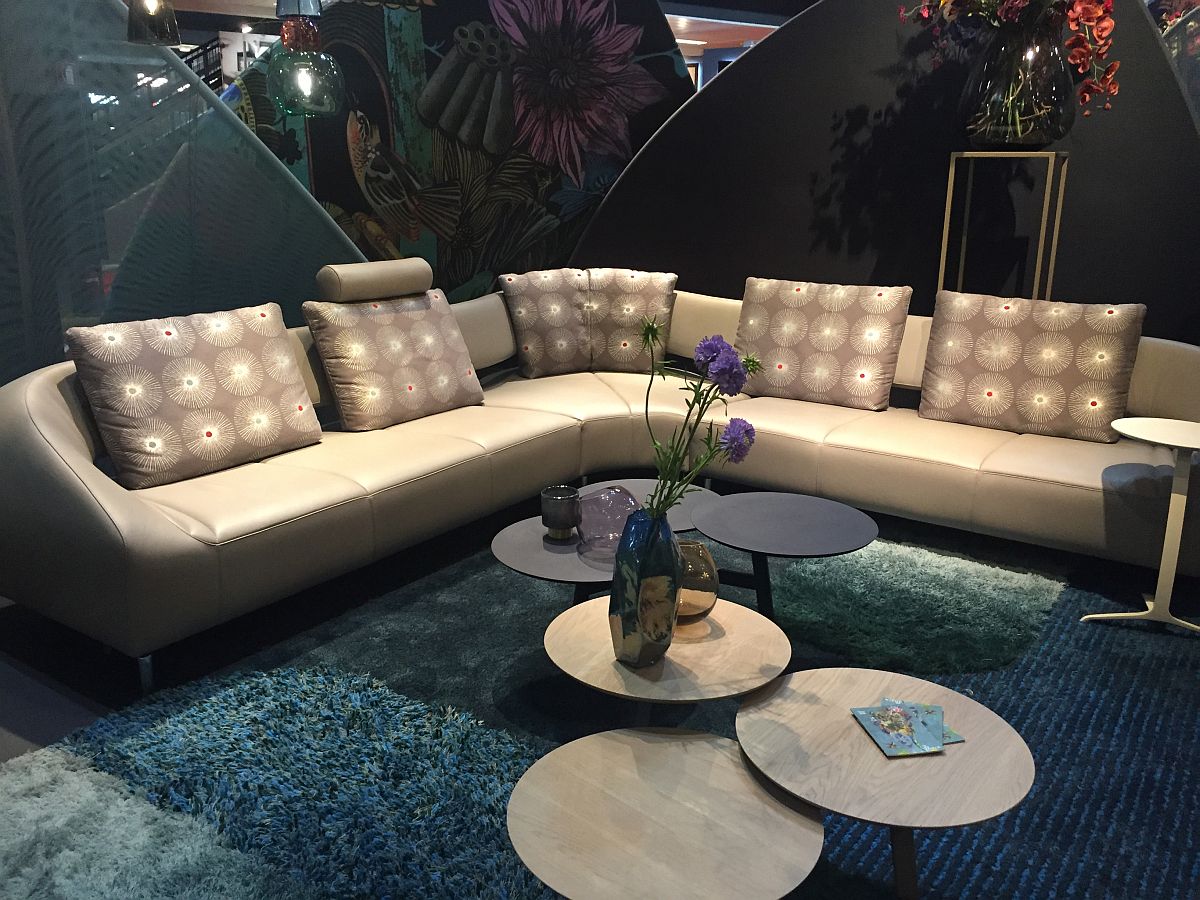 Rest in Comfort
Moving on from the central component of a great living room that is the couch, we explore the world of armchairs, recliners, ottomans and a whole lot more. The classic armchair with a midcentury vibe is definitely making a comeback, and the curvy pieces from Raiz epitomize this growing trend. Yet, it is not all midcentury, as the contemporary recliner inspired by those in the past greet us at the CASA International stand. It is the Italia Collection designed by Mauro Lipparini that steals the spotlight here, while the futuristic Ascot JR – 9380 chairs from Jori introduce you to the dashing design of tomorrow.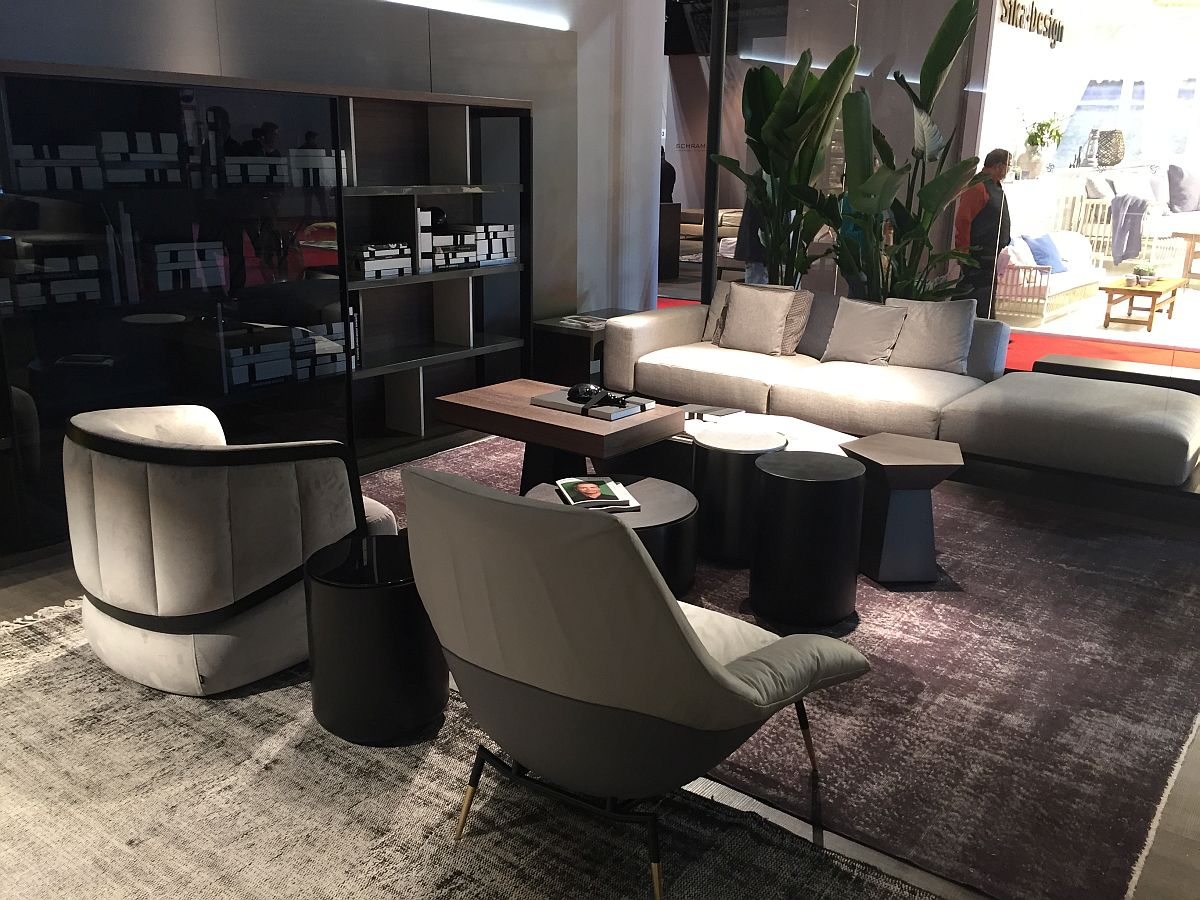 With La Forma, it is much more than the armchairs, as one sees a celebration of breezy lifestyle coupled with shabby chic and beach-inspired elements. A dash of red here and a hint of yellow there; when it comes to color, contrast and uniqueness, it is the wonderful array of chairs that fill these living room compositions with a whole lot of pep.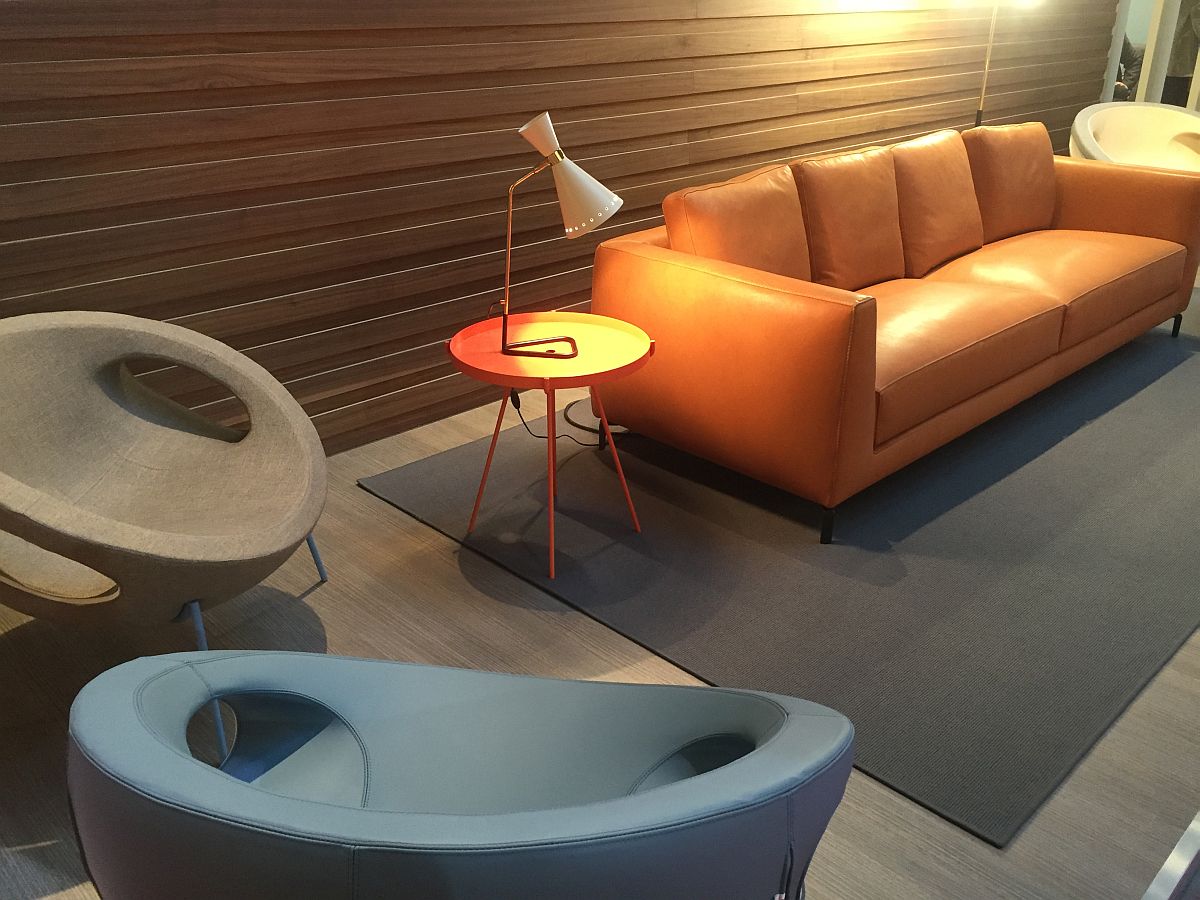 Coffee Tables and More
It is often the little details that make a big difference to the overall ambiance of the living space, and while the coffee table is not always 'little', it does have a striking impact. It is geo style and hexagonal shapes that seem to be the way forward with coffee tables, as Luísa Peixoto Design brings handmade elegance to this hot trend. Marble is another favorite with designers, and this love is clearly perceivable at this year's Milan show.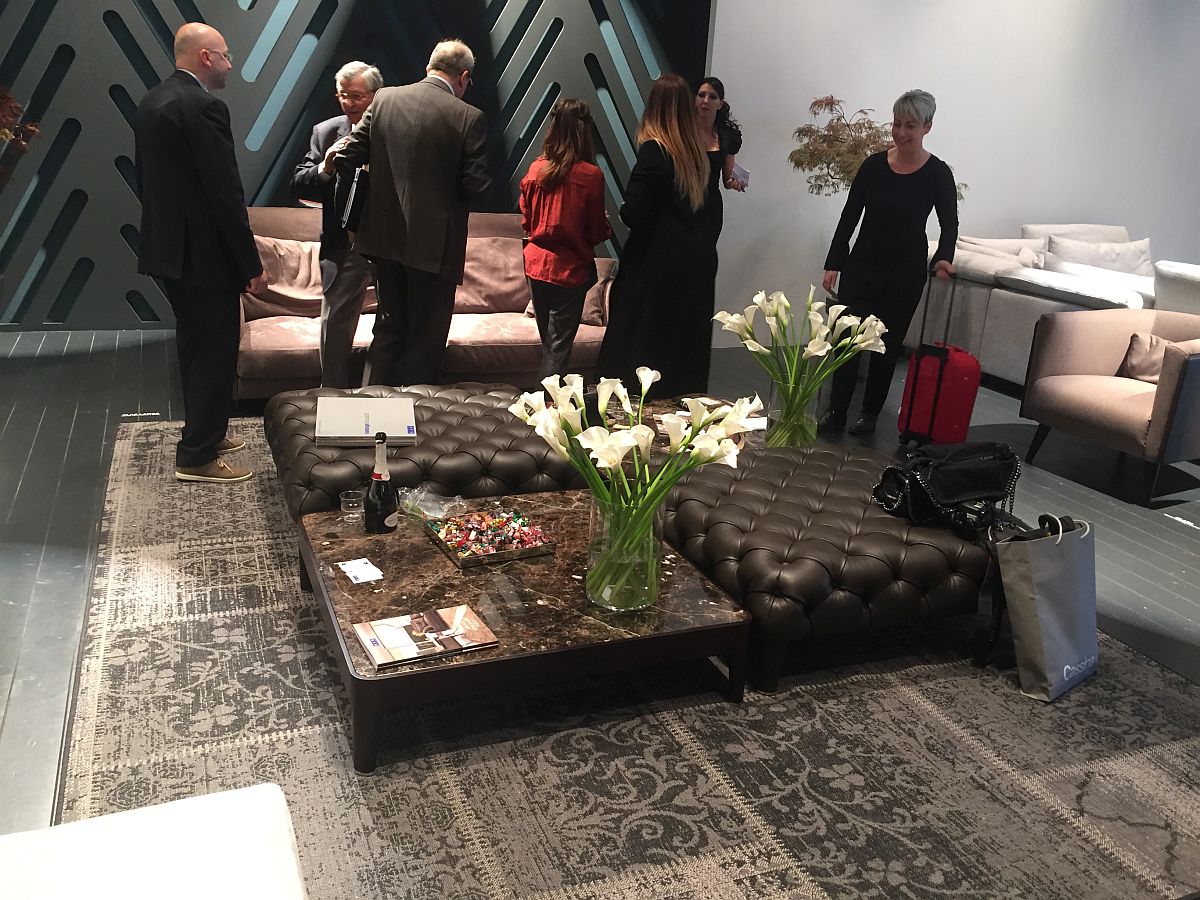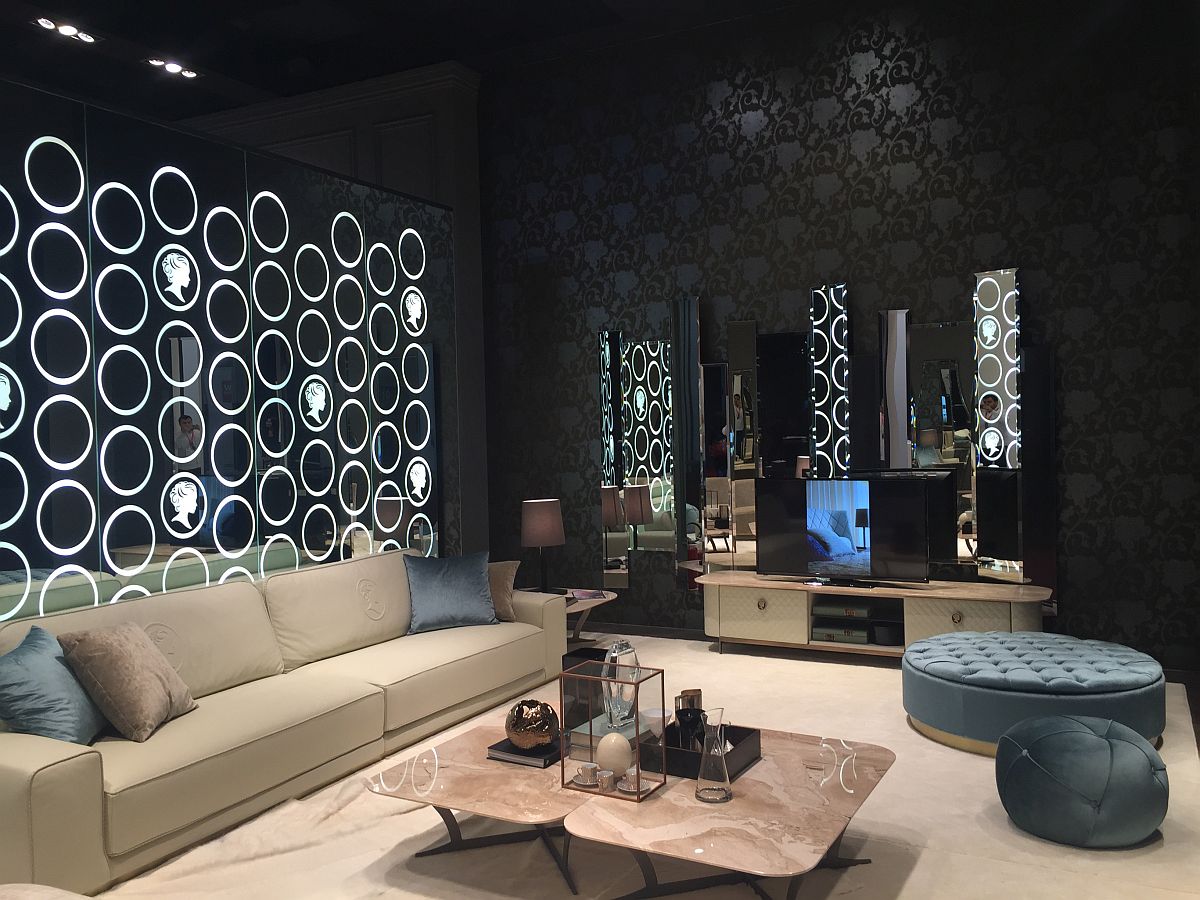 Not a fan of the marble-top coffee table? Maybe the plush tufted coffee table that doubles as an ottoman is the one for you! Be it the classic coffee tables from Bella Vista or the edgy masterpieces from Industria Edition and Walter Knoll, there is an endless array of astounding coffee tables to fall in love with at Salone del Mobile 2016.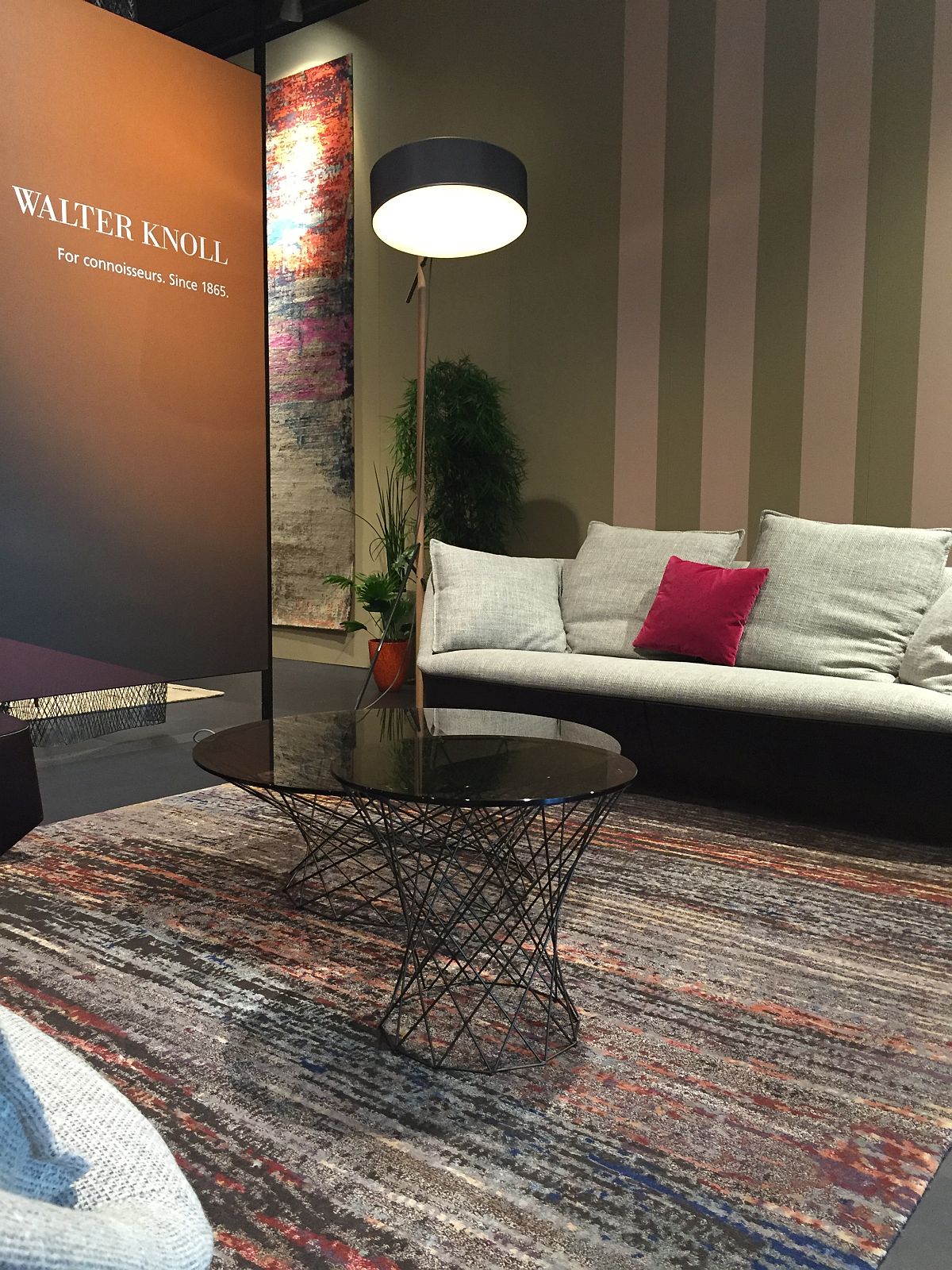 Dashing Displays and Wall Units
And now for the final piece of the jigsaw that completes your dream living room – modular storage units and shelves that grow along with your needs. Mobilgam and Hartmann demonstrate how even the tiniest living space can benefit from wall-mounted cabinets and shelves that not only add functionality but also enhance the aesthetics of the room with their unique finishes. Line Gianser is another décor maker that taps into the beauty of sleek living room entertainment units and wall-mounted floating shelves that address all your storage and display needs.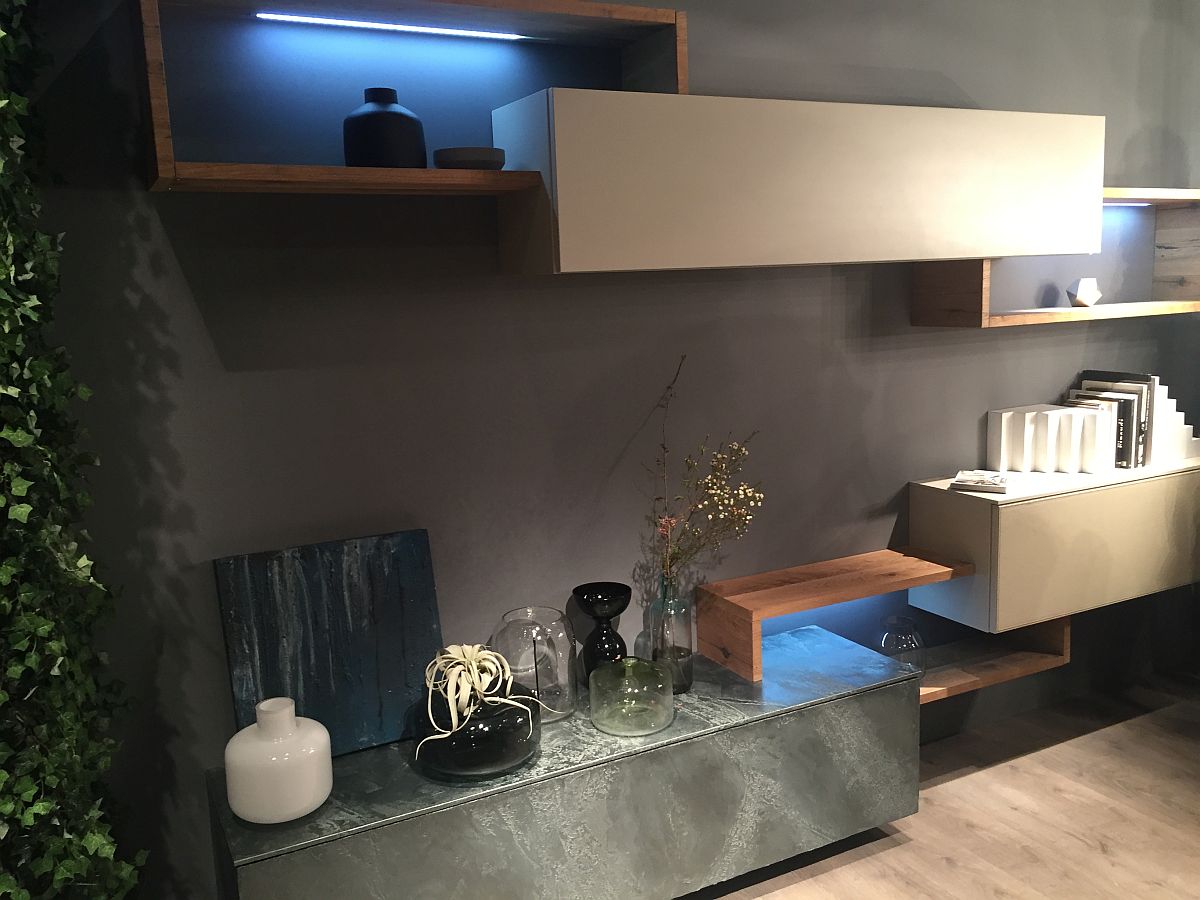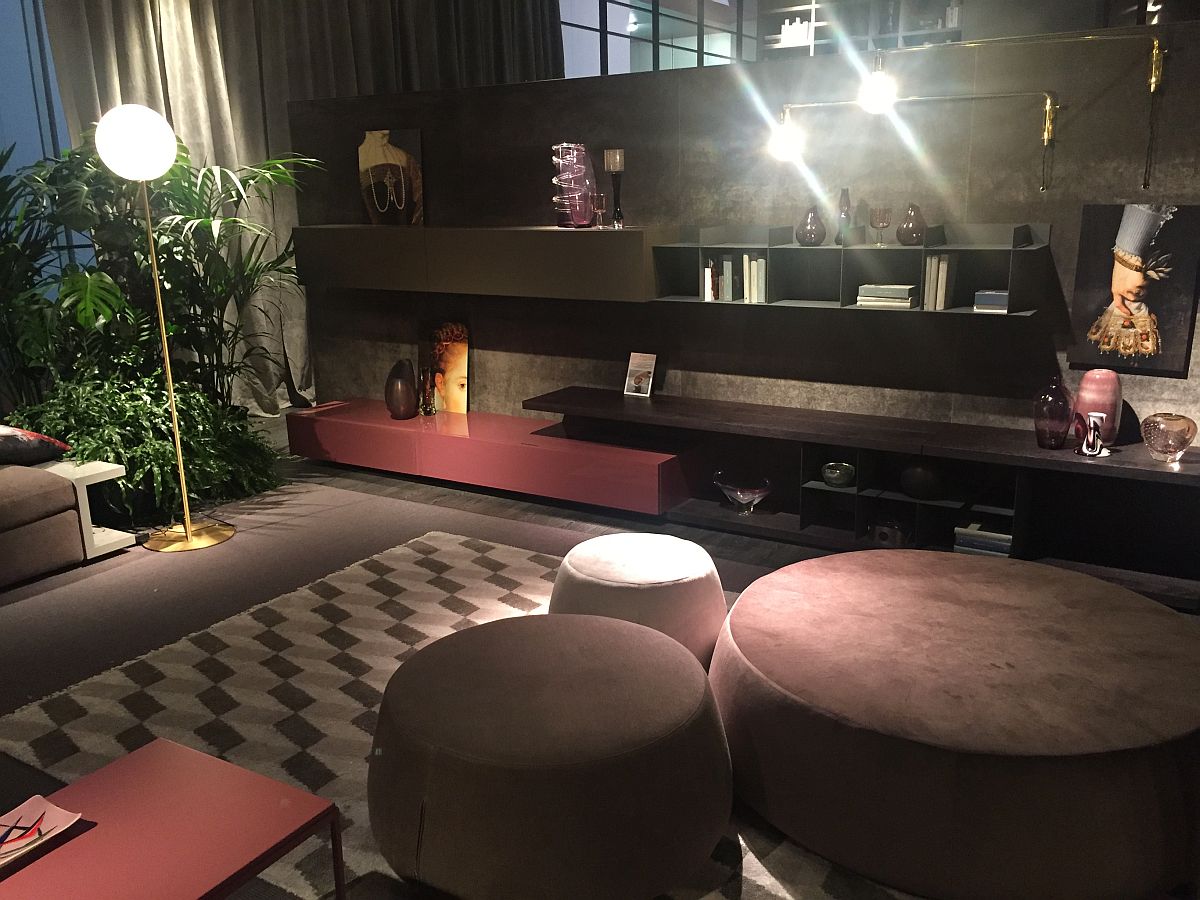 Large open bookshelves might seem like an addition best suited for the home library, but with open plan living spaces, they act as smart dividers that delineate space visually without ever seeming rigid. And if you are not really a booklover, you can always fill up these shelves with lovely vases and decorative pieces to dazzle your guests!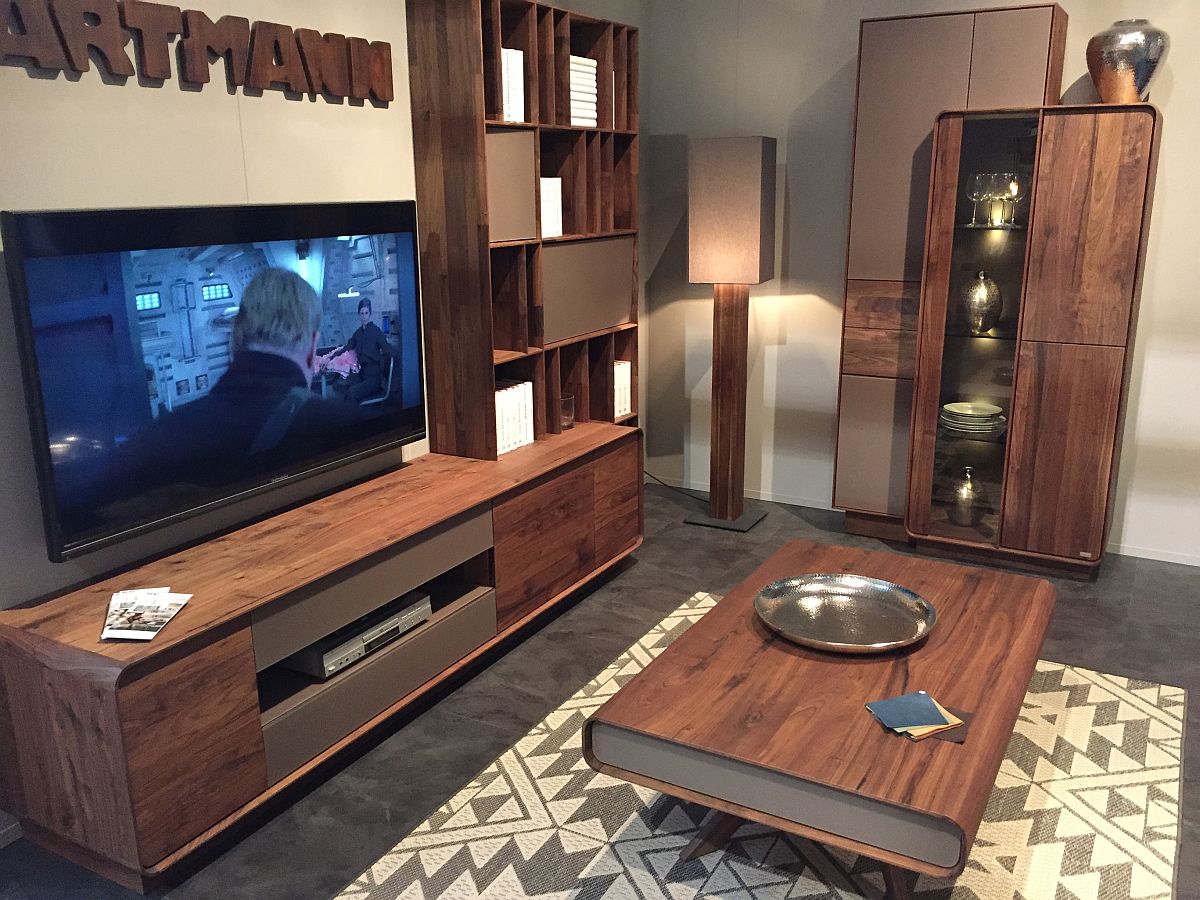 You're reading 100 Awesome Living Room Ideas from Salone del Mobile 2016, originally posted on Decoist. If you enjoyed this post, be sure to follow Decoist on Twitter, Facebook and Pinterest.