The magnitude of an event like Salone del Mobile is so large that we can draw inspiration from it even months after the busy week in Milan drawing to a close. In fact, those few days in Milan are so frantically fun that it probably is best to give yourself some time to sit back, flip through the best images from the event and appreciate the very best that interior design's biggest fair has to offer. And thanks to our live coverage of the event this year, we have plenty to browse through, and we offer you the very best of Salone del Mobile 2016.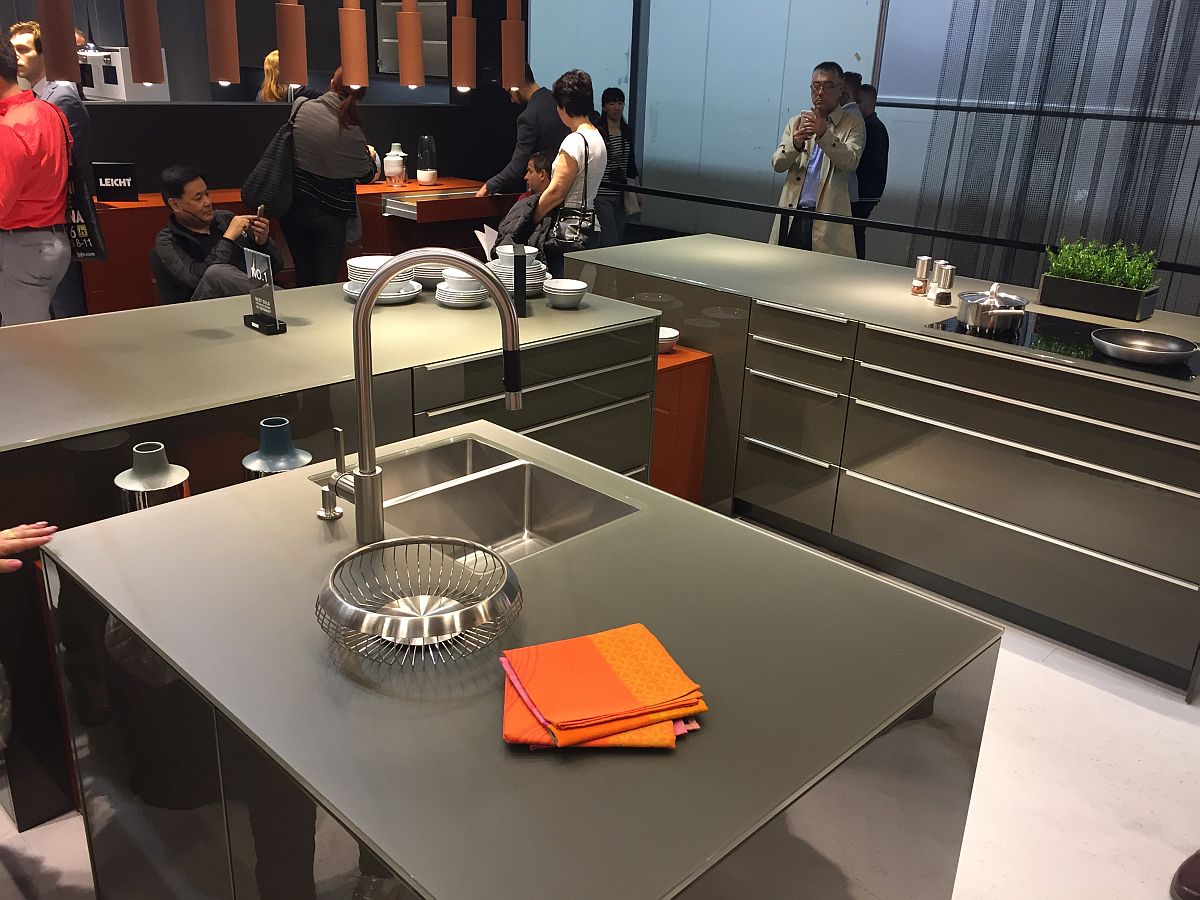 While we already showcased the 60 best bathrooms from the Salone Internazionale del Bagno a few days ago, today we turn our attention toward the 50 best kitchen décor ideas from EuroCucina 2016. A blend of the best current trends, future kitchen technology and innovative design that explores the edge of possibilities, these fabulous kitchens should inspire you to get started on the kitchen renovation you have been avoiding since forever!
1. An Island that Does It All!
Increasingly, the versatile central island is becoming the most important part of the modern kitchen, with everything from sliding drawers, cabinets and open shelves to breakfast nooks and extended dining tables being offered by these adaptable giants. It is barely a surprise then that EuroCucina 2016 is filled with an amazing array of kitchen islands that come in a wide variety of sizes, styles and finishes. The only thing that surprised us was the lack of more oval, semi-circular or even round kitchen islands on display here, as top kitchen makers like Leicht and Snaidero went for the tried and tested formula.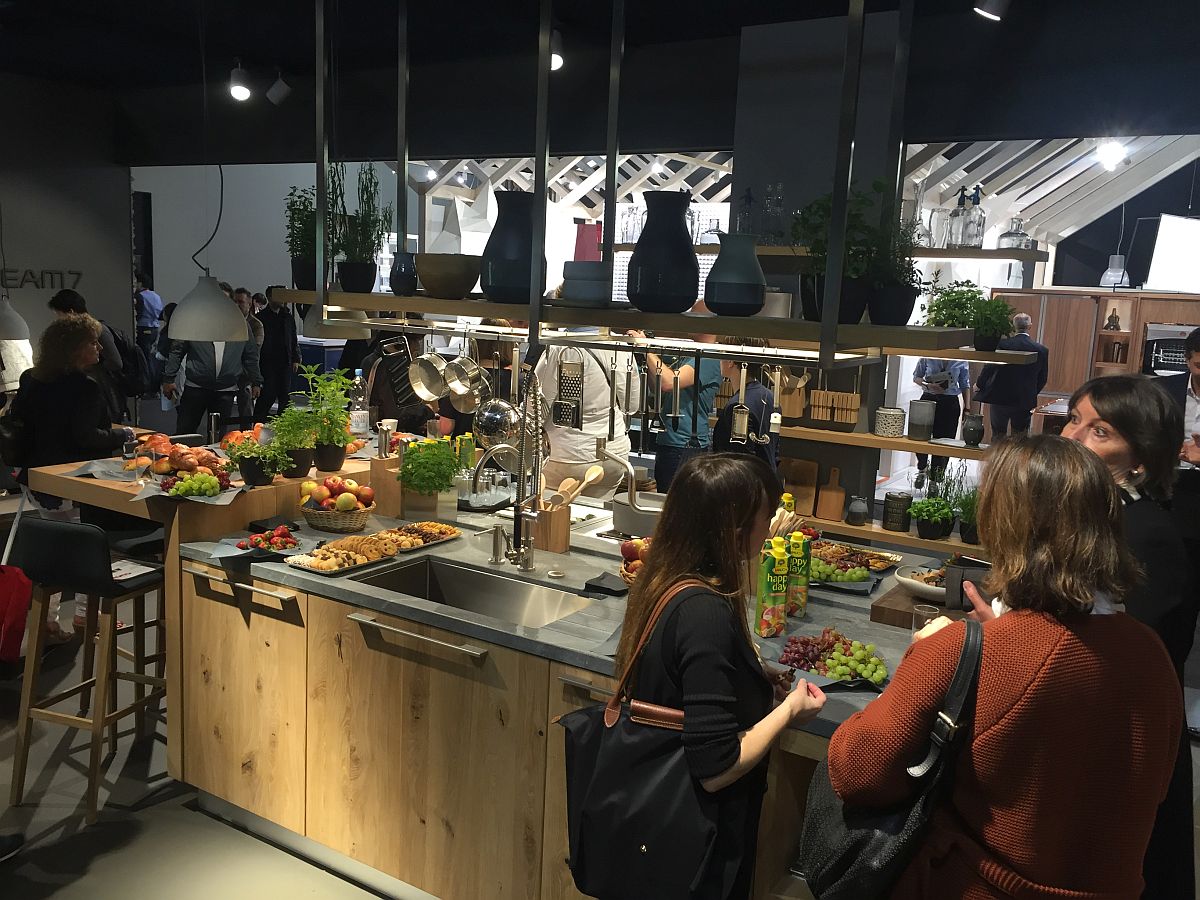 One trend that you do notice with these designs is the increasing presence of open shelves that turn the island into an aesthetic delight. Also, breakfast zones and serving stations are far more common than ever before, with kitchens from Team 7 making the social kitchen design even more family-friendly with organic and non-toxic finishes. Every indication here is to embrace the new kitchen as a part of the larger, inviting living area.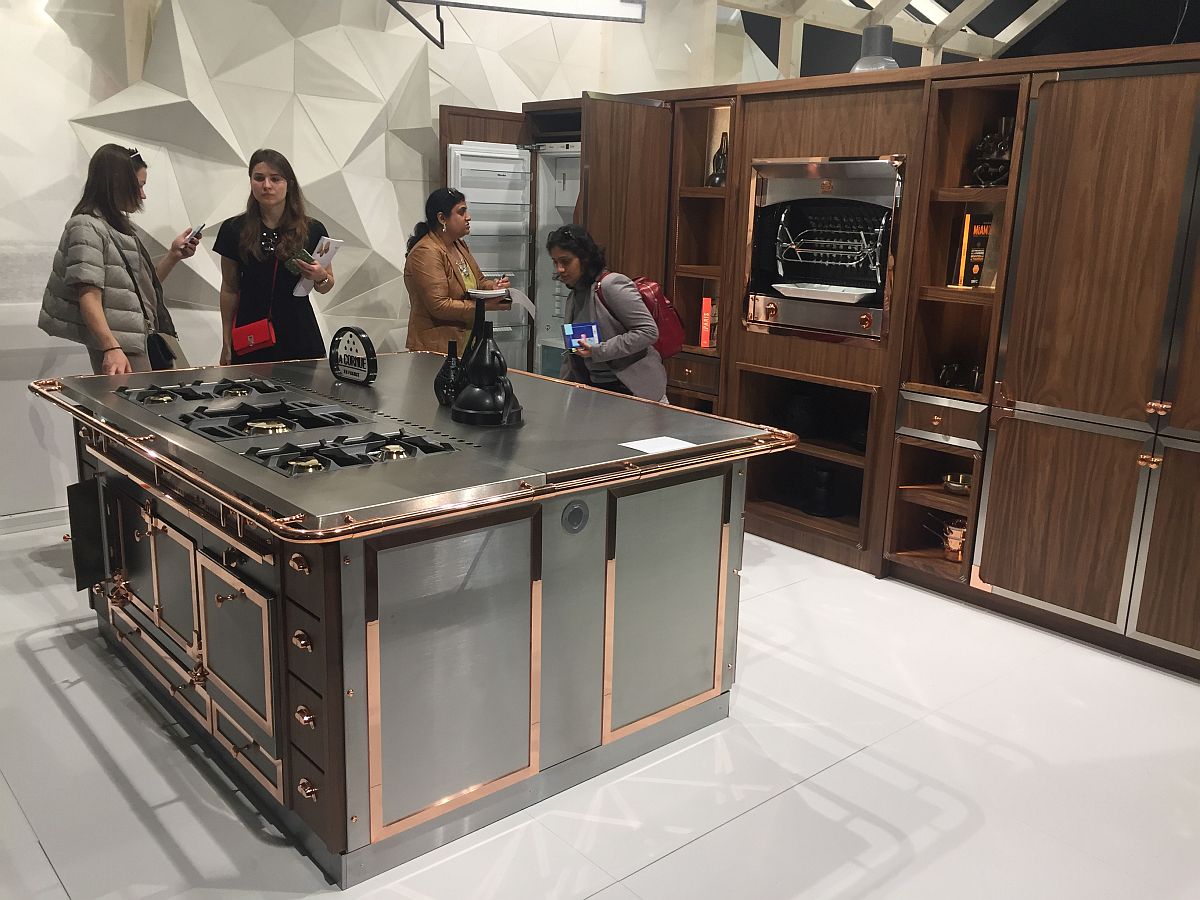 2. Magic of Marble and Stone
If you are fond of all things marble and stone, then you will absolutely adore the kitchens in this section! Moving away from the more common Corian kitchen countertops, stone has once again been reinvented and revitalized to fit in with the needs of a fast-paced and ergonomic urban lifestyle. Polished black granite and marble are ever present in the kitchen and refuse to go away, while Strasser has taken a love for stone to a whole new level with their cutting-edge, all-stone kitchen islands. Kitchens from DaFre and Valdesign are less stone-centric but seem equally stunning, while Arclinea delights you with its engaging kitchen countertops.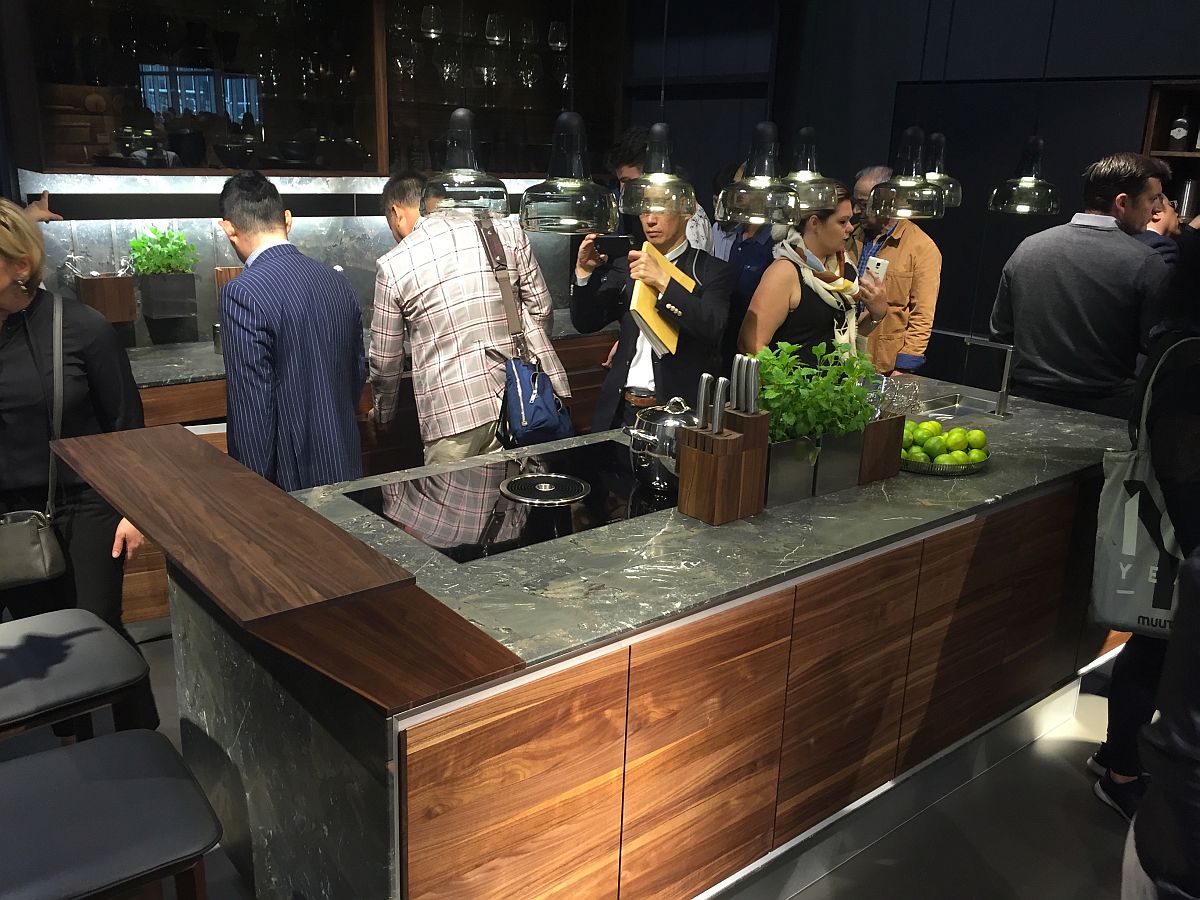 We were left marveling at how a material that has often been perceived as being unfit for modern kitchens has been turned into a sensational and stylish alternative for those who love minimal kitchens with a difference. If you love stone kitchen countertops, the next few months and seasons will surely not disappoint!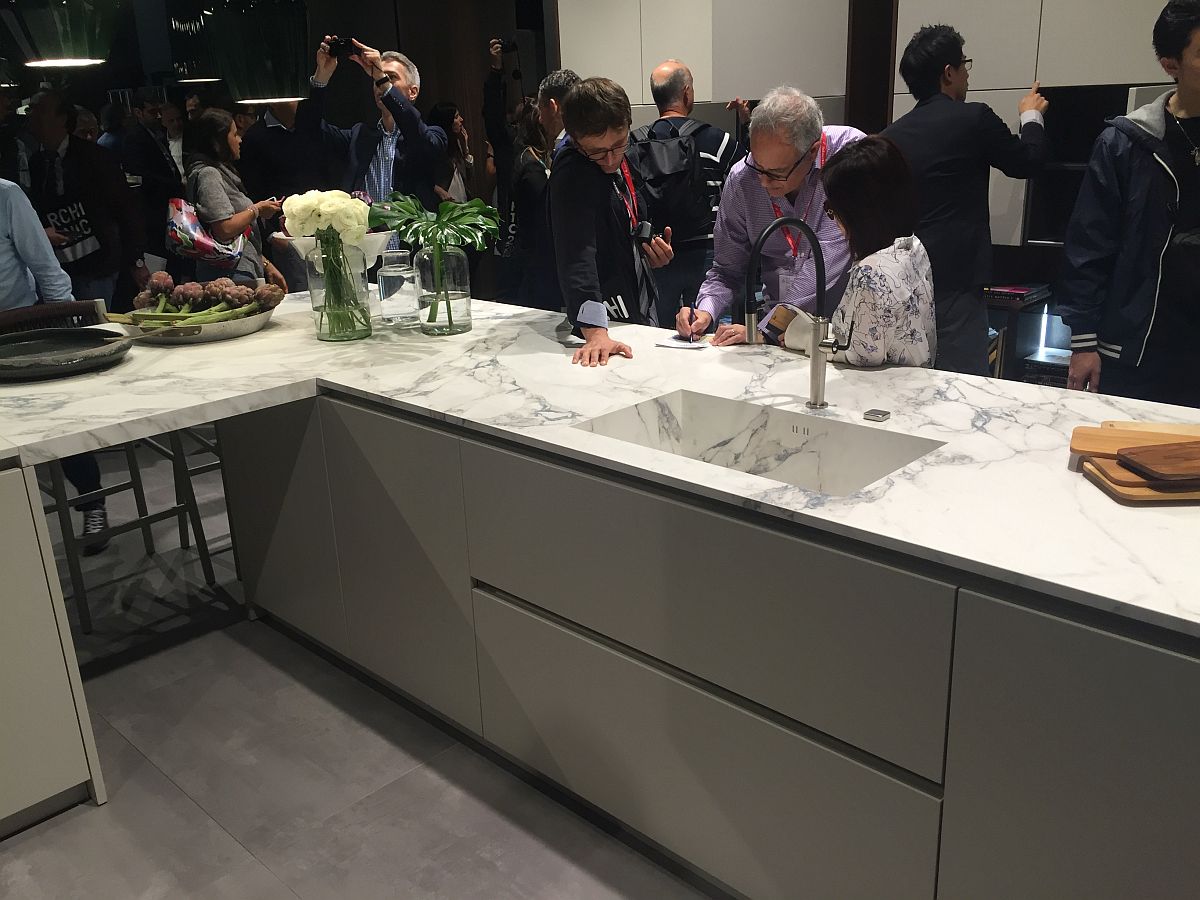 3. Organic Wooden Tones
It is wonderful to see the great diversity of not just design, but also the materials used by different world-class kitchen makers at Milan 2016. Take for instance ILVE kitchens, who turned stainless steel into the undoubted star of their show with their metallic kitchens. We already alluded to the popularity of granite, marble and other new-age stones that bring along with them a range of both practical and health benefits. But tucked away elegantly in between all this is a whole lot of wood, and with nature-centric, eco-friendly and inviting kitchens becoming the 'hot trend', this is barely a surprise.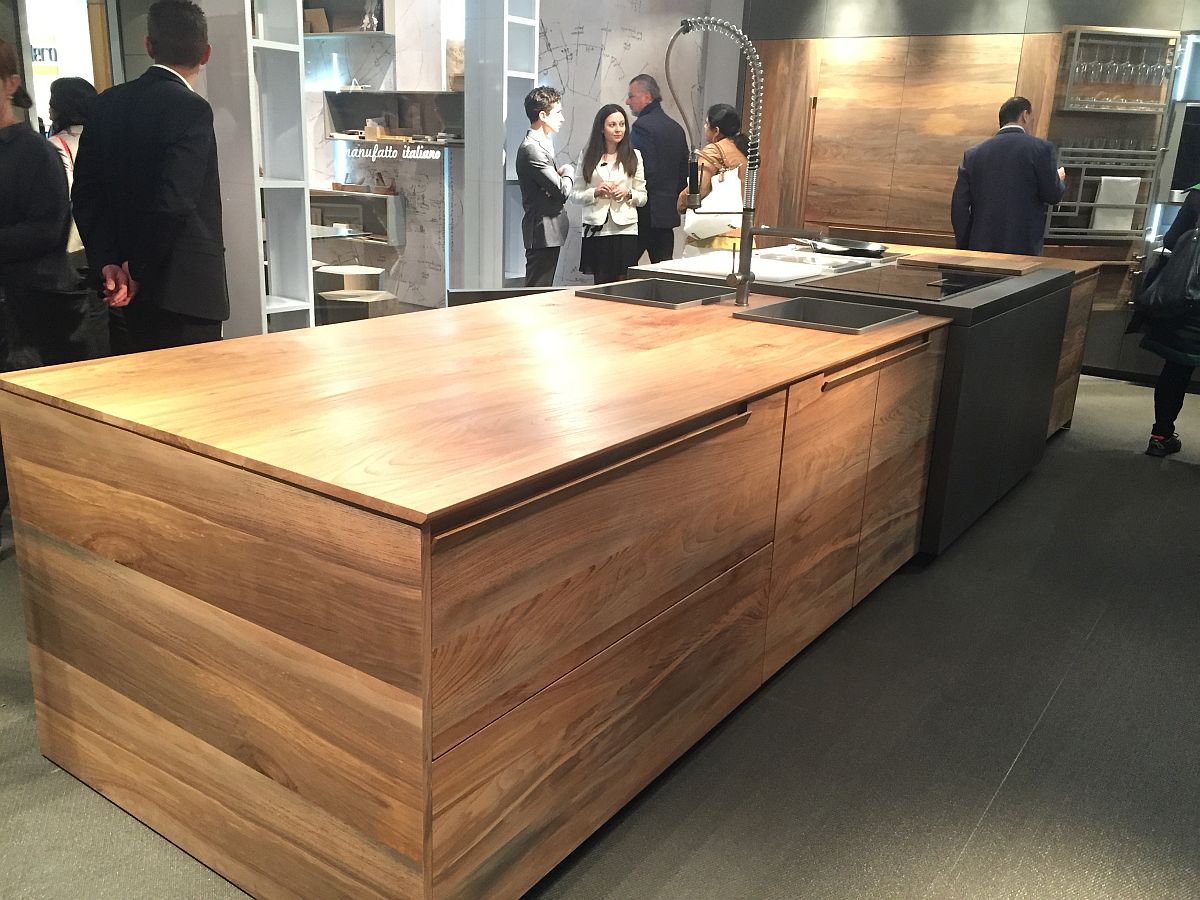 While kitchens from iconic Snaidero used wood to craft the cabinets in the backdrop, those from Dica turned to wood to usher in a hint of 'Japanese vibe' that enlivens their minimal kitchens. Ernestomeda went in a different direction with rustic-modern beauty and wooden surfaces that add a whole lot of textural uniqueness and character to the kitchens they adorn.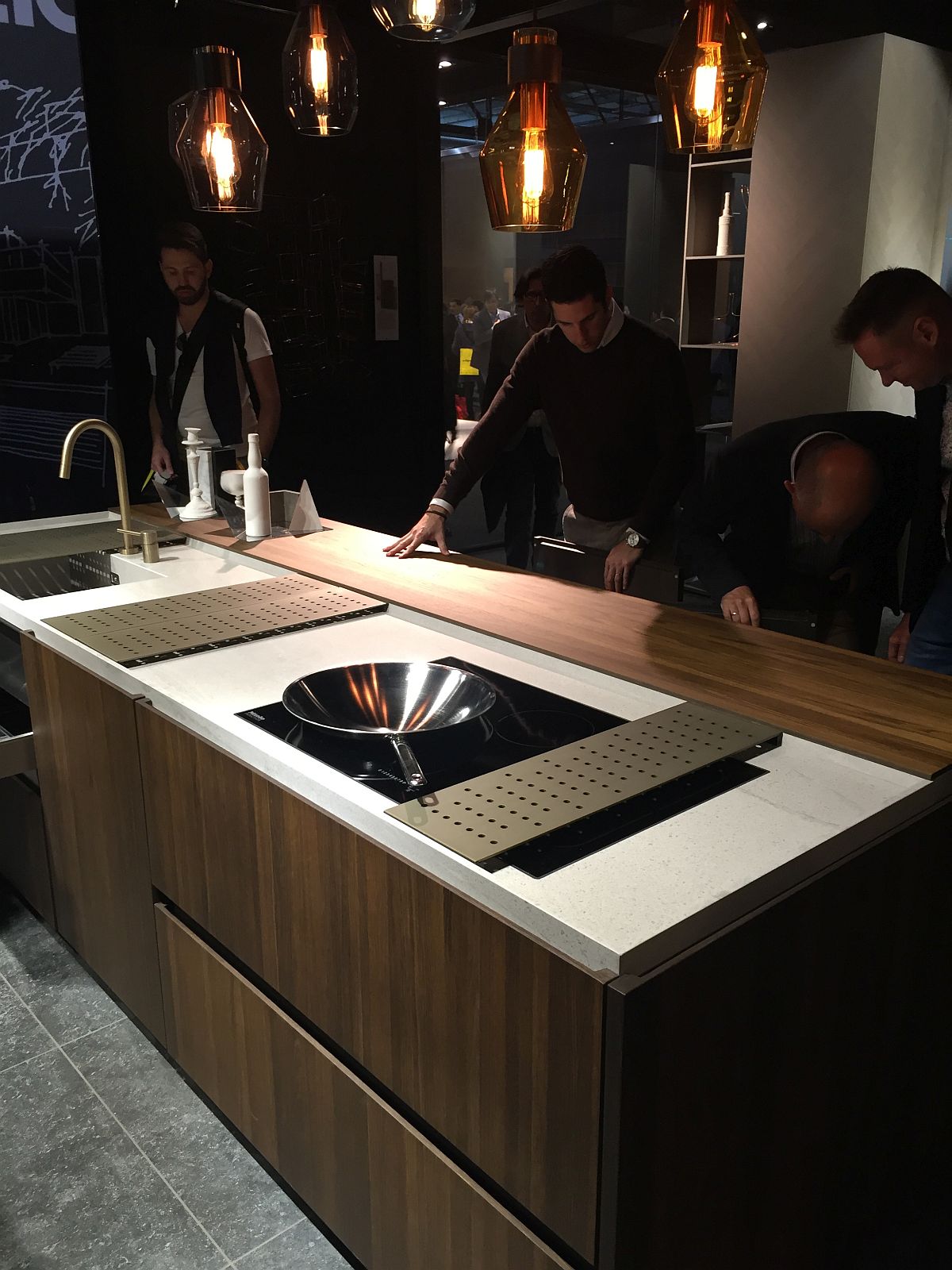 4. Adding Color and Pattern
Kitchen inspiration from EuroCucina 2016 need not be all serious business! There is plenty of room for color and creativity here, with some of the kitchens on display offering a look at unique backsplashes and custom kitchen ranges that add color, style and a whole lot more. There is probably no design afficiando around who is not familiar with the name La Cornue, and their new kitchen range at Milan 2016 continued the bespoke legacy of this regal brand with colorful extravagance and custom solutions. Estel Group went down a different path as we were introduced to a vivacious office kitchen space, even as Maistri fused dark sophistication with beautiful pattern.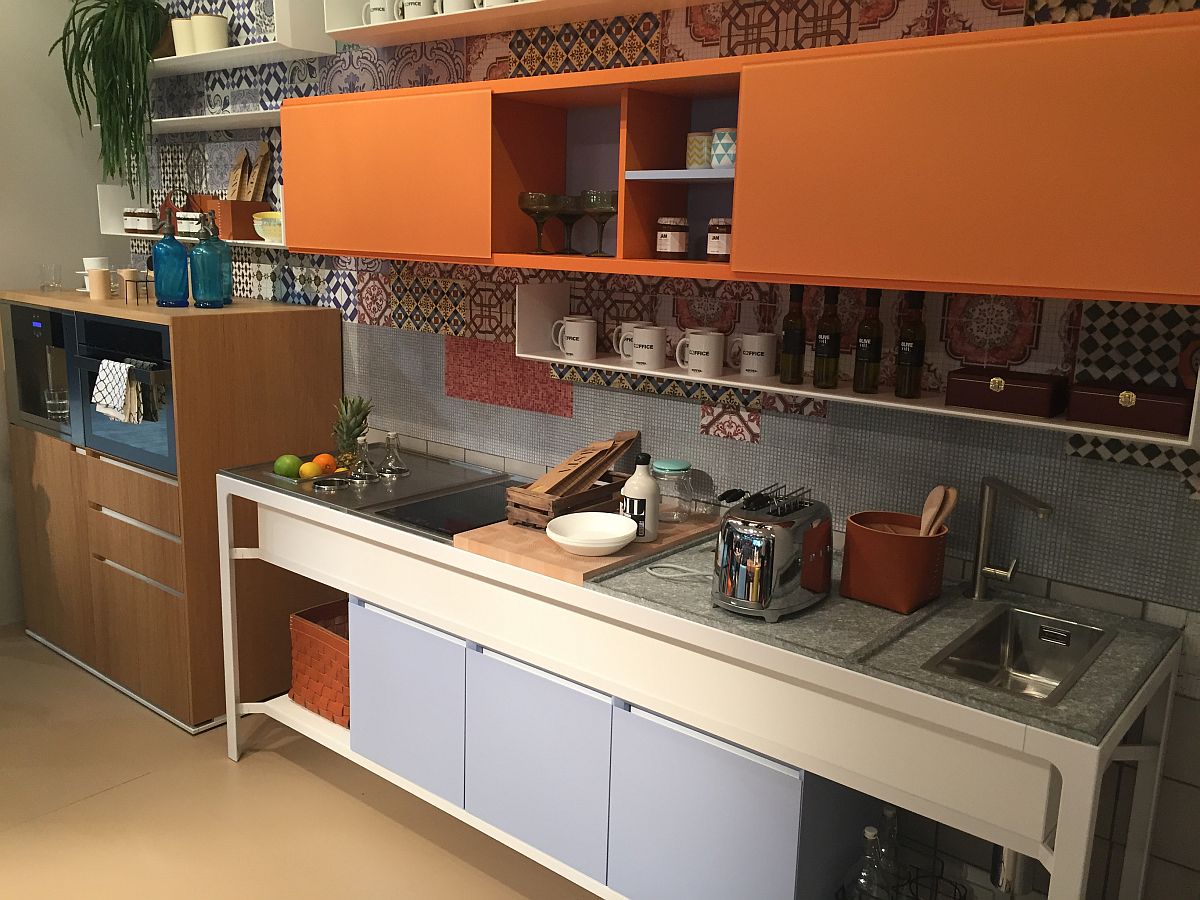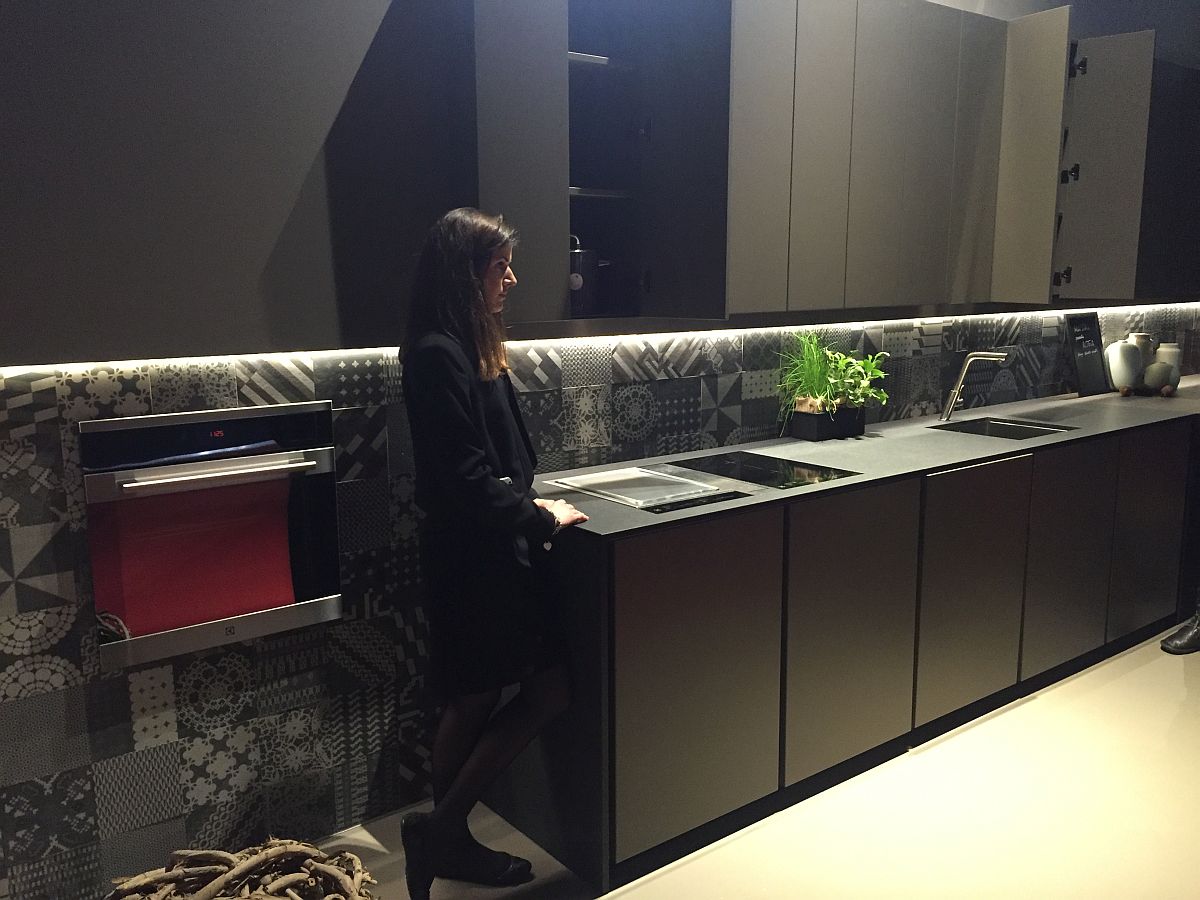 5. Space-Savvy Kitchen Solutions
Moving on from form to functionality, we take a look at the best kitchen décor ideas that save up on space, provide delightful kitchen storage solutions and bring a completely new dimension to kitchen design. We have to start off with the Toncelli kitchen island here that not only unravels a fabulous section of drawers and cabinets that lets you tick away pretty much everything, but is also made from fossilized wood! Polaris is another kitchen maker that turned its focus towards space-conscious shelving, corner units and smart countertops, while Comprex and Pedini offer similar nifty solutions.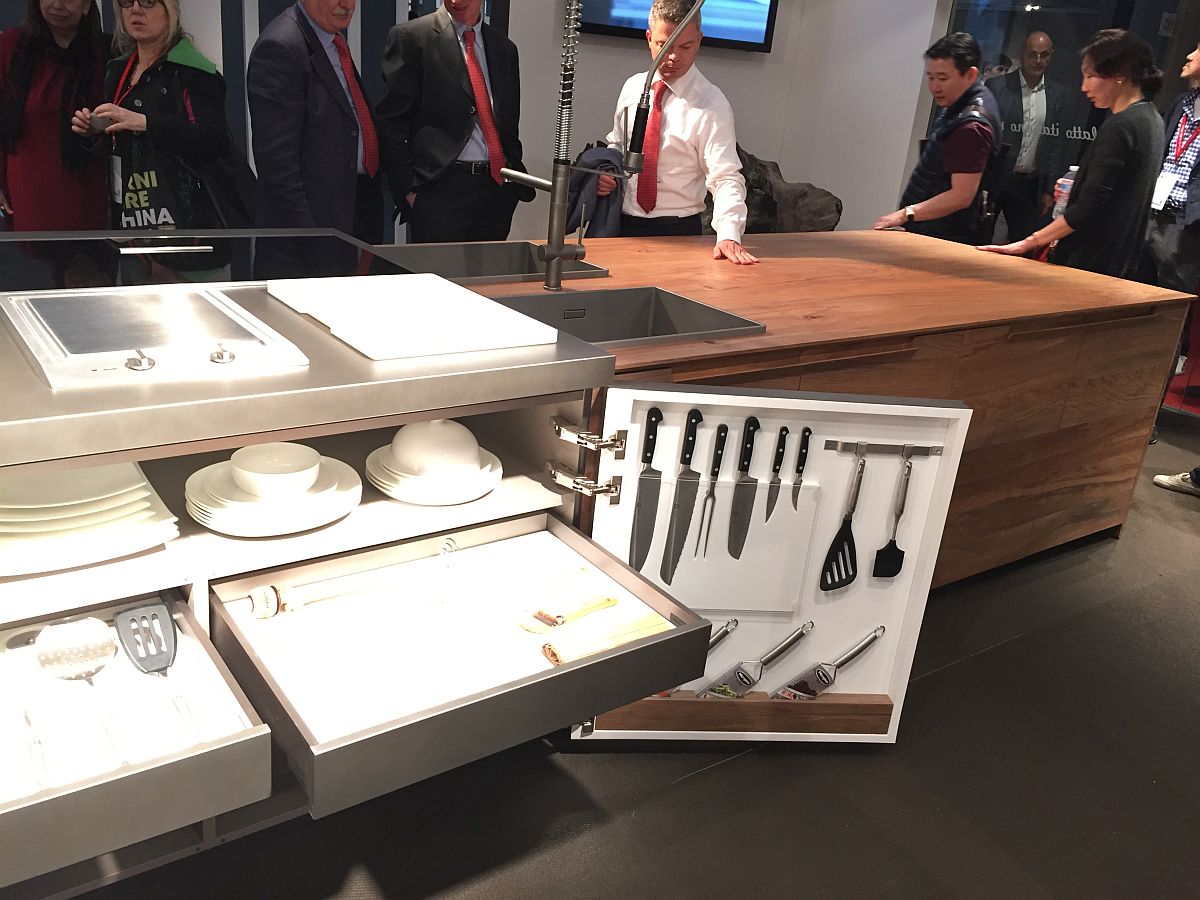 The kitchens at EuroCucina 2016 inspire you in more ways than one. They not only give you a preview of the direction in which 'kitchen design' is headed as we move into the second half of 2016 and early 2017, but also inspire you to tweak those little details and alter shelving style, lighting or even countertops in your own kitchen to give it a quick, trendy overhaul.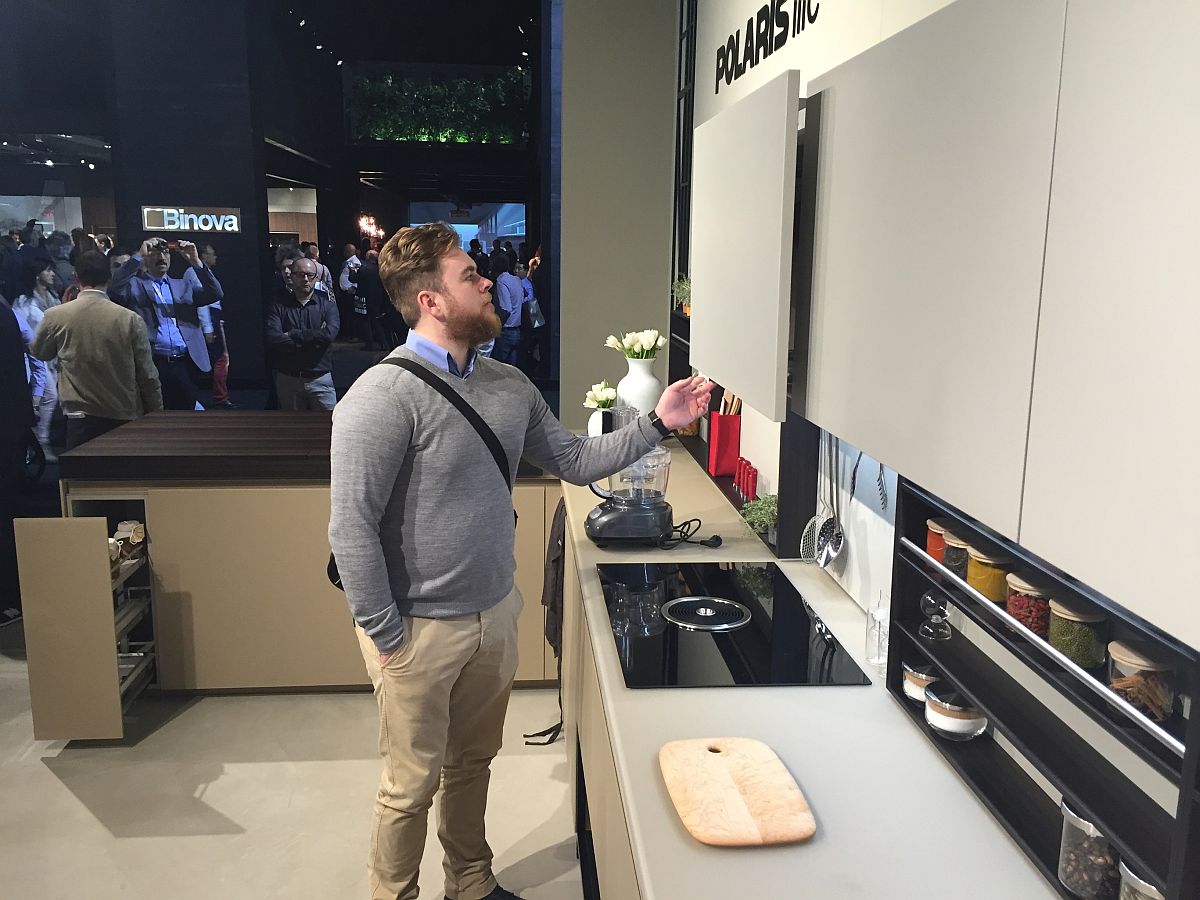 So, which of these Milan 2016 delights is your favorite? Maybe there is more than one!
You're reading 50 Fabulous Kitchen Décor Ideas Unveiled at Salone del Mobile 2016, originally posted on Decoist. If you enjoyed this post, be sure to follow Decoist on Twitter, Facebook and Pinterest.