Planning for the perfect kitchen is an exercise that often involves maximizing space without compromising on form. It is a delicate balance between the two that really brings to life your dream kitchen. A pantry plays a huge role in it all. Whether you cook ever so rarely or love to regularly serve up sumptuous meals for your family and friends, there is always a pantry out there that perfectly serves your needs. And unsurprisingly, it is often shelf space, lighting, storage room and placement of the pantry that we tend to focus on. But even the most space-savvy pantries need to be aesthetic as well!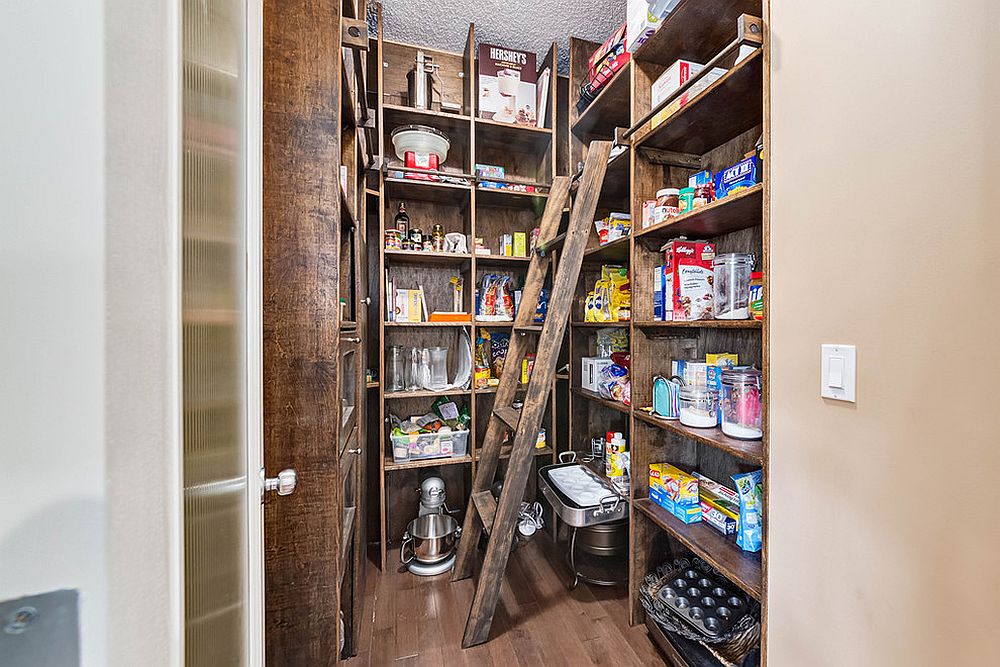 In the modern kitchen, the pantry can be used to usher in both visual and textural contrast. With contemporary kitchens becoming an extension of the living area, a small pantry that offers something unique and different does make a striking impact. Today, we flip through 10 such stylishly inimitable pantry ideas which rely on everything ranging from brick and wood to glass and chalkboard in an attempt to freshen up your kitchen ambiance. Delve in –
Chalkboard Doors for Pantry
Bored with the simple and the mundane? Chalkboard doors for the pantry surely help in moving away from the usual and deliver a striking focal point in the modern kitchen. Chalkboard doors offer much more than a dark, visually unique surface in the kitchen. They also are a practical choice and let you chalk down everything from 'to-do' lists to a quick message to a family member coming home from work. It essentially becomes the communication center of your kitchen on busy weekdays and those blessed with artistic skills (or have little ones around) can also use it as a lovely, blank canvas!
RELATED: 8 Pretty Pantry Door Ideas That Showcase Your Storeroom as a Star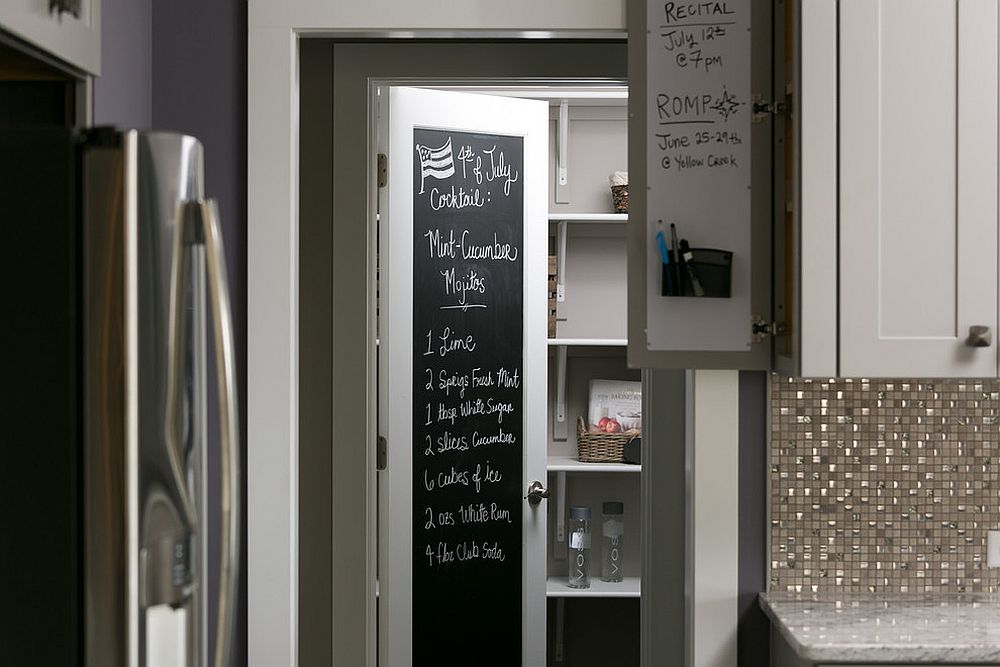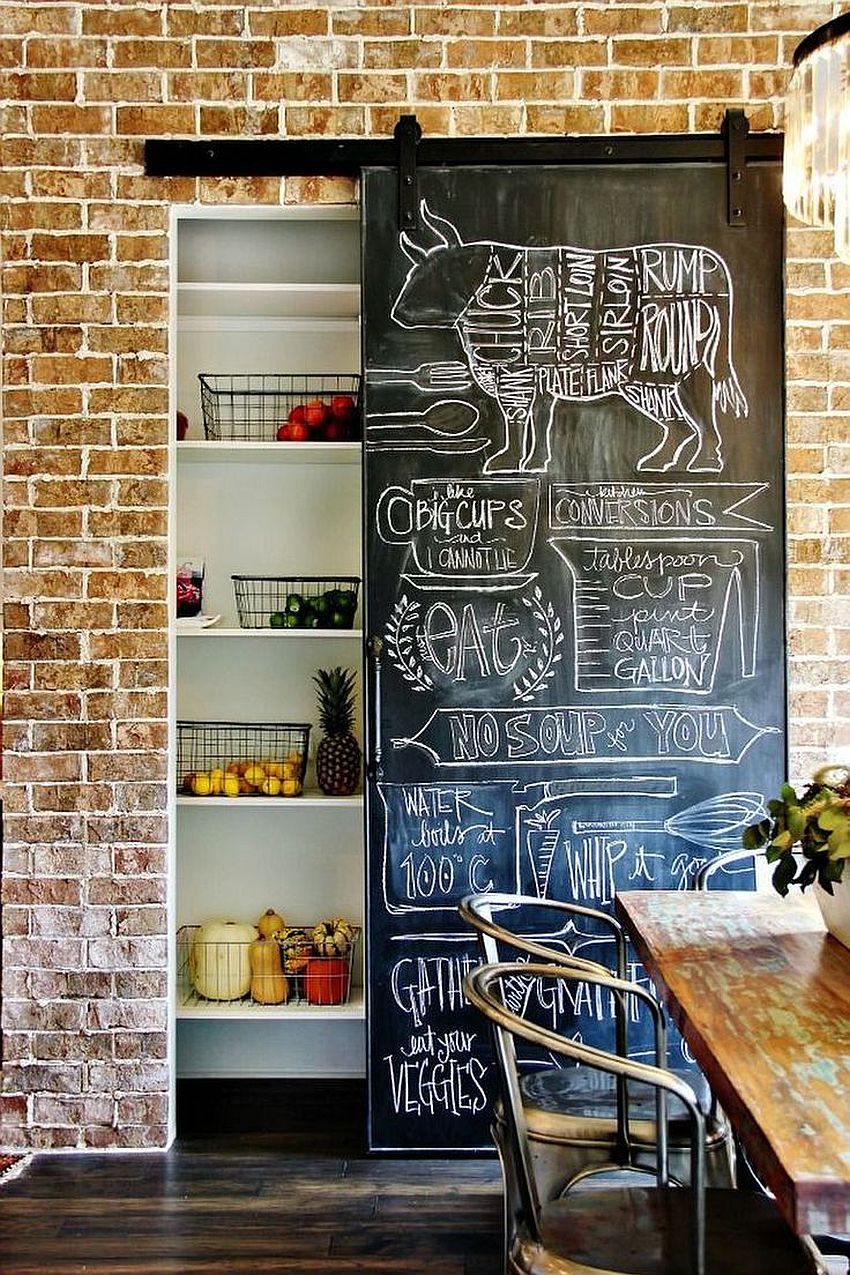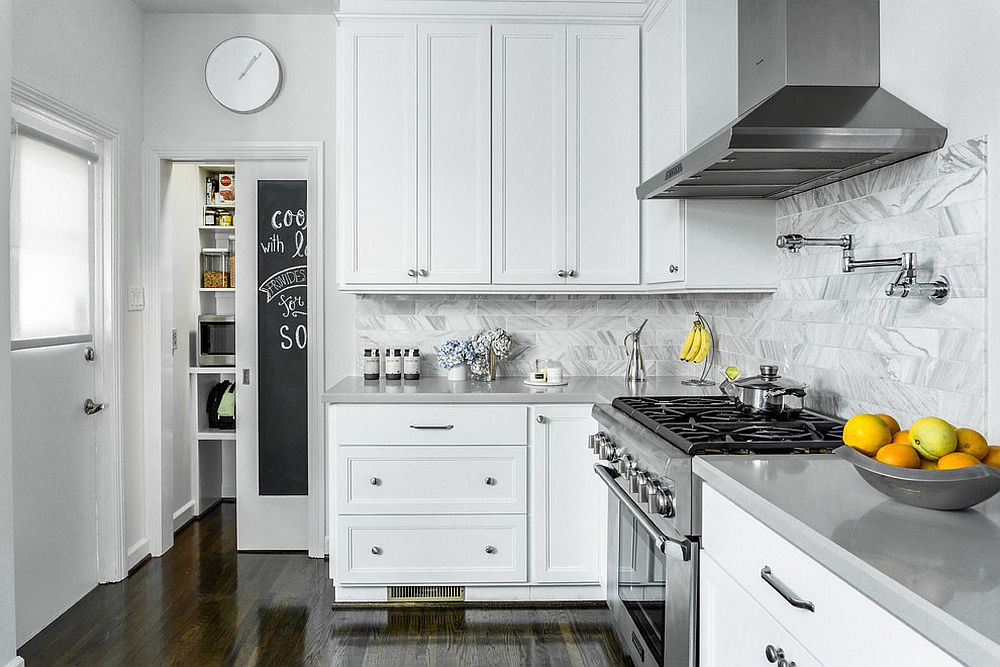 A Trendy Love Affair with Wood!
2017 is undoubtedly a year when design and decorating world has taken turn towards natural materials and interiors that are more nature-centric. With that in mind, it makes plenty of sense to add a dash of wooden warmth to your contemporary kitchen. Breaking the monotony of polished and pristine finishes in the kitchen, a pantry with wooden shelves or even a sliding barn door offers welcome change. The sliding barn door also saves precious space when compared to traditional doors that swing open. And if you are just looking for ways to give your old pantry a woodsy upgrade then custom wooden boxes and shelves are a smart alternative to consider.
RELATED: 25 Trendy Kitchens That Unleash the Allure of Sliding Barn Doors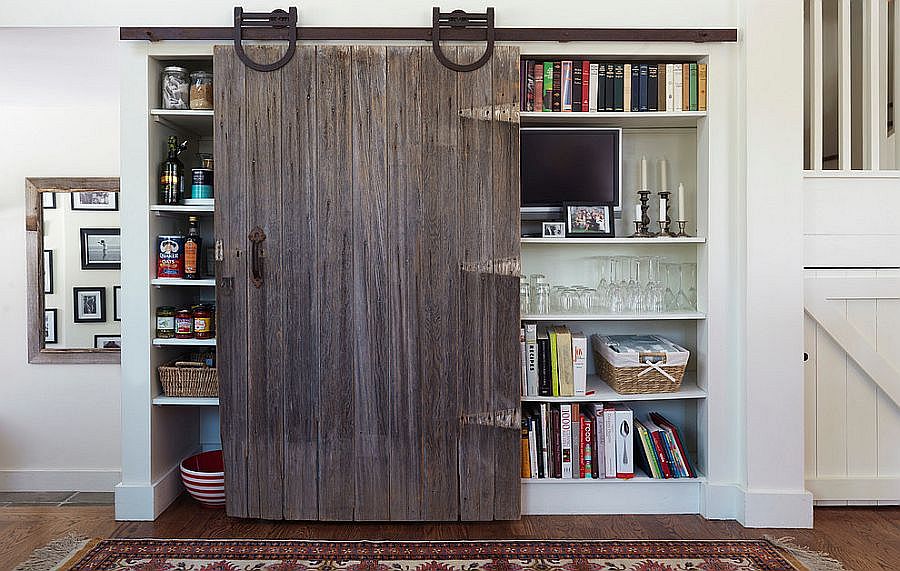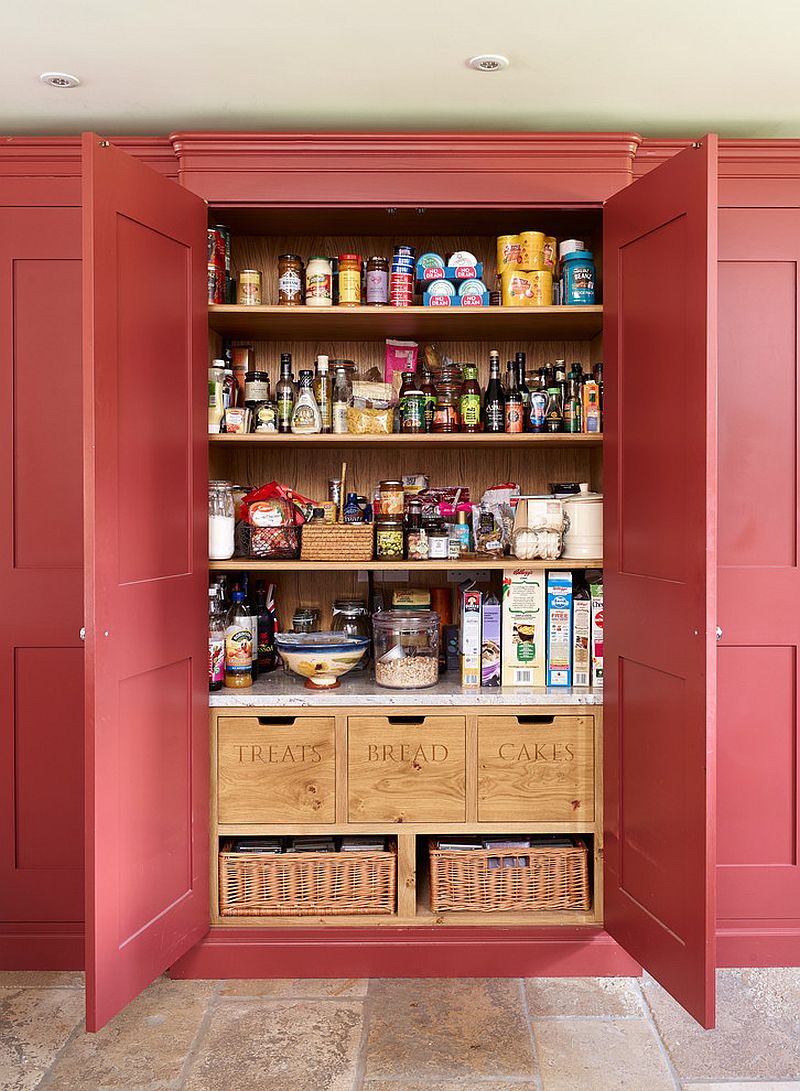 Classy Glass Doors
From wood, we move on to the more brilliant world of glass. Glass shelves in the pantry are a rarity since most of us tend to use this storage space in a 'not so delicate' fashion. But sliding glass doors for the pantry are far more common. You can use various styles of glass doors to alter the style of the pantry from industrial to modern and Asian to Mediterranean! For most homeowners, it is the frosted glass doors that offer the best solution as they bring natural light into the pantry even while hiding the mess inside… A nifty choice that offers best of both worlds!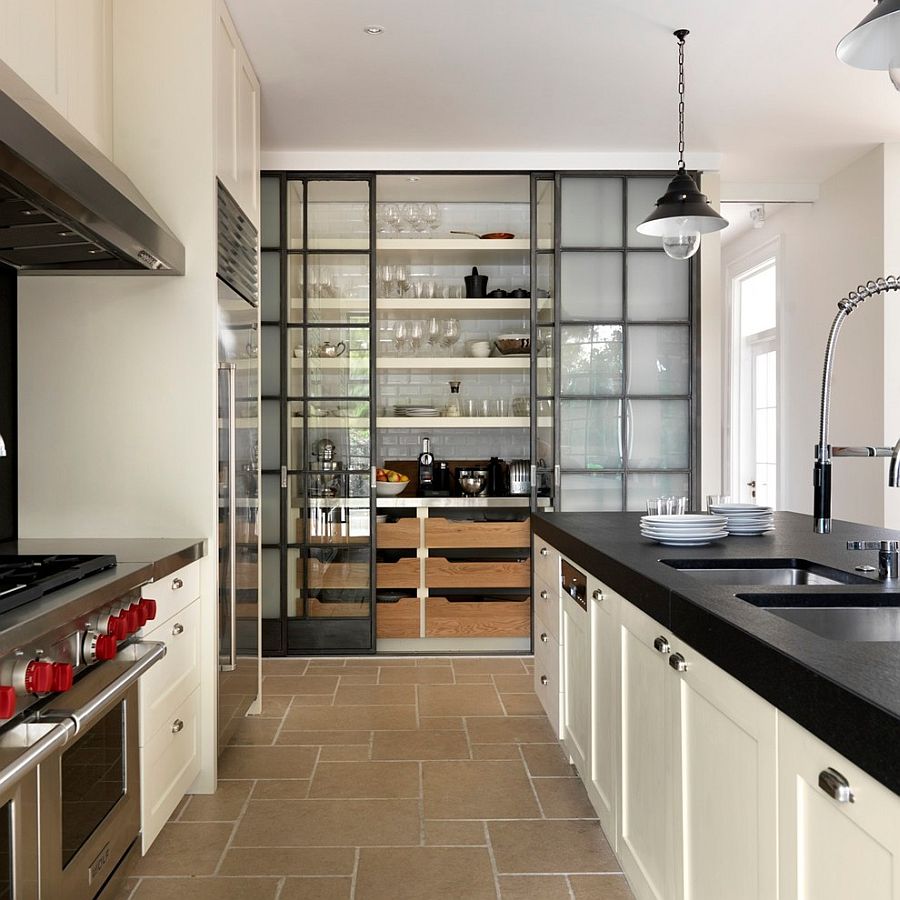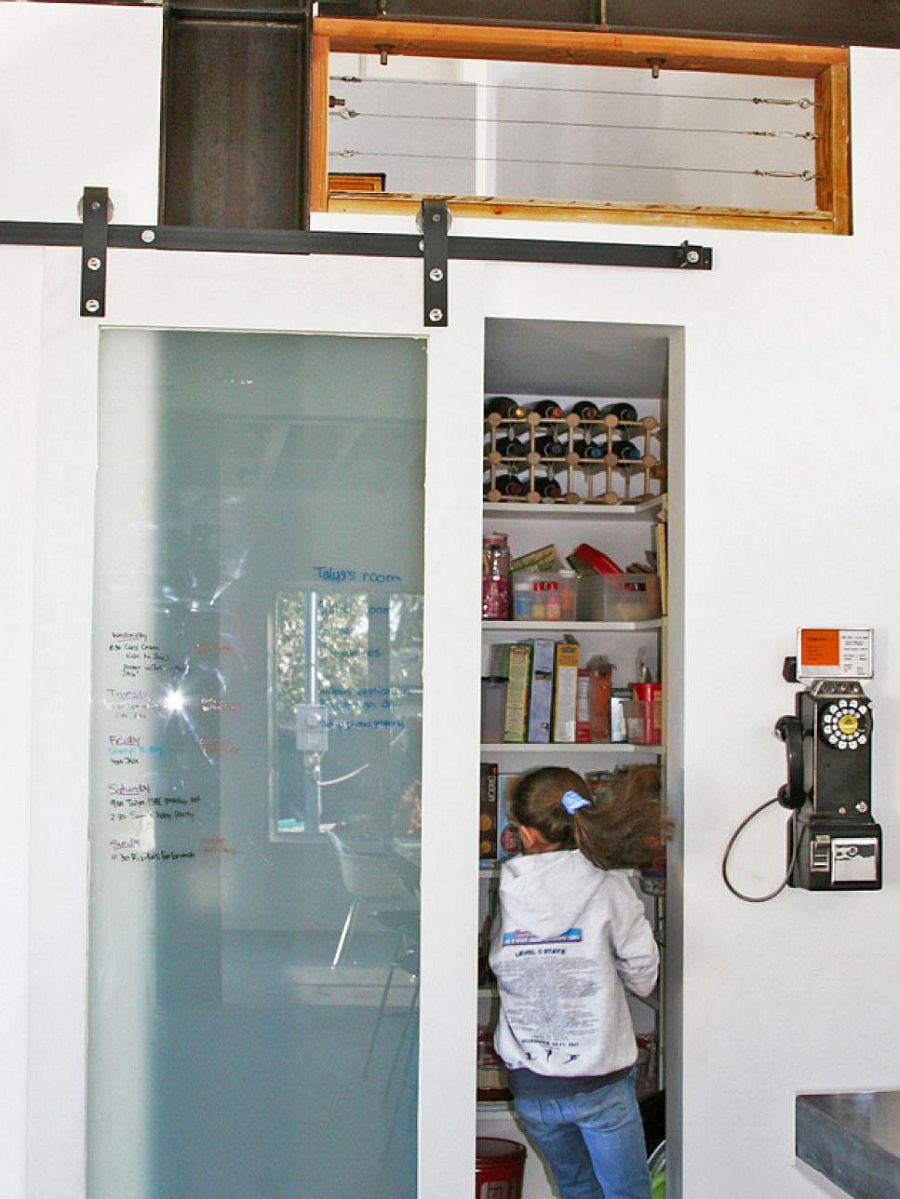 Small Brick Walled Delights
A spurt in modern industrial homes has seen popularity of exposed brick walls reach new heights in the last few years. If you are lucky enough to have an original brick wall in the kitchen then use it as a backdrop for the pantry. With the right sealant, you have a tidy exposed brick wall section in the pantry that shines through beautifully even when you fill the shelves with groceries and kitchenware.
RELATED: Trendy Textural Beauty: 25 Home Offices with Brick Walls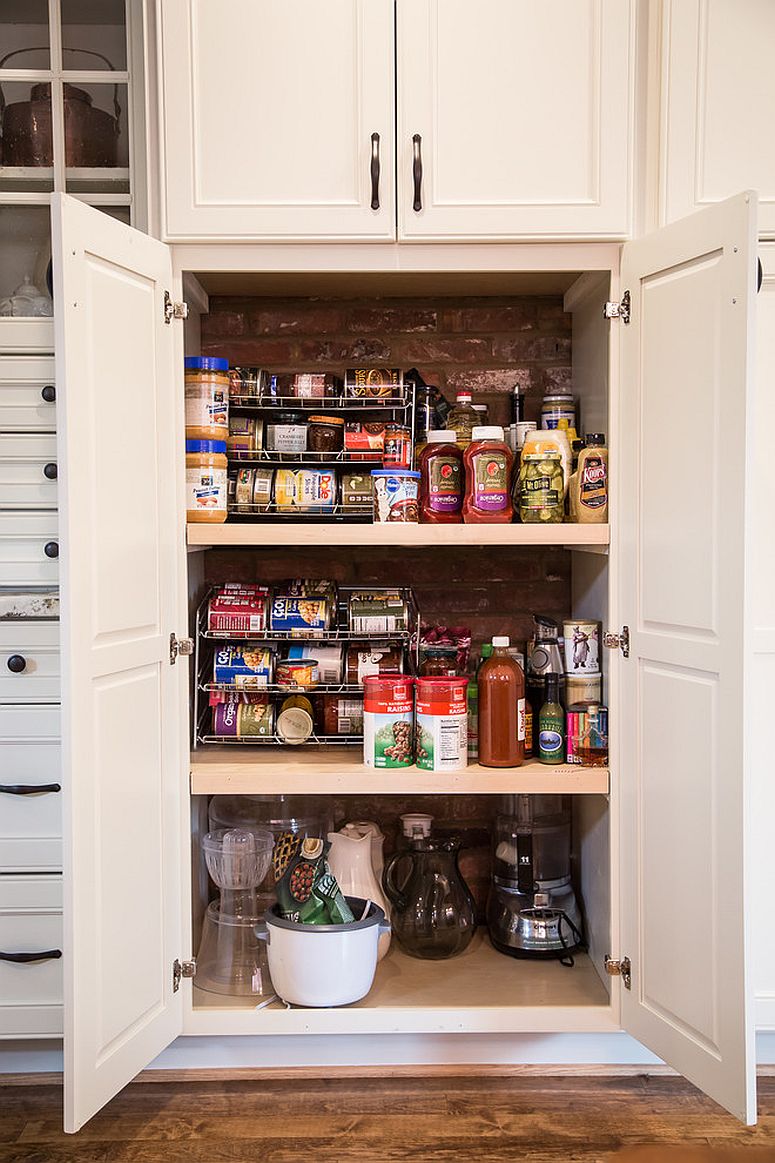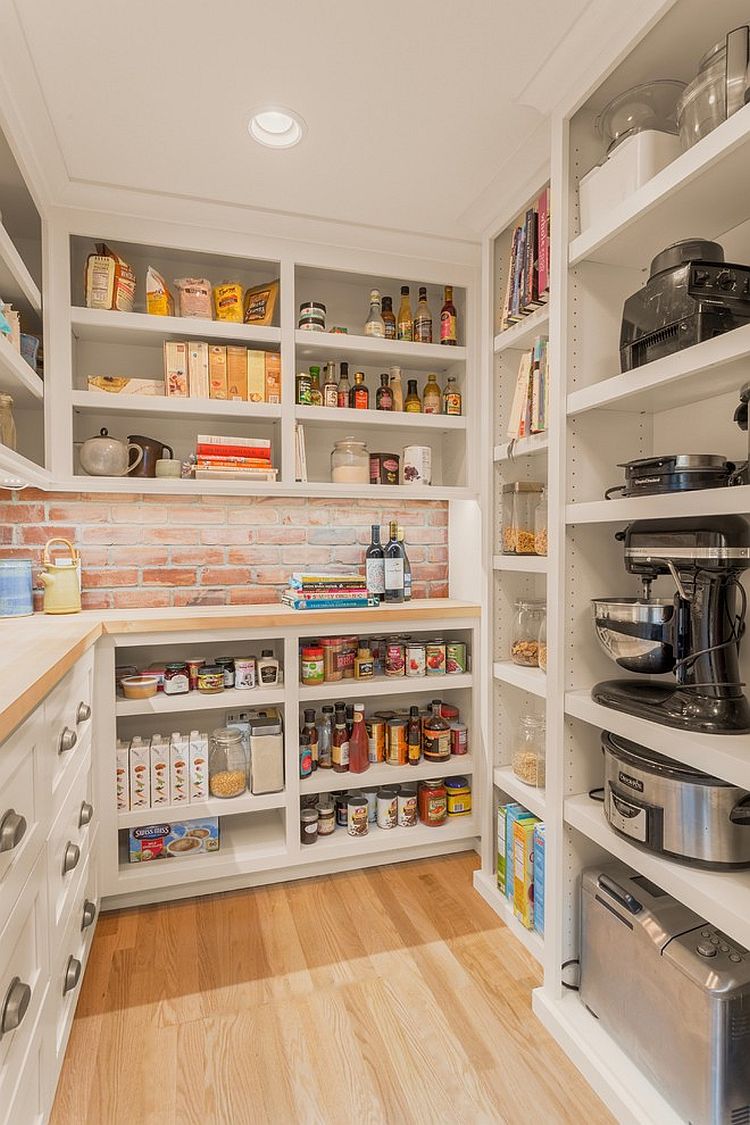 You're reading 10 Unique Pantries that Usher Textural Beauty into Modern Kitchen, originally posted on Decoist. If you enjoyed this post, be sure to follow Decoist on Twitter, Facebook and Pinterest.