How we style a dining room is one of those decisions that not only affects our home interior, but also our quality of life. A dining room must be beautiful to look at, sure, but it must also be convenient to dine in. The most important piece of the dining room is, understandably, a dining table. There's more to decorating a dining room than just picking out a table and setting it in the center of the room. Additions like a stylish rug can make a big difference to the overall ambiance.
This is where rugs come in! They are the best element for your dining room if you want it to feel more welcoming and charming! They have a special power when placed directly under the table, so take a look at these dining room rugs that truly rule the room!
Rugs for Rustic Dining Rooms
Rustic dining rooms are perhaps those who are in need of a rug the most. The natural appeal of a dark, antique decor is very homey and nostalgic, cozy and familiar. Adding a rug into the mix will only enhance this feeling and truly squeeze the best attributes out of the room.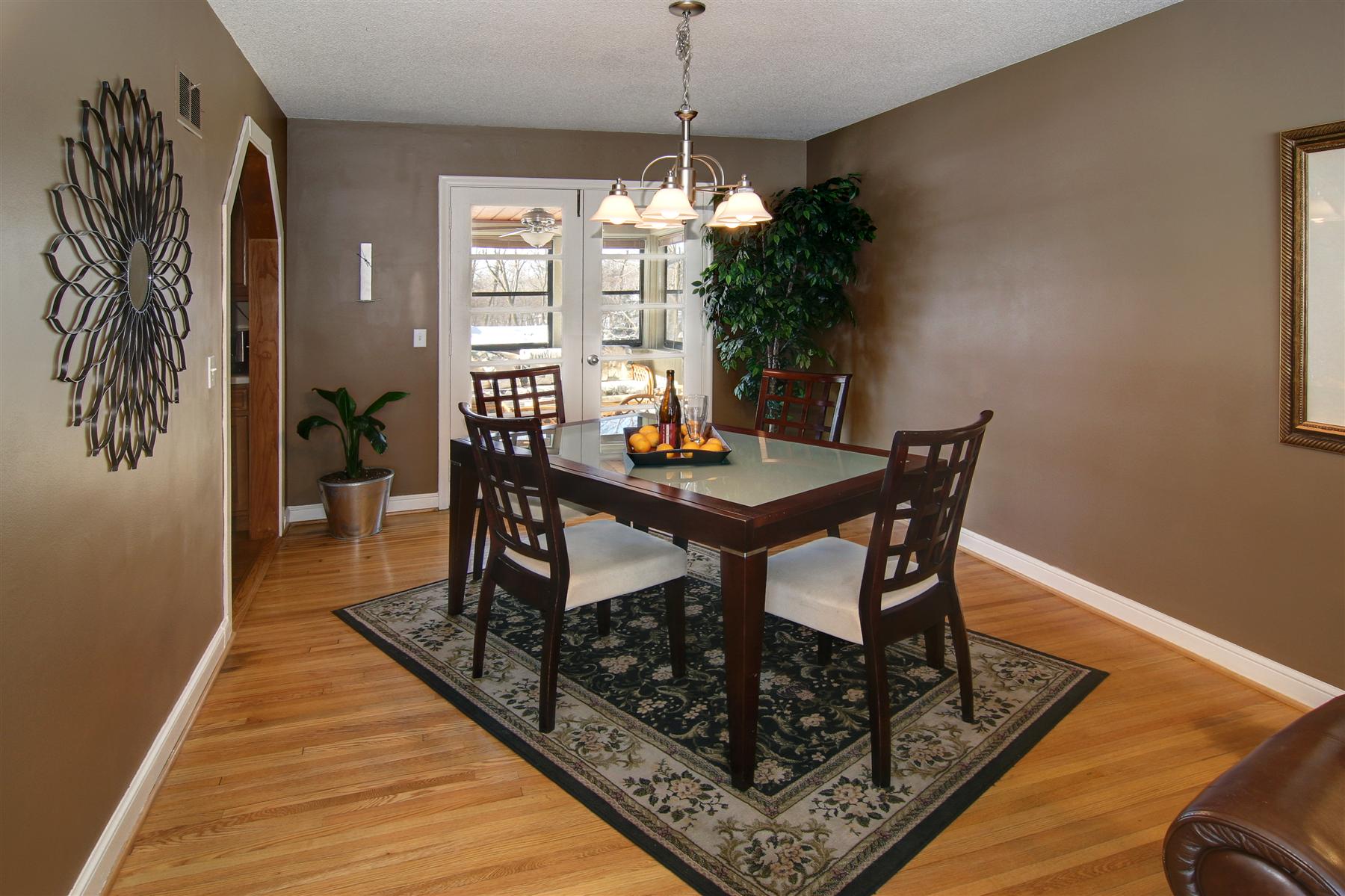 Capitalize on the brown color palette to truly bring an organic, natural feel into the room. The rug under the dining table should be the darkest element in the room. It will instantly draw attention to itself and the dining table, as it should!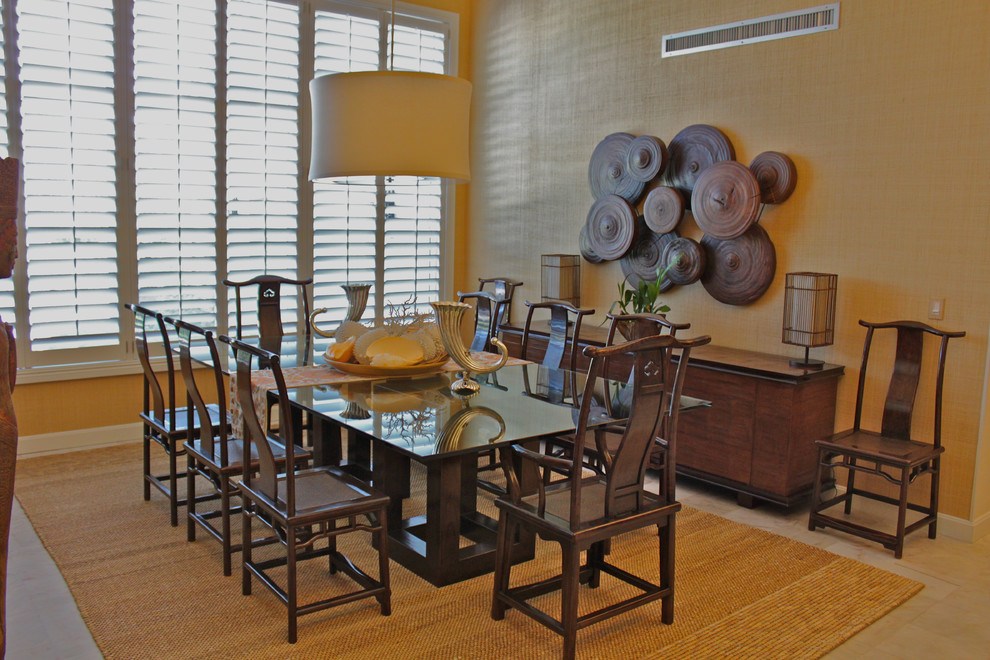 For a lighter and brighter rustic dining room pick a rug that feels fresh and reminds you of a sunny summer day. A shade of yellow will certainly fit that description and be a great addition to a dining room full of dark wooden elements!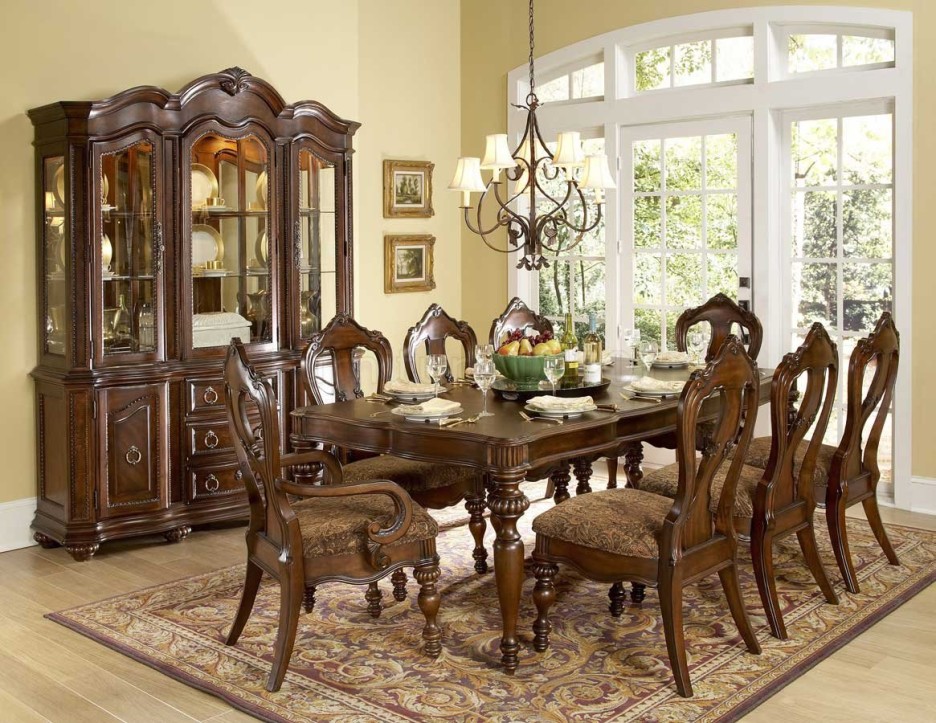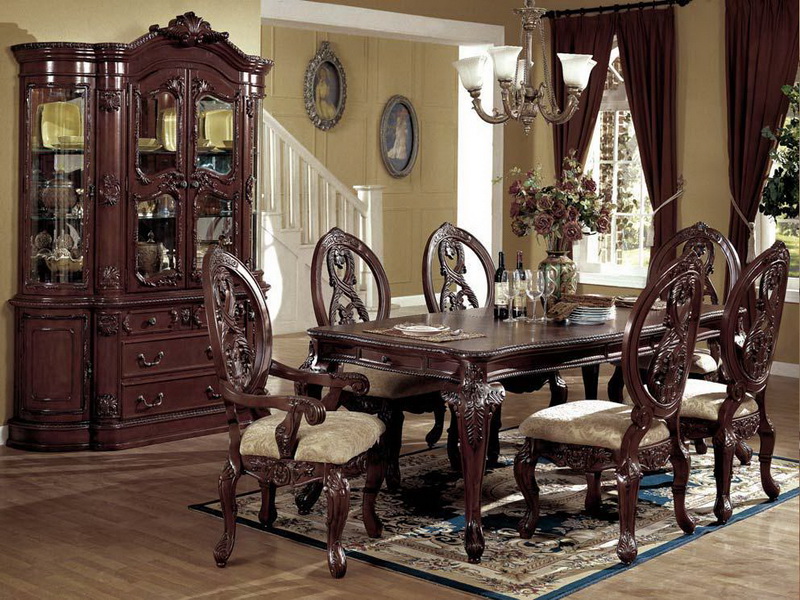 If you have great love for magnificent antique dining rooms, you know that a rug is an irreplaceable decor element that has the power to make or break the room. The safest option is to go with a rug that fully matches the rest of the rustic furniture, but if you aren't afraid to create a slightly daring look, pick a rug that is proudly showcasing some color!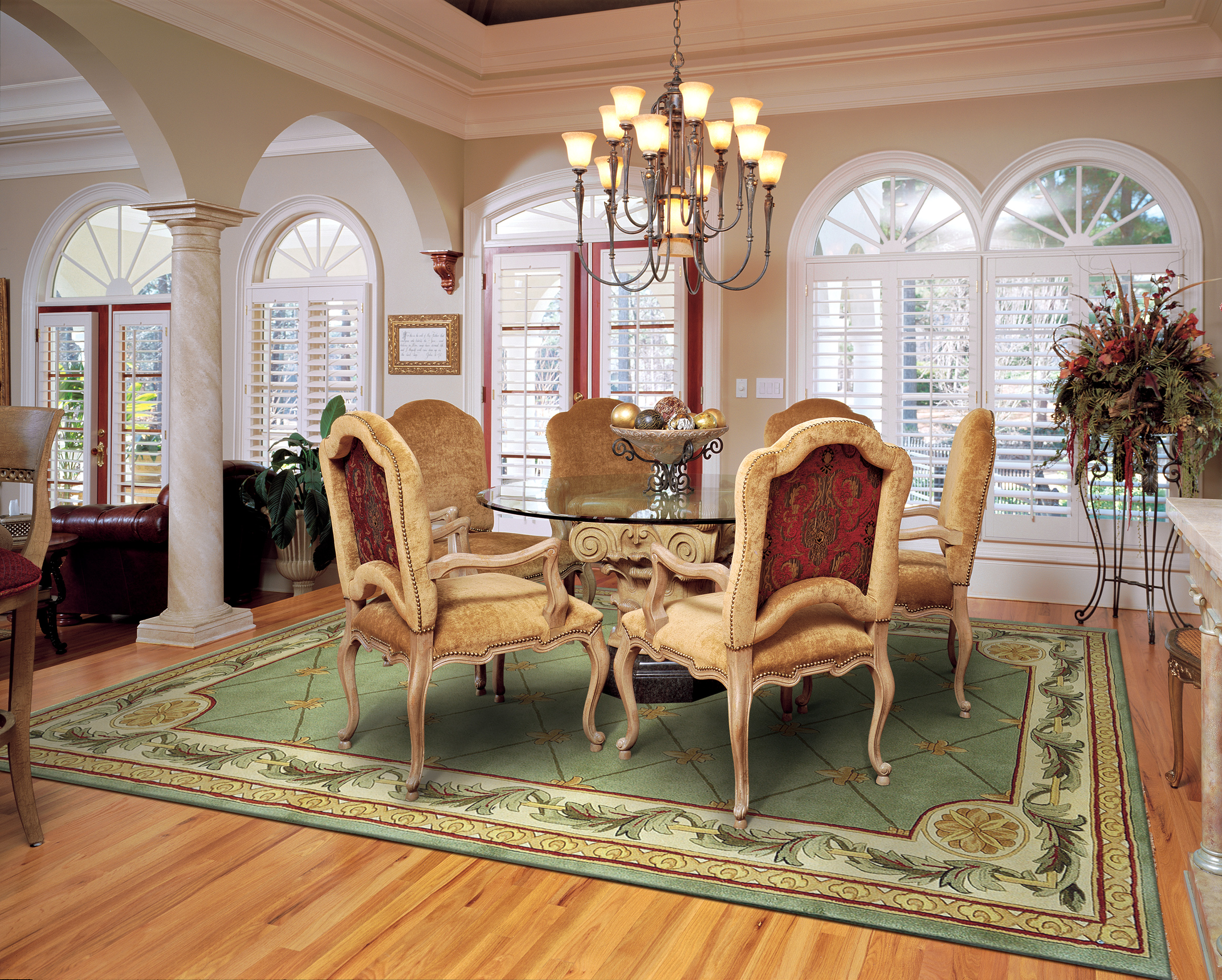 A dining room in Victorian style calls for a vivid rug that can contrast the beige chairs and transparent glass table.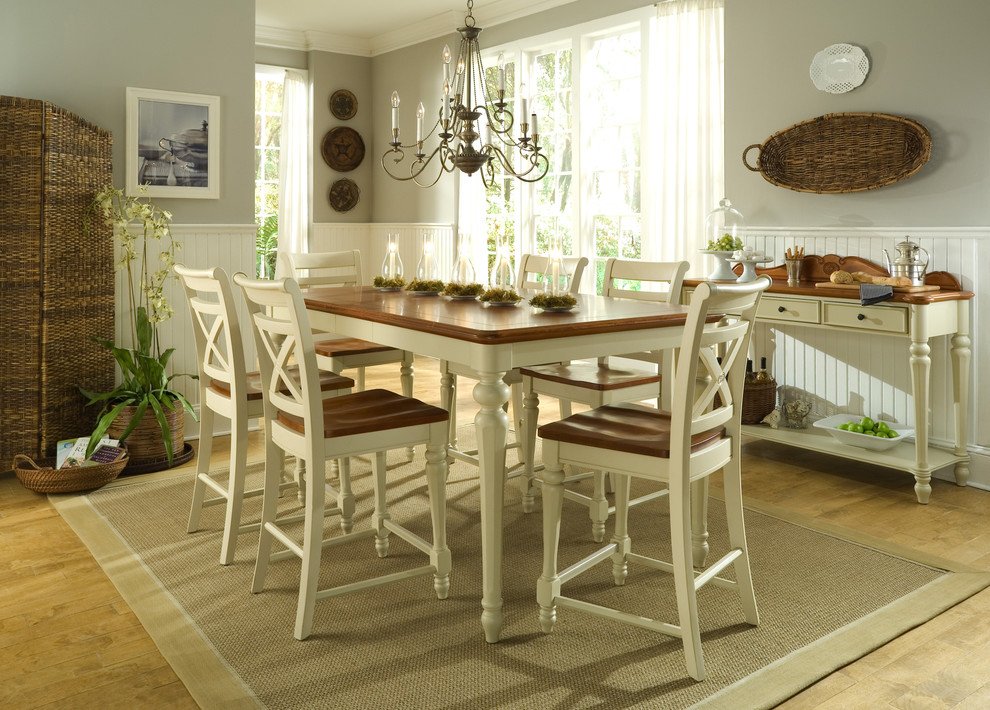 This rustic dining room has a look of purity and simplicity. The rug in the color of cream is a perfect choice as it sits between the two ends of a spectrum represented by white chairs and wooden table top.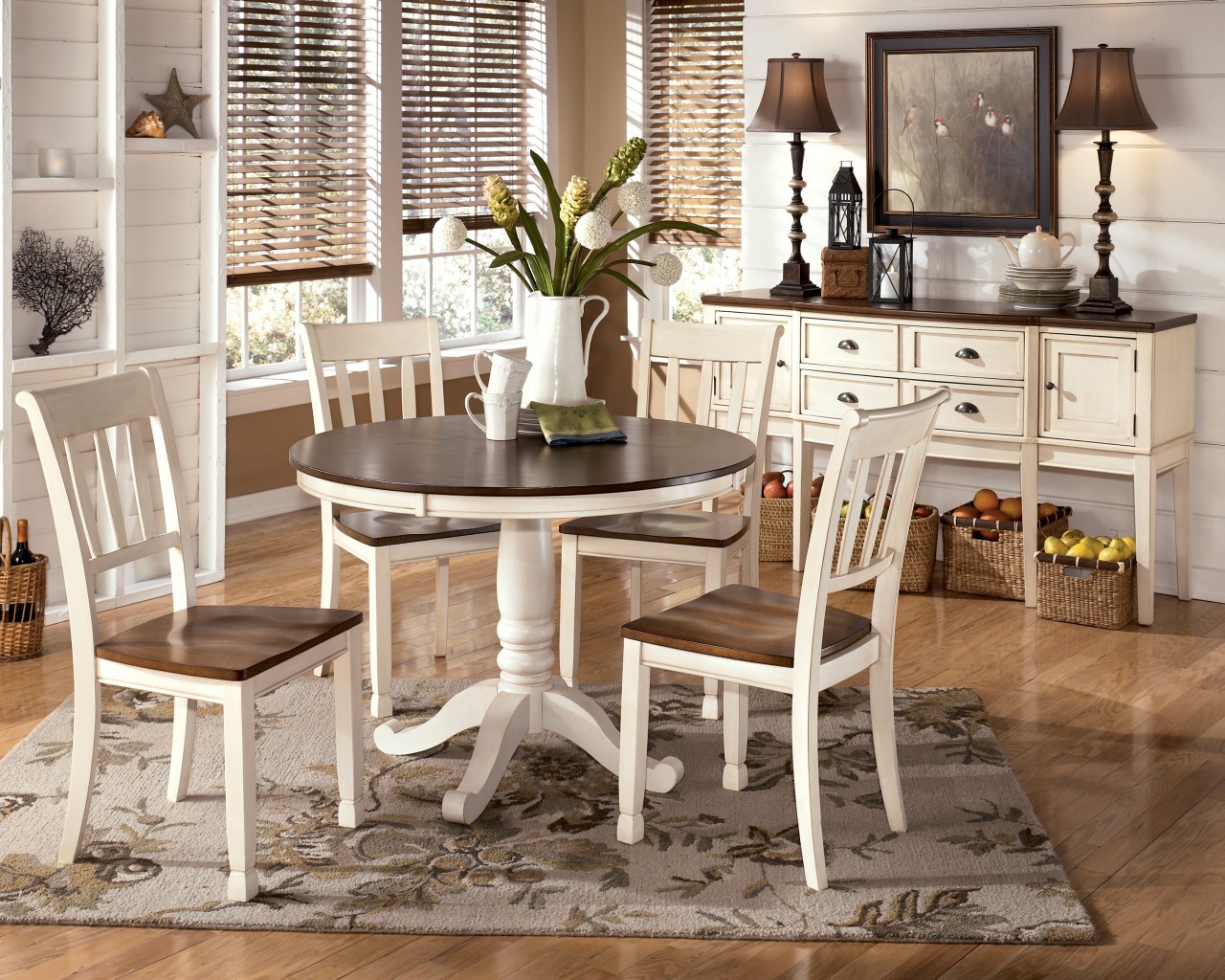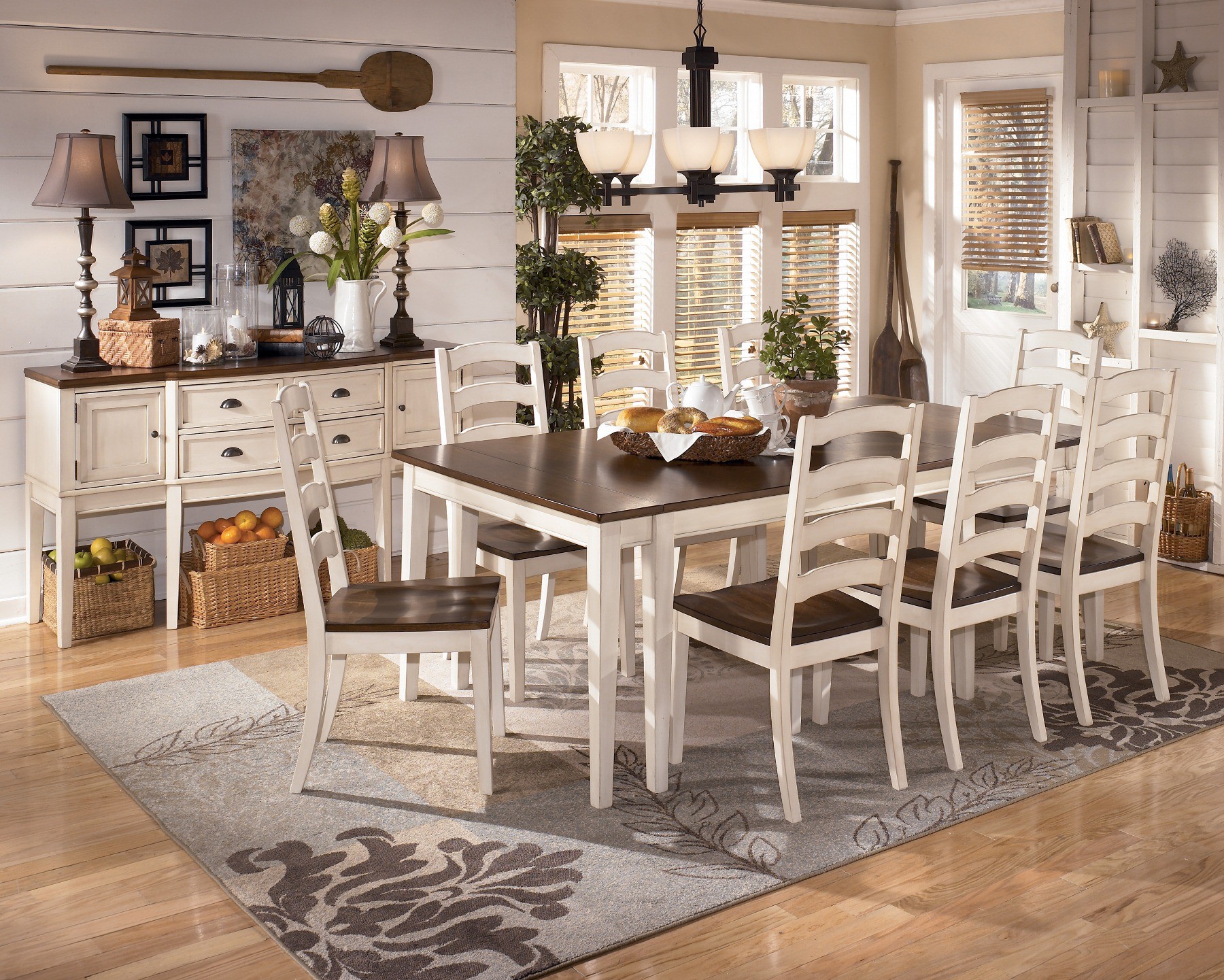 A dining room that plays with the tones of white and darker wood is calling for a rug that can channel the best of both – giving the white a dim contrast so it can stand out, and giving the wood a similar color to match it. A shade of beaver brown seems like a fitting choice, especially if the rug is decorated with some lovely patterns!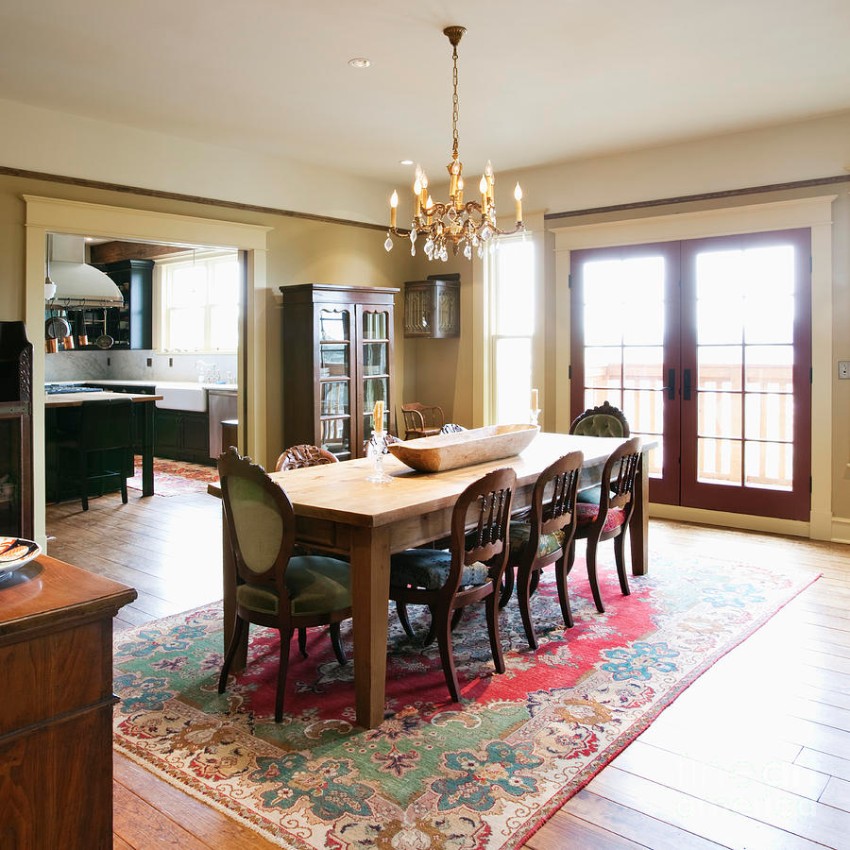 A big oriental rug that can easily accommodate the entire dining area will bring a fresh energy into a countryside dining room. The colors of the rug are the room's focal point and the whole space feels harmonious!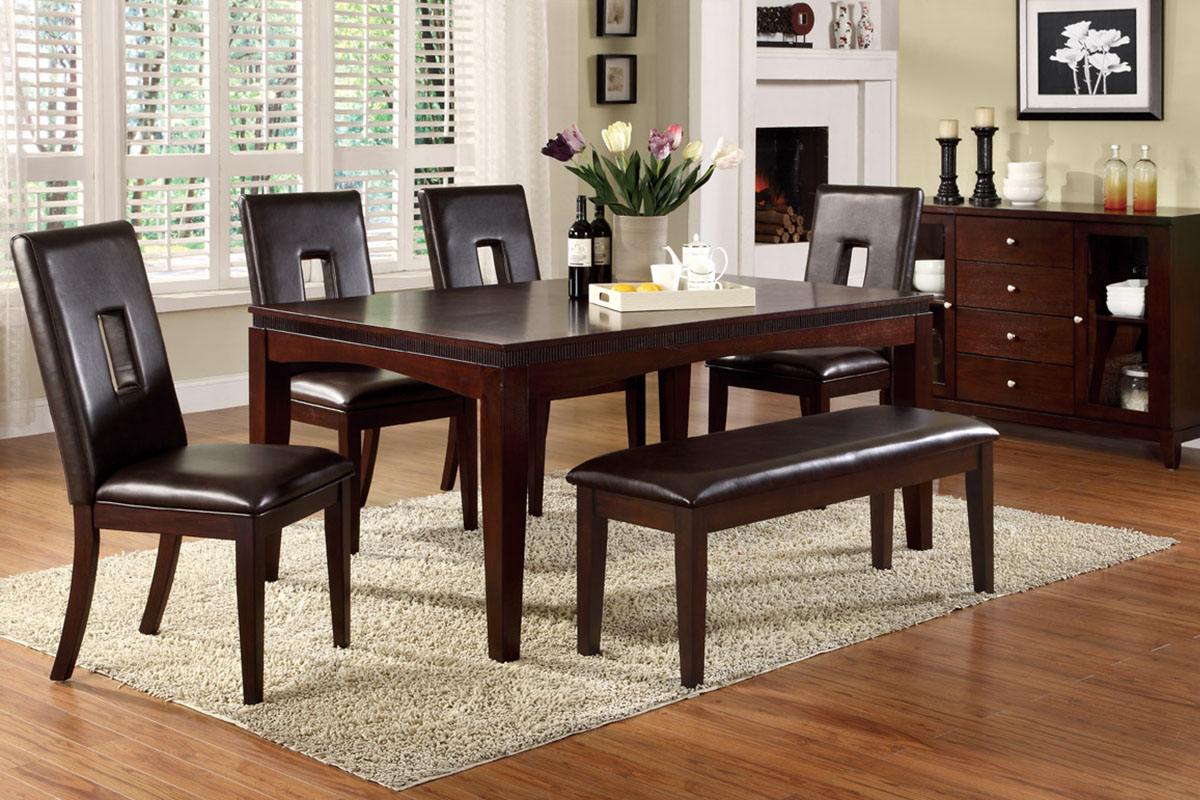 Sometimes the best thing you can put into a dark dining room is a light rug! The balance in the room is very apparent. The space instantly feels more open, brighter and not too dim.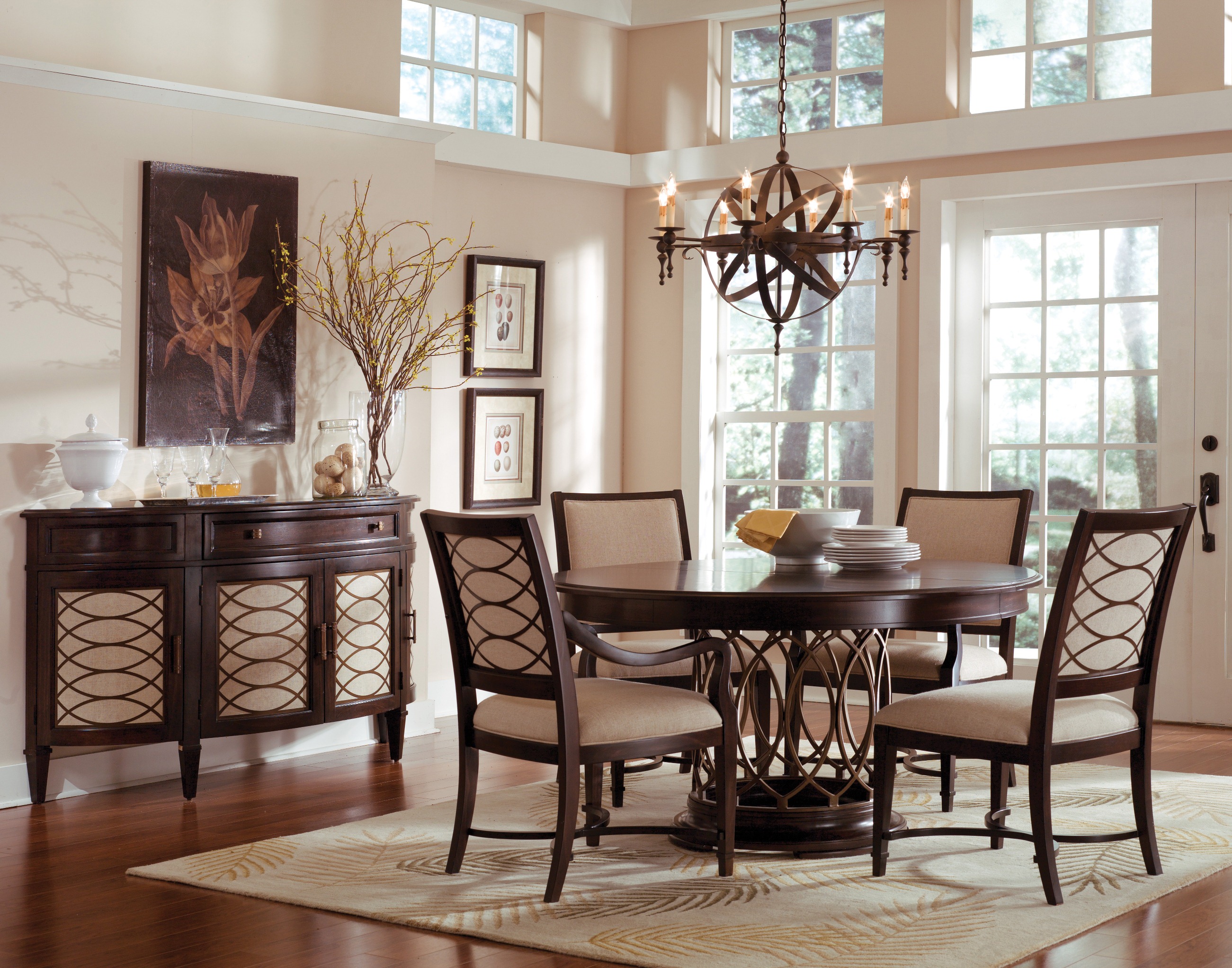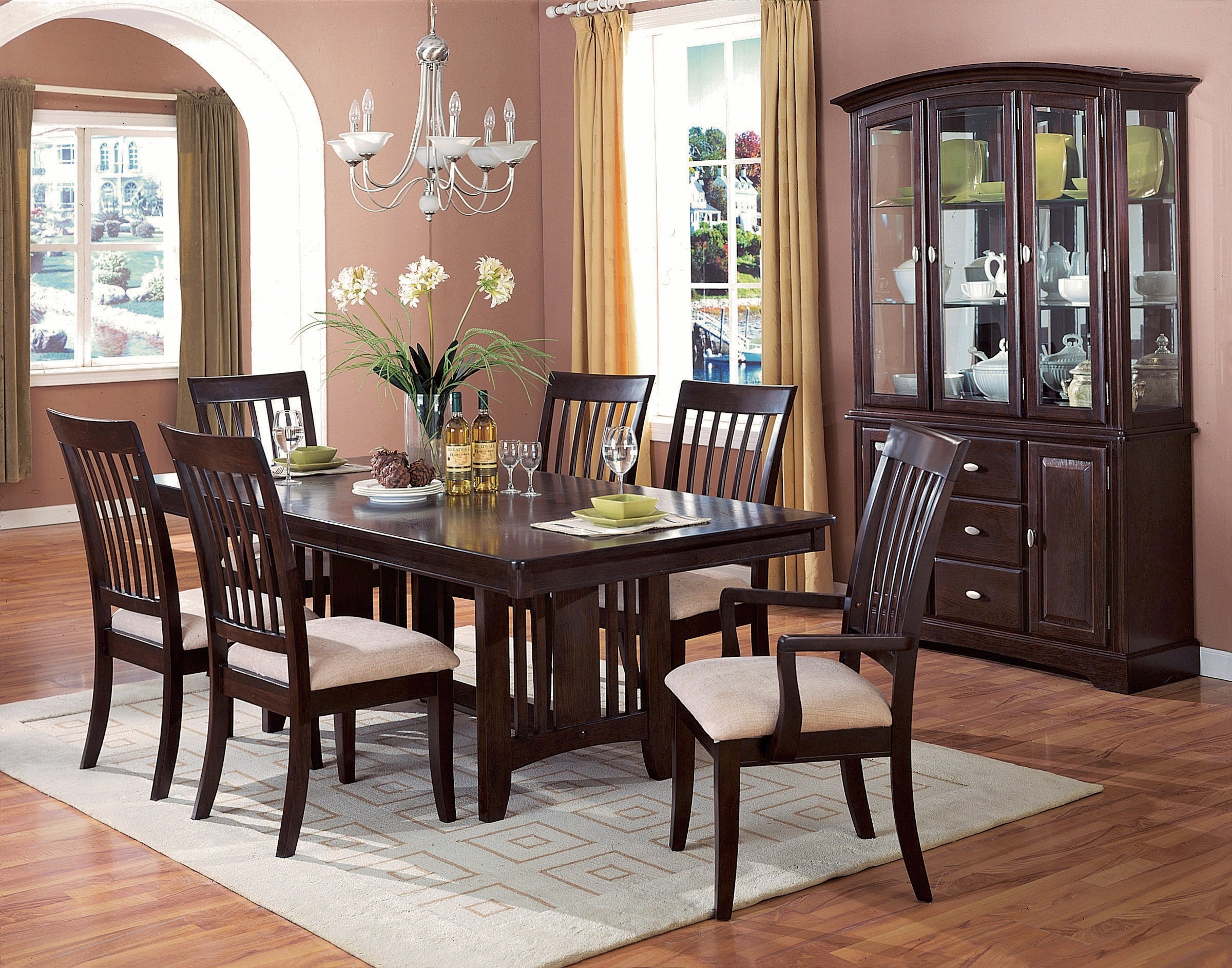 Cream and wood are a fantastic match. They both have a softness and coziness that make the room feel like true home. They might seem like opposites, but in reality they are just two sides of the same coin. The light cream, opening up the space with its bright look and the dark wood, conjuring a nostalgic feeling within anyone who lays eyes on it! Play around with putting a cream rug into your dark rustic dining room and see the stunning result!
Adding to the Dining Room Elegance
An elegant dining room is created by thoughtfully chosen furniture that feels sleek and not over the top, in the combination with graceful decor elements that only enhance the idea of a delicate, elegant space.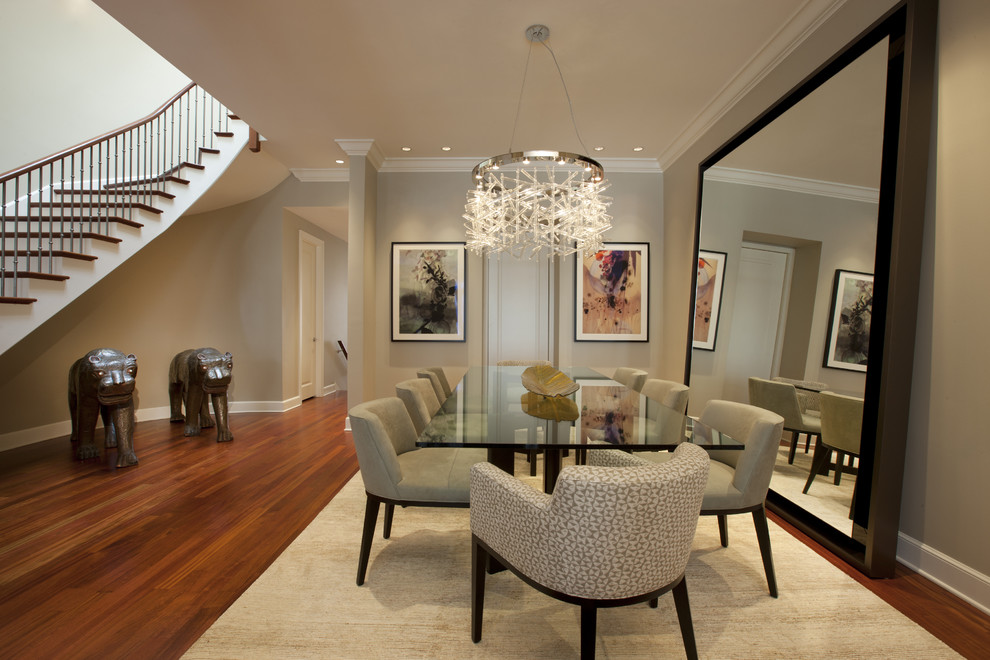 This dining room is radiating elegance and open space. The mirror and glass table really help with the feeling of openness and a vast beige rug is what connects all individual elements together.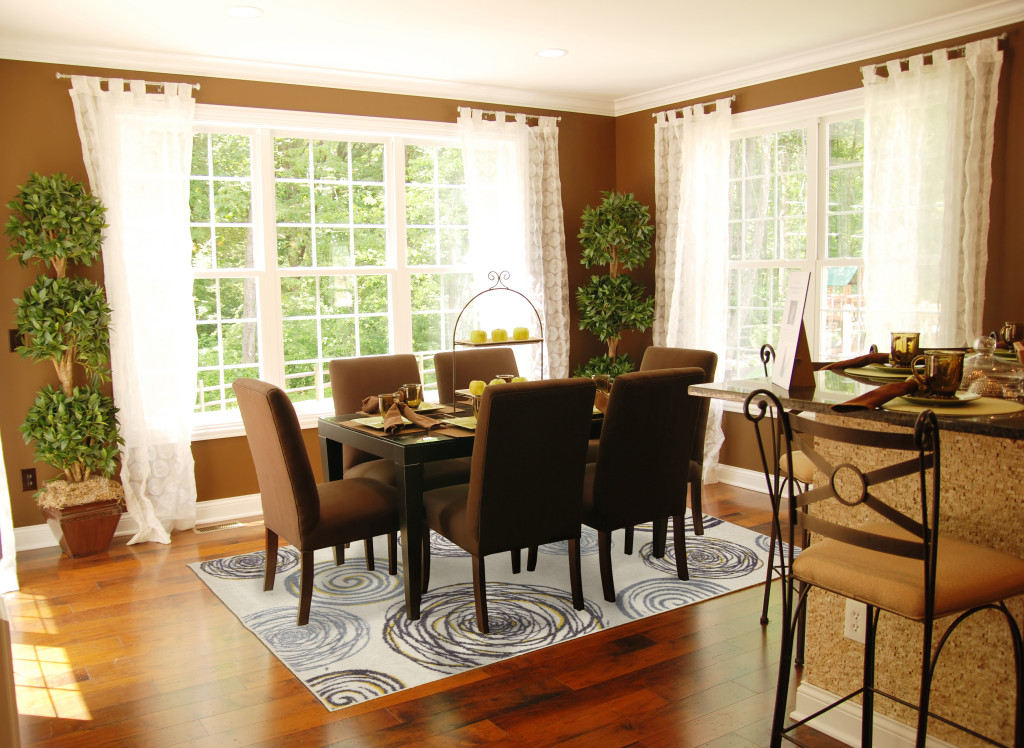 The brown color pallette is one that brings forward an elegance that also feels familiar and safe. The space is not intimidating, but rather seems like you've known it forever and when you add a dynamic rug into it, the room becomes lively!

It's easy for a white dining room to look elegant, but when it has hardwood floors it's going to need a little help from a rug to feel softer and gentler. Elegance often means delicacy and vulnerability; allow your dining room to radiate both by picking a rug that isn't boring, but retains a simplistic look.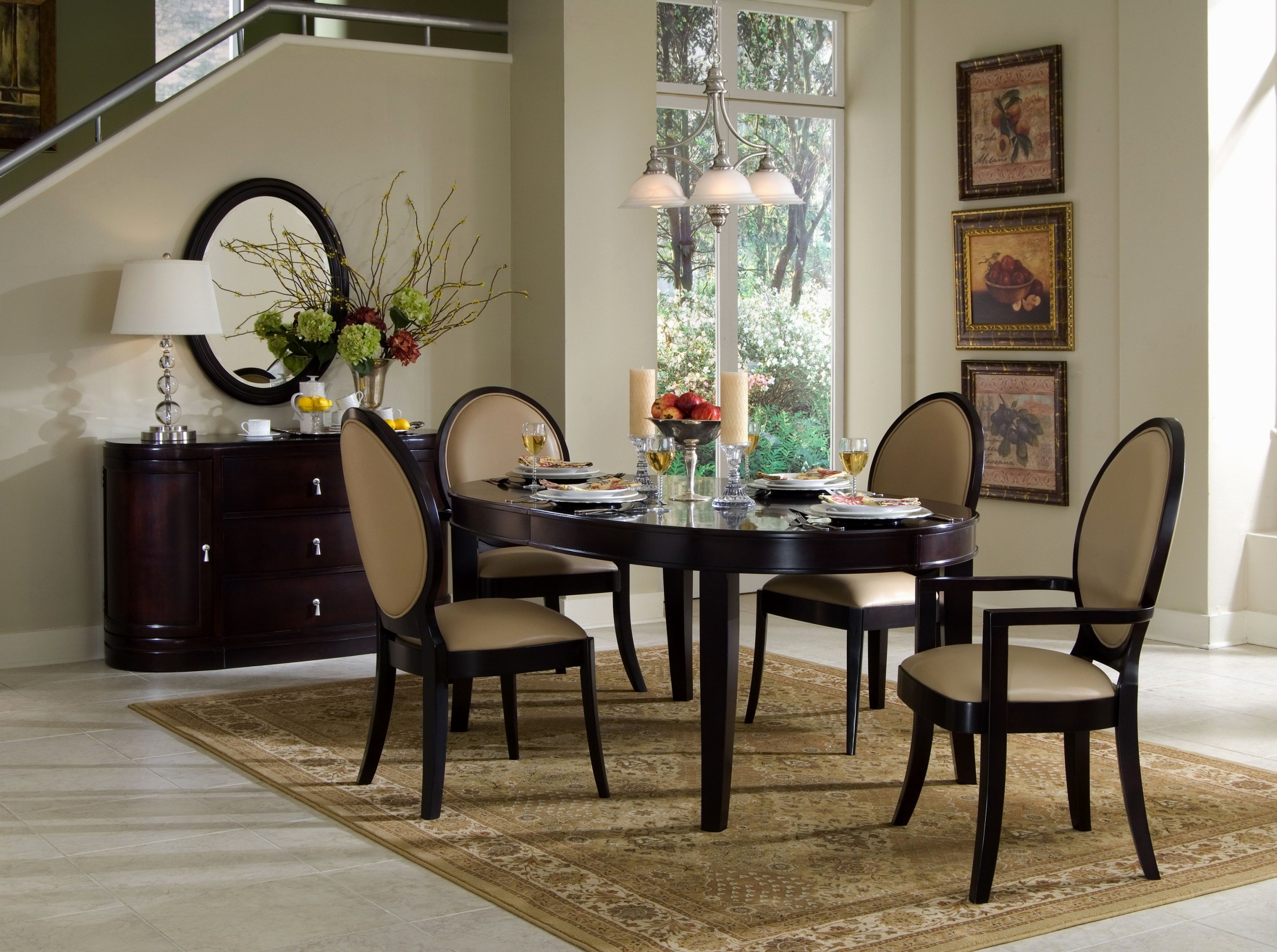 The more you keep the space minimalistic, the more breathable and elegant it will feel like. When picking out the right rug, go with neutral colors, such as beige, that won't reverse the room's openness.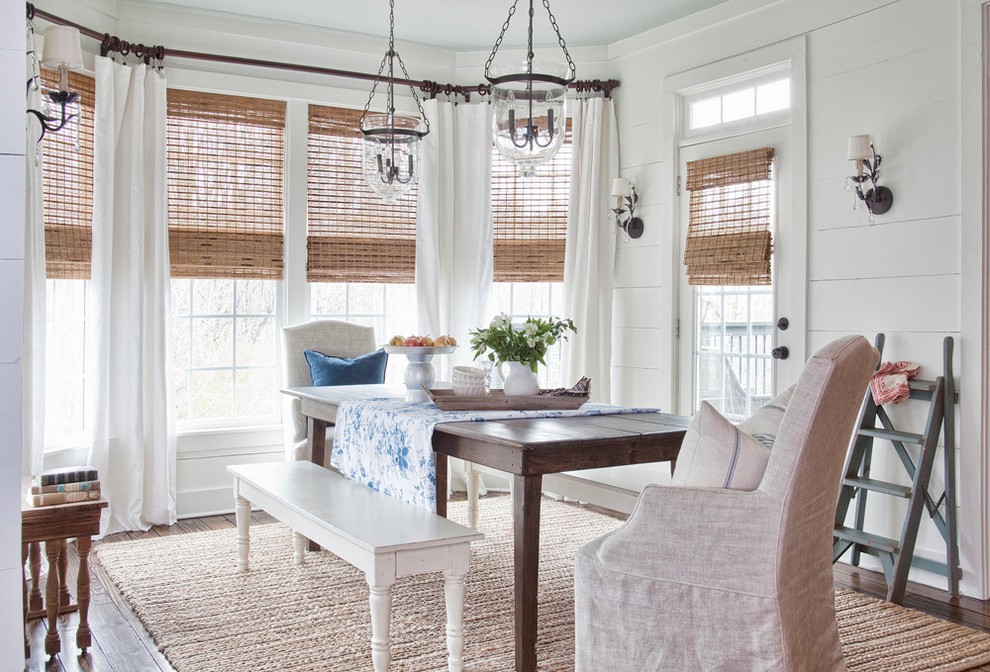 A dining room with a coastal interior will thrive with a rug that resembles the color of the sand and doesn't feel too smooth to the touch.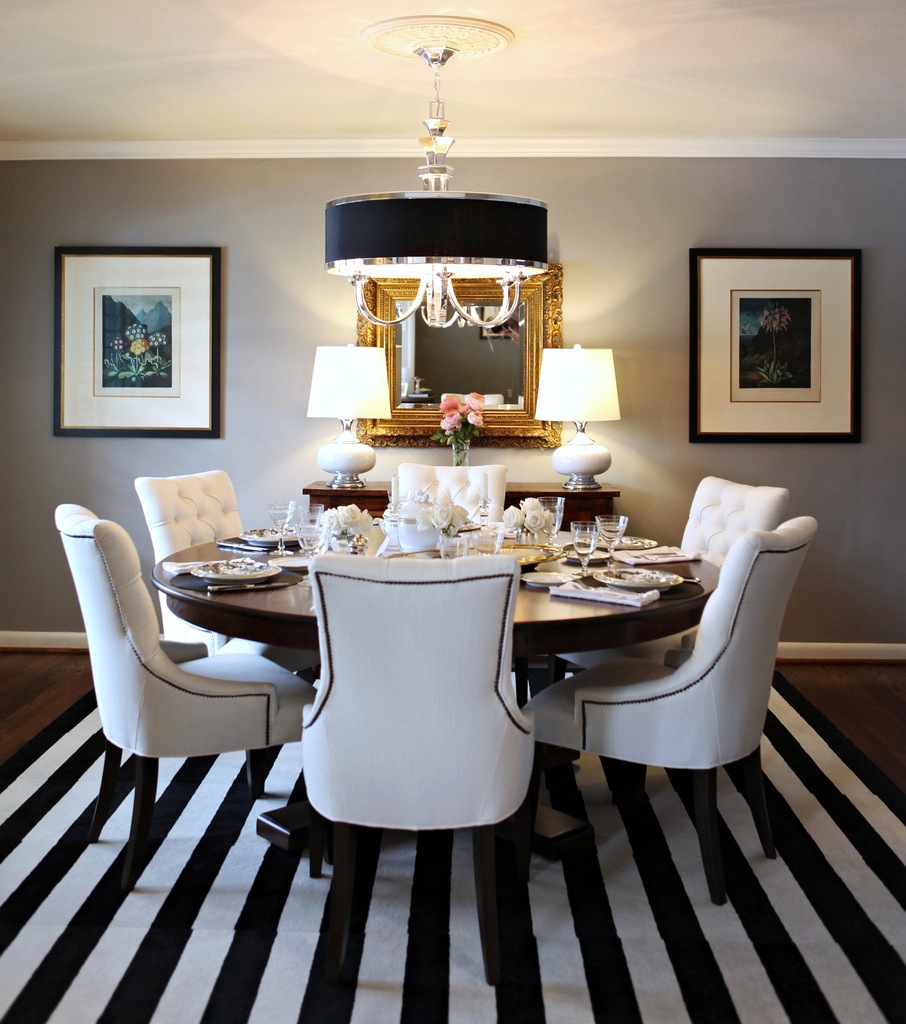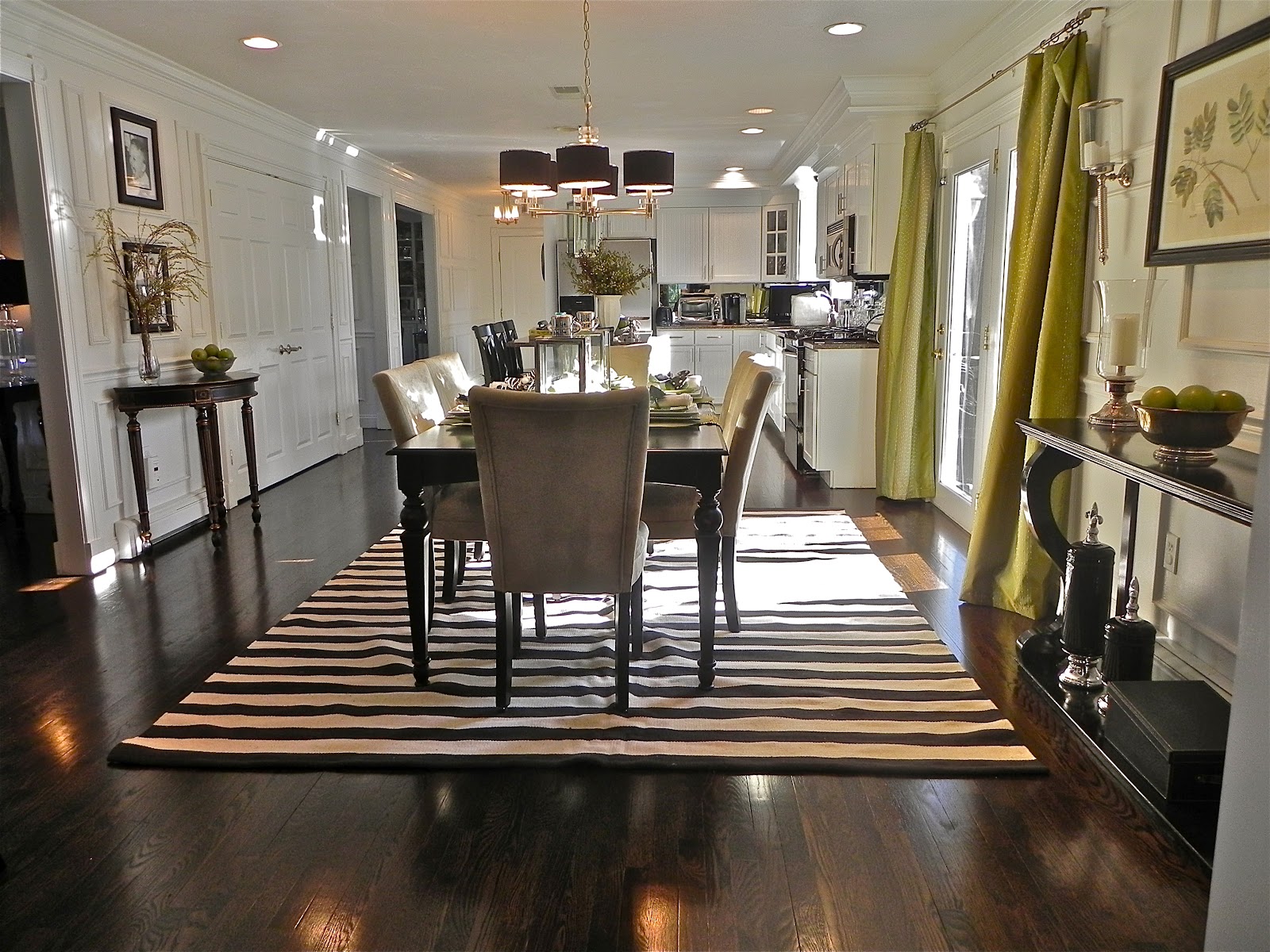 A striped rug is a quick way to bring both elegance and dynamic into our dining room! The black and white color palette is a classic and chic choice, while the stripes scare all monotony away! The monochrome element will give your dining room a much more glamorous look!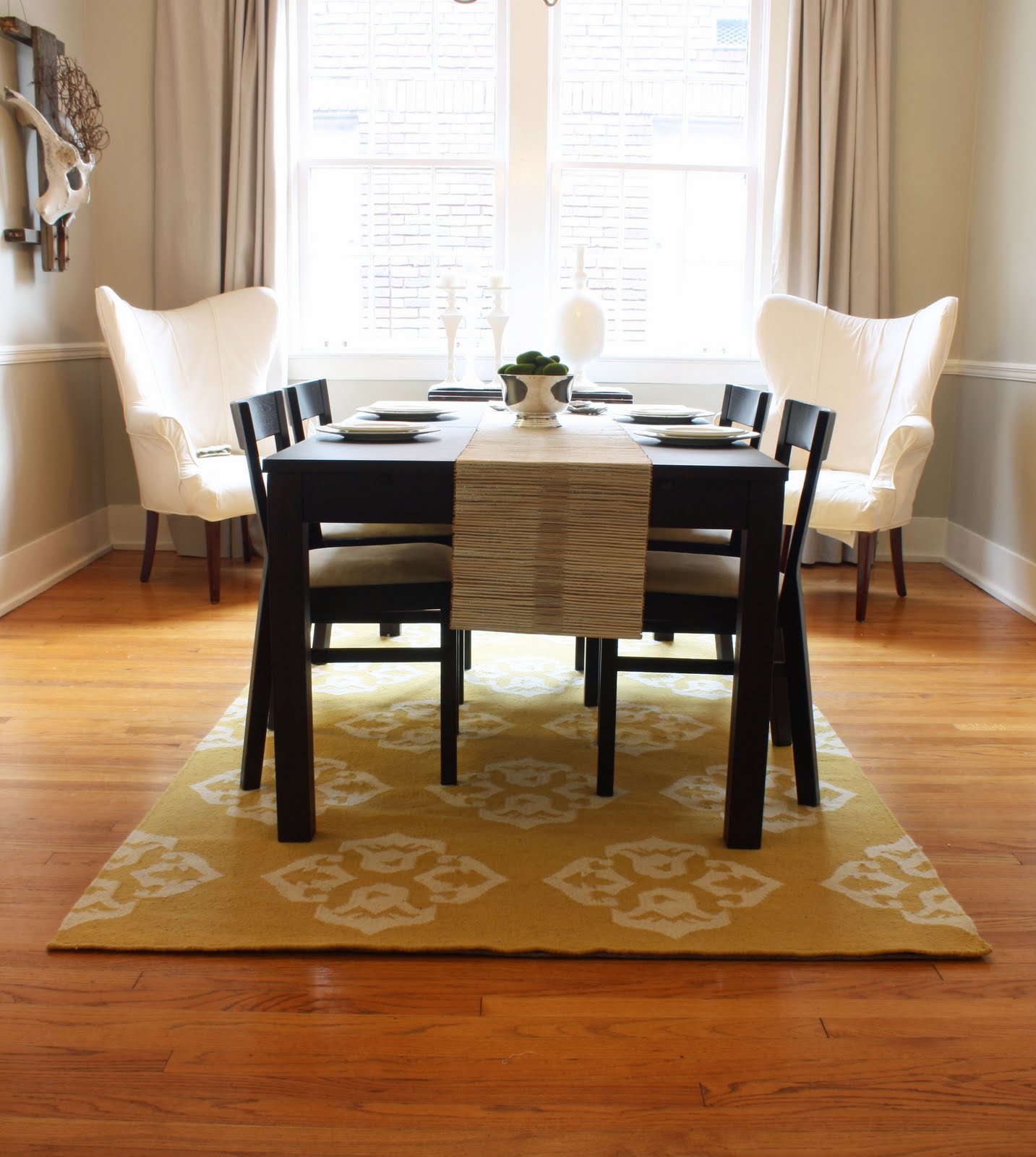 An elegant setting of a black dining table with matching chairs can only benefit from a yellow rug with a unique white pattern!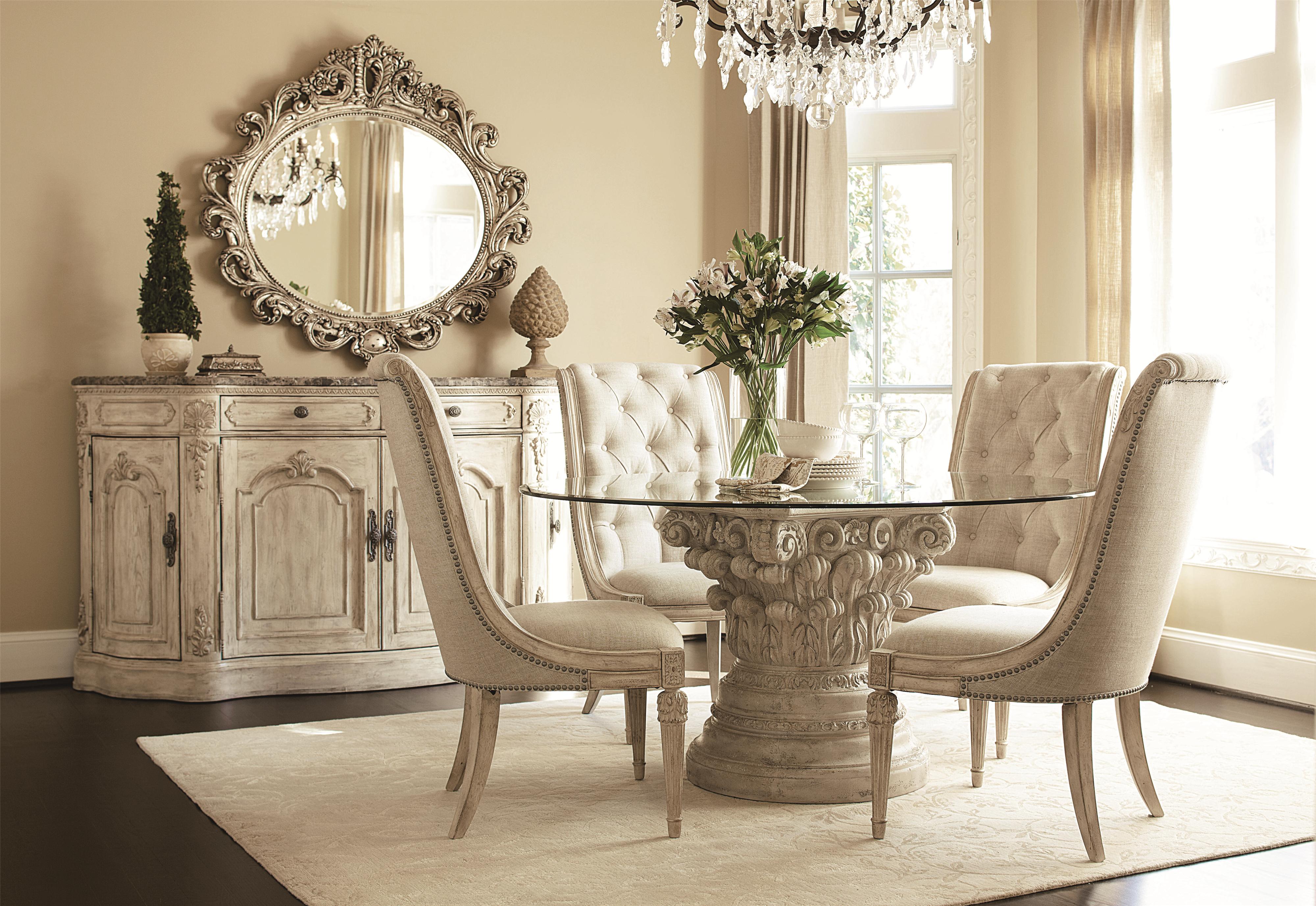 This dining room looks nearly royal and its secret seems to lie in consistent color tone of light cream – almost completely white. All of the elements are matching with the rug being no exception and we simply love how keeping everything in just one color shade can bring out so much nobility.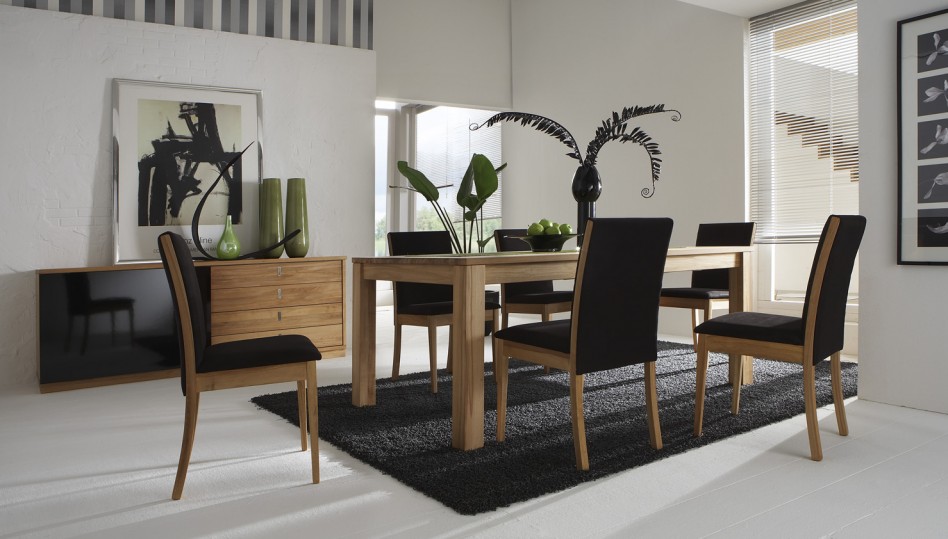 Black is a color that assures elegance and sophistication in any room. It works amazingly with other colors and a variety of materials, so if you are looking for a foolproof way of making your room incredibly stylish, a black rug is the choice!
Snazzy Rugs for Modern Dining Spaces
In a room with a clear modern interior there are a lot of lively elements that demand attention and leave us speechless and thoughtful. If you are looking for a way to bring a centerpiece into a modern dining room, a rug that has a strong contemporary spirit will definitely help. On the other hand, if you need something to help the modern interior to stand out, a simplistic rug is the way to go!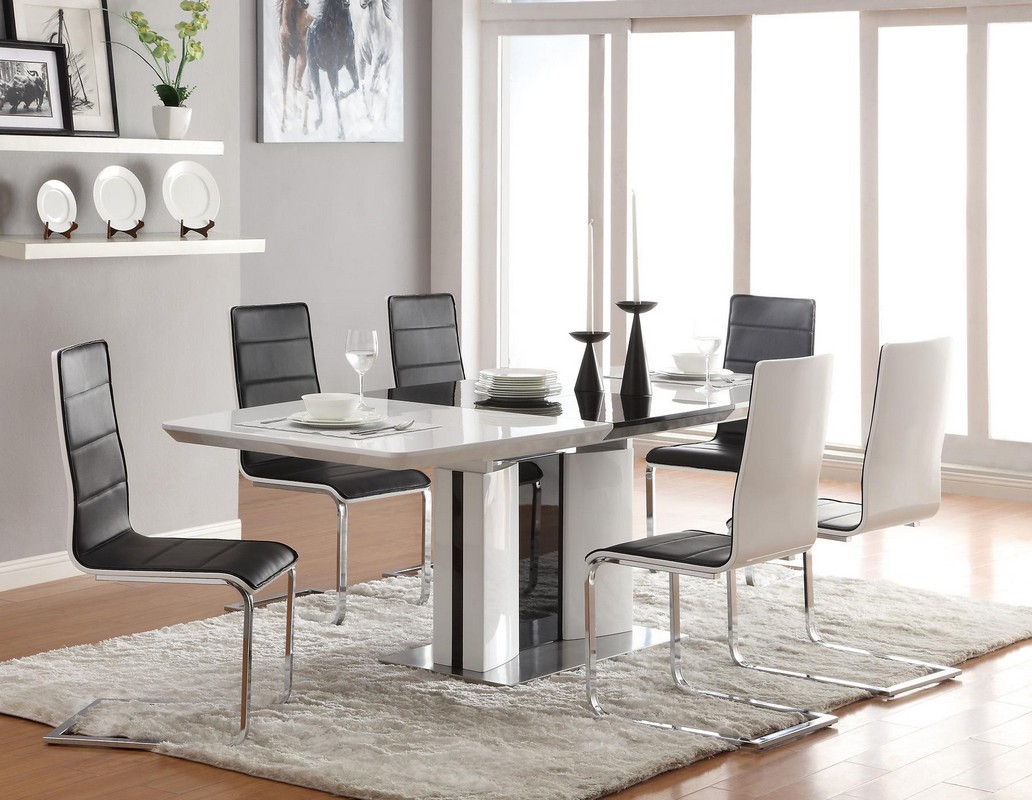 In a dining room with clear modernist elements, a simple white rug is the key element that makes all of the other pieces stand out!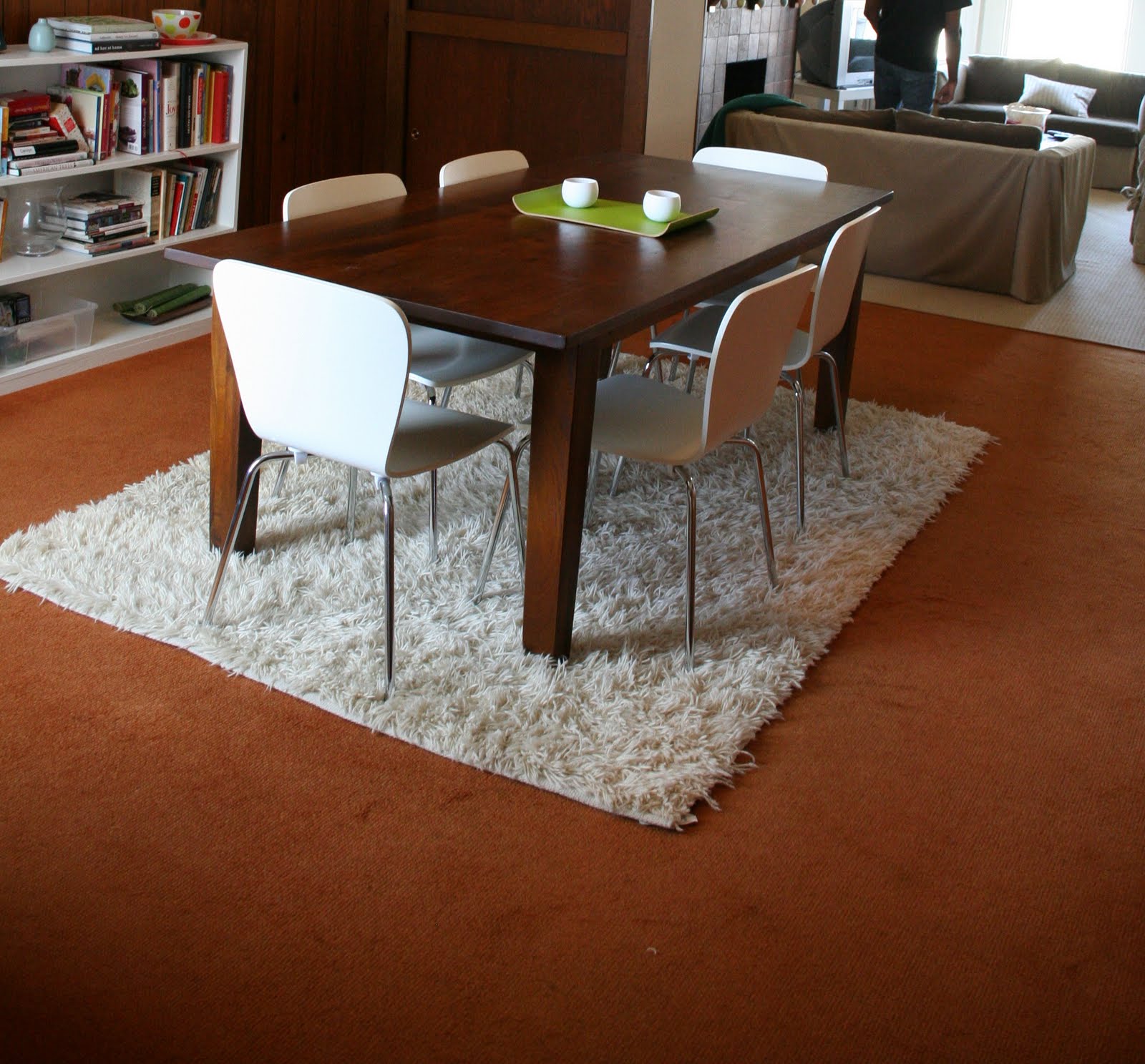 A rustic wooden table in a combination with contemporary white chairs creates a situation where two types of decor are nearly contradicting each other. A white ruffled rug is needed to tip the scale!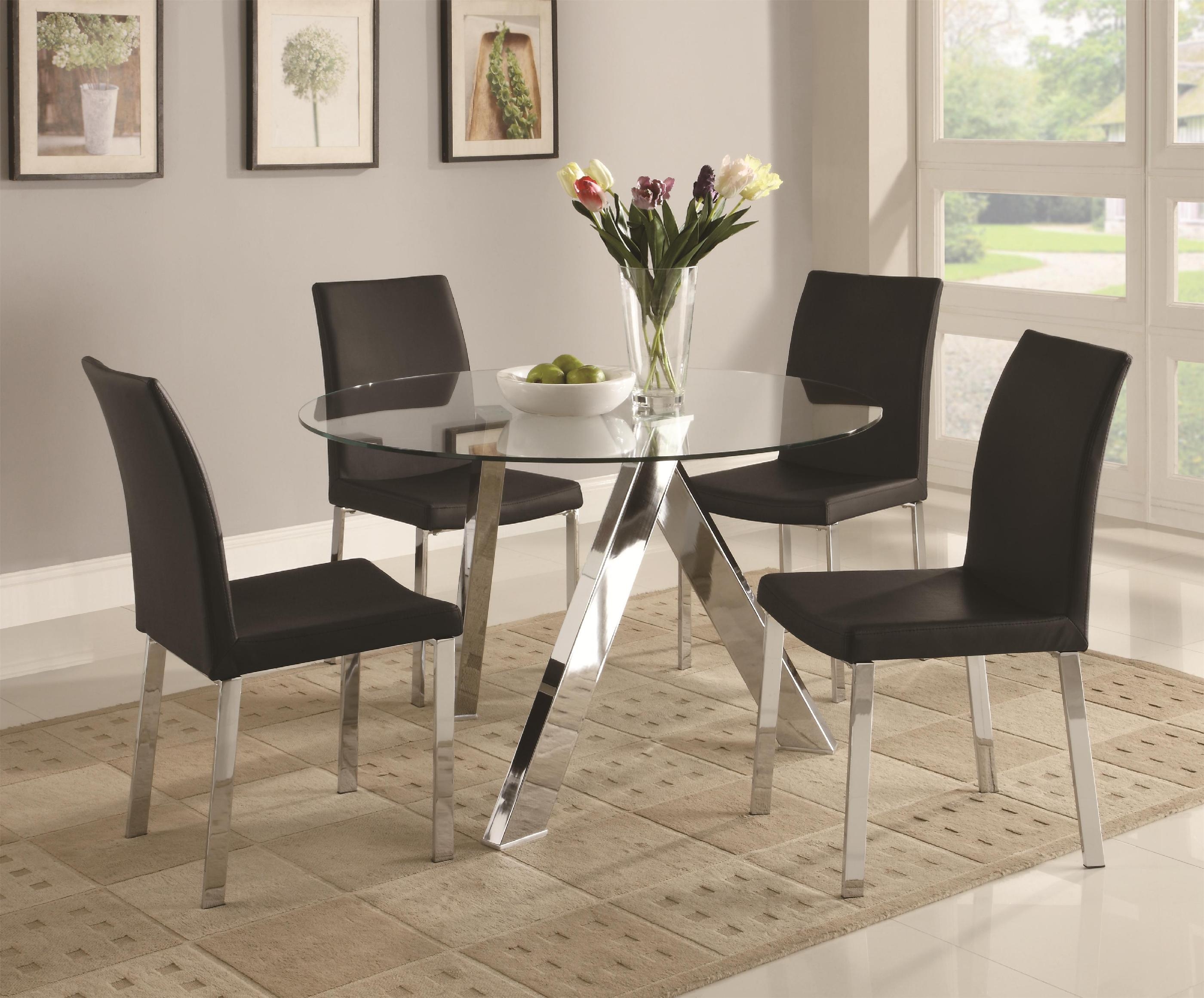 A round glass dining table with elegant black chairs gives a clear message of modern interior. These elements deserve to stand out, so let the rug take a backseat on this one and influence the space in a more subtle way.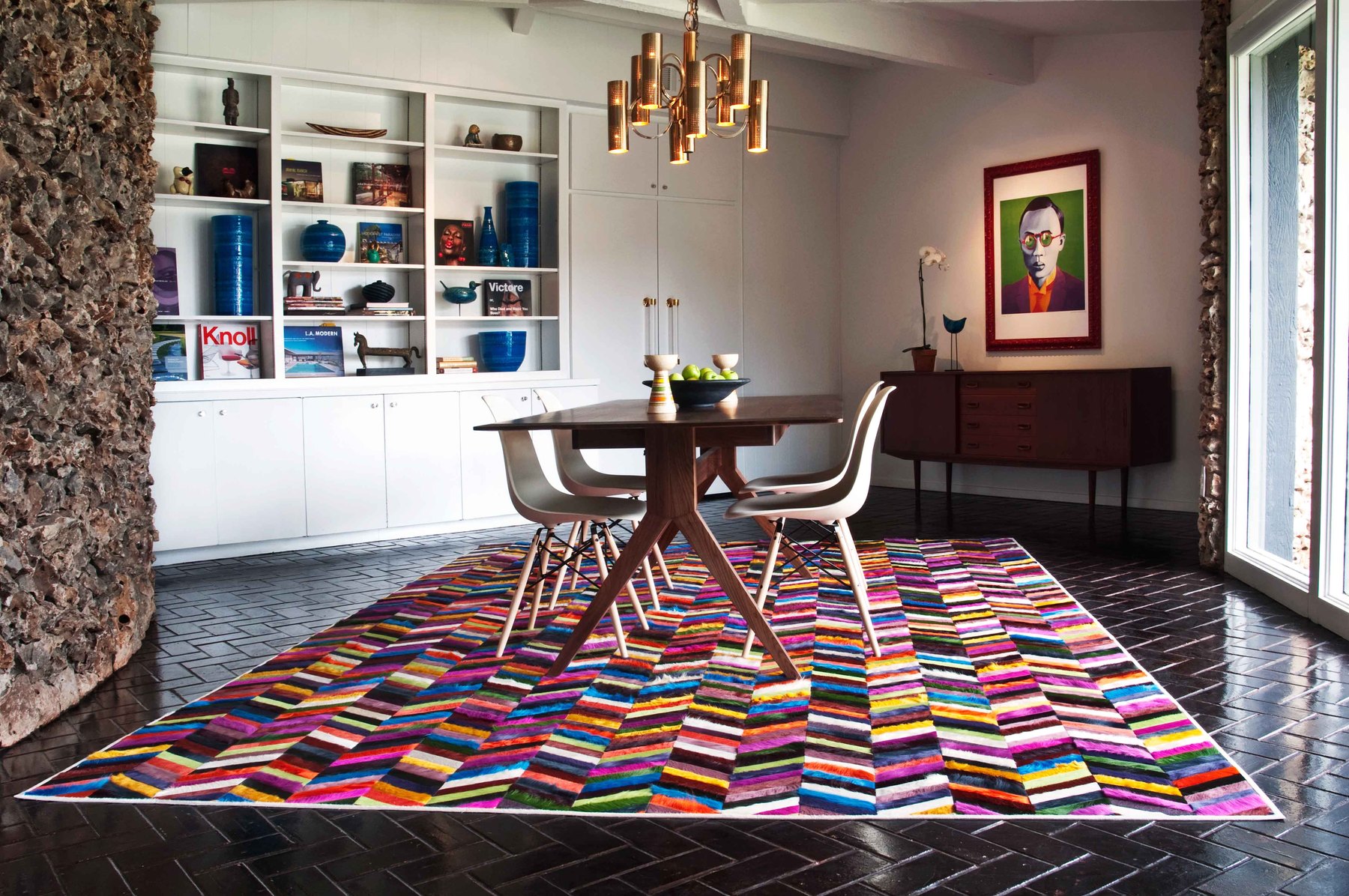 This rug is vibrant and alive, colorful and so full of energy! We cannot imagine a dull room with a rug like that and it is absolutely the greatest pick for a dining room that needs strong contemporary vibes!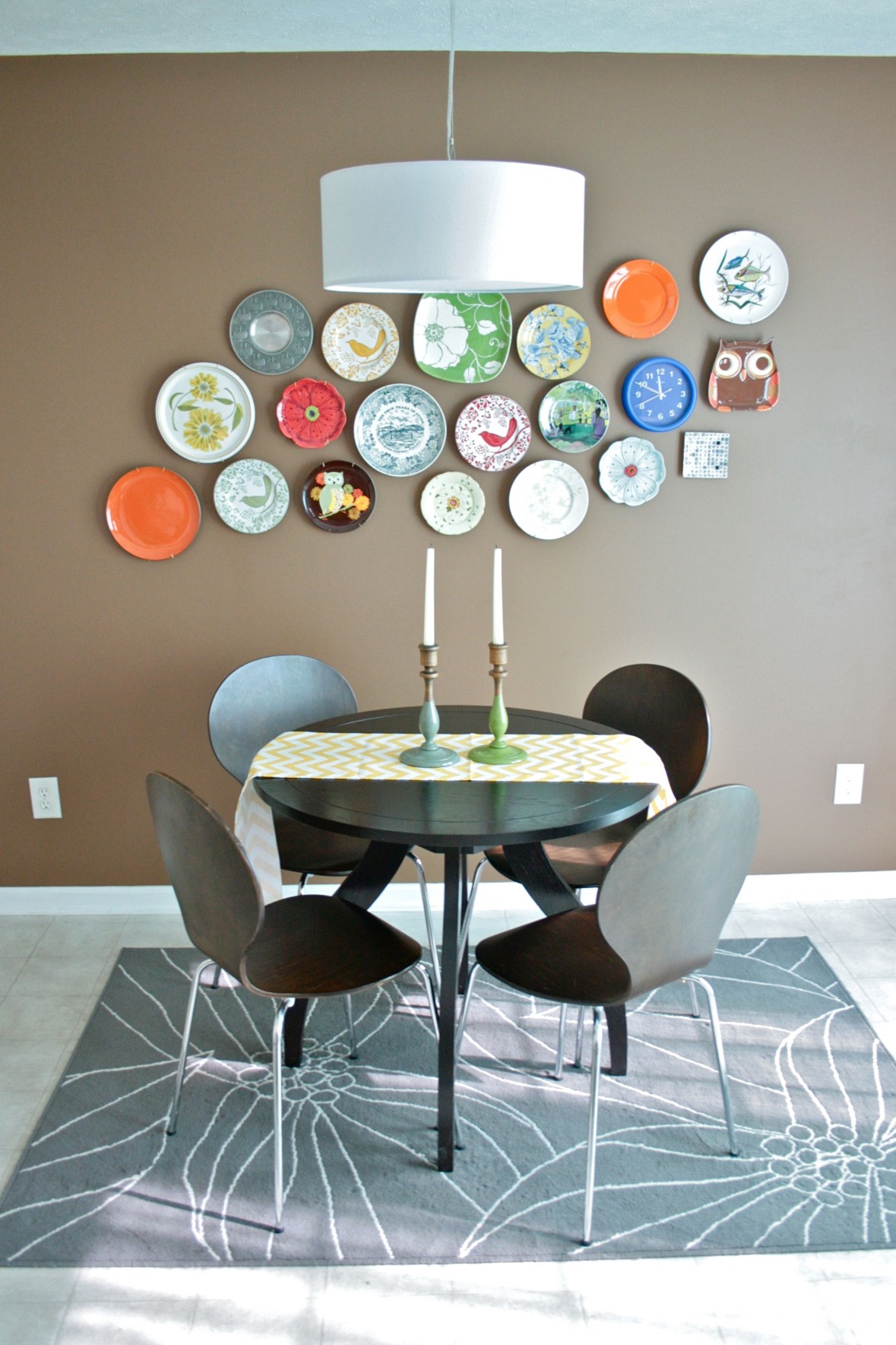 Sometimes the color is what steals the attention, but sometimes it's all about the pattern! Here's a rug that has a neutral color tone and a powerful pattern that cannot be resisted!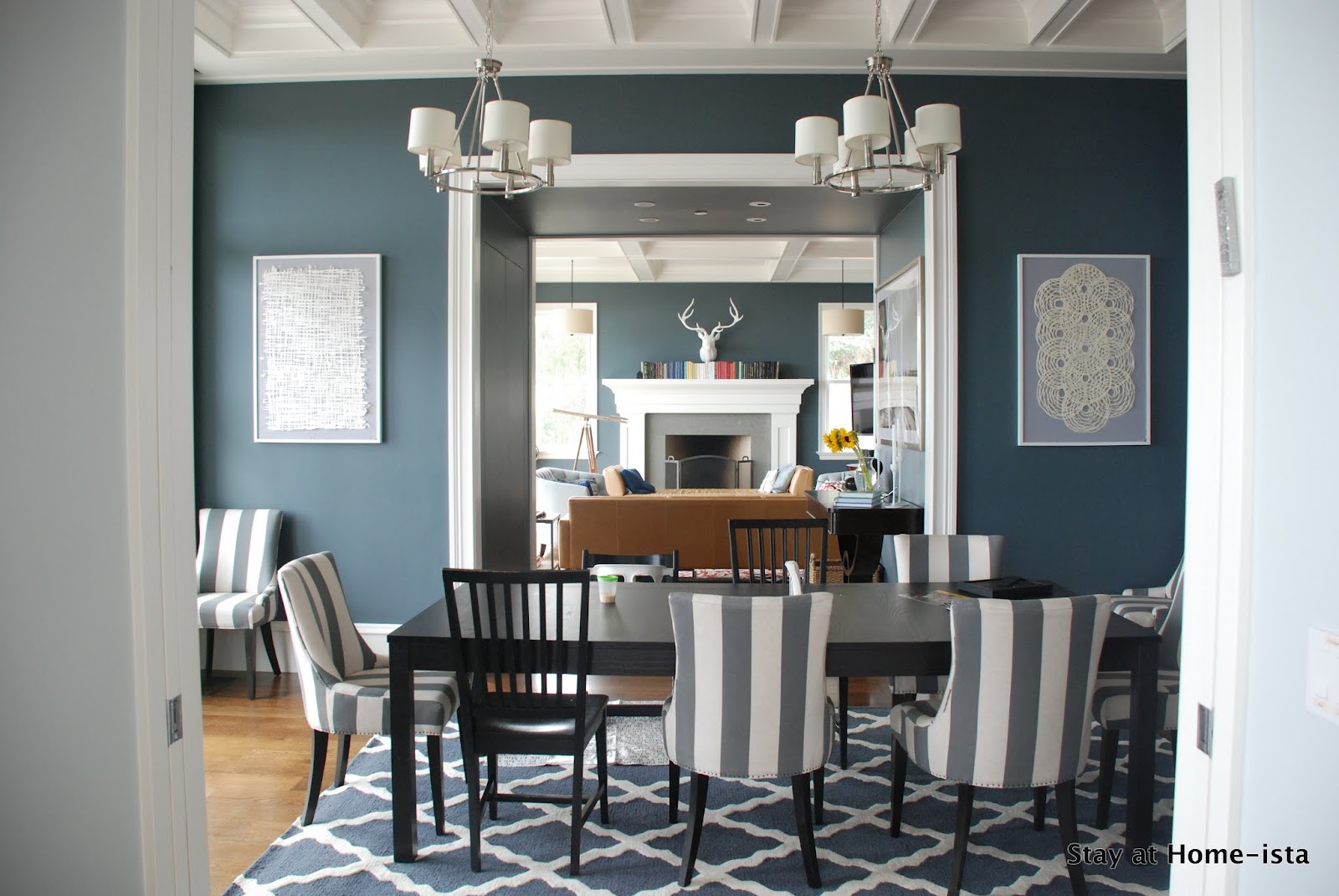 Mismatching the chairs in a dining room is the newest trend! Can your dining room rug stand the test of time? Pick a rug that is so interesting and unique that you won't have the time to worry whether it'll work together with the chairs – of course it will!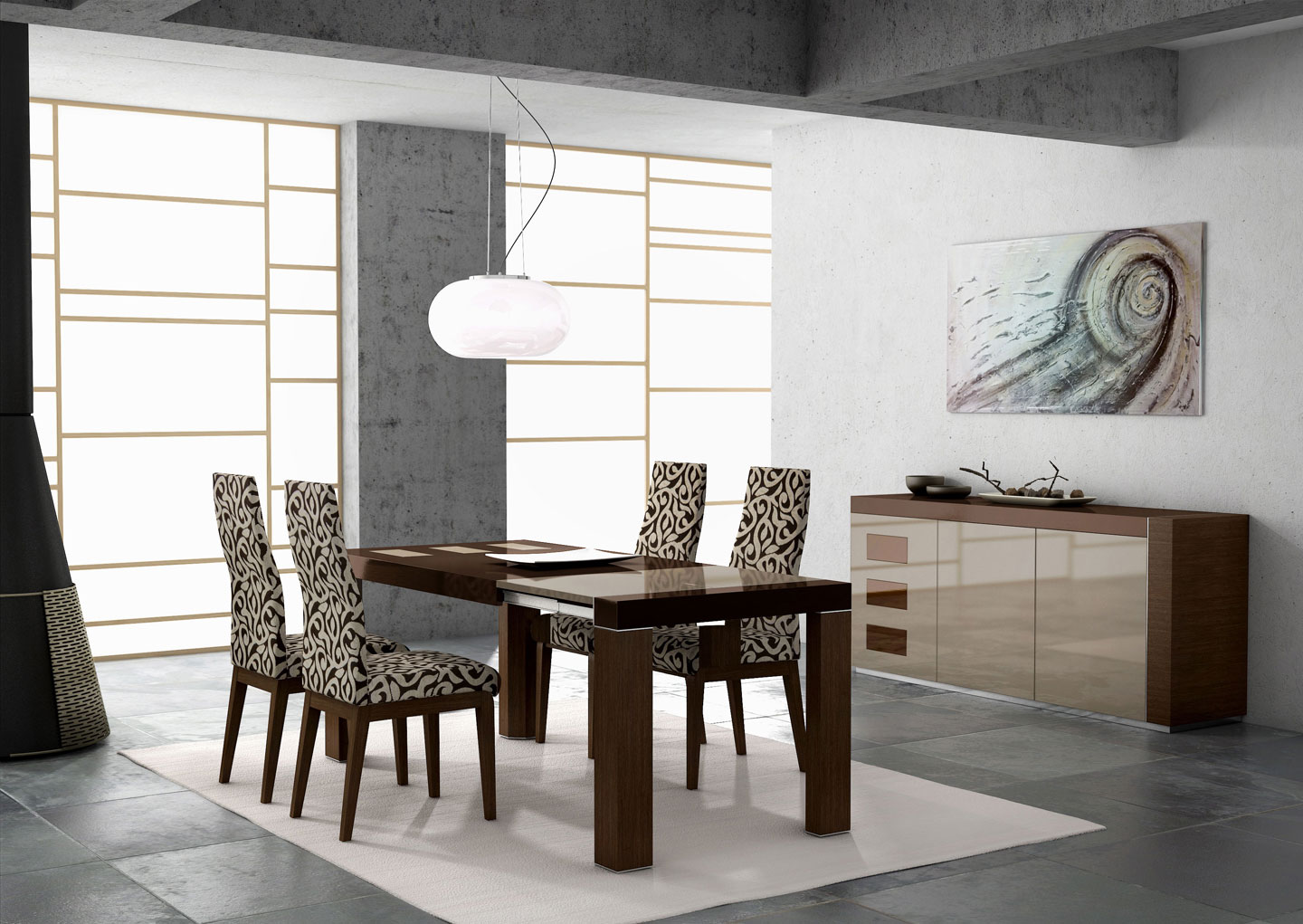 This is another example of how the most simplistic rug can strongly influence the entire room! Since the rest of the furniture already carries a strong modern component, all a rug has to do is let them shine!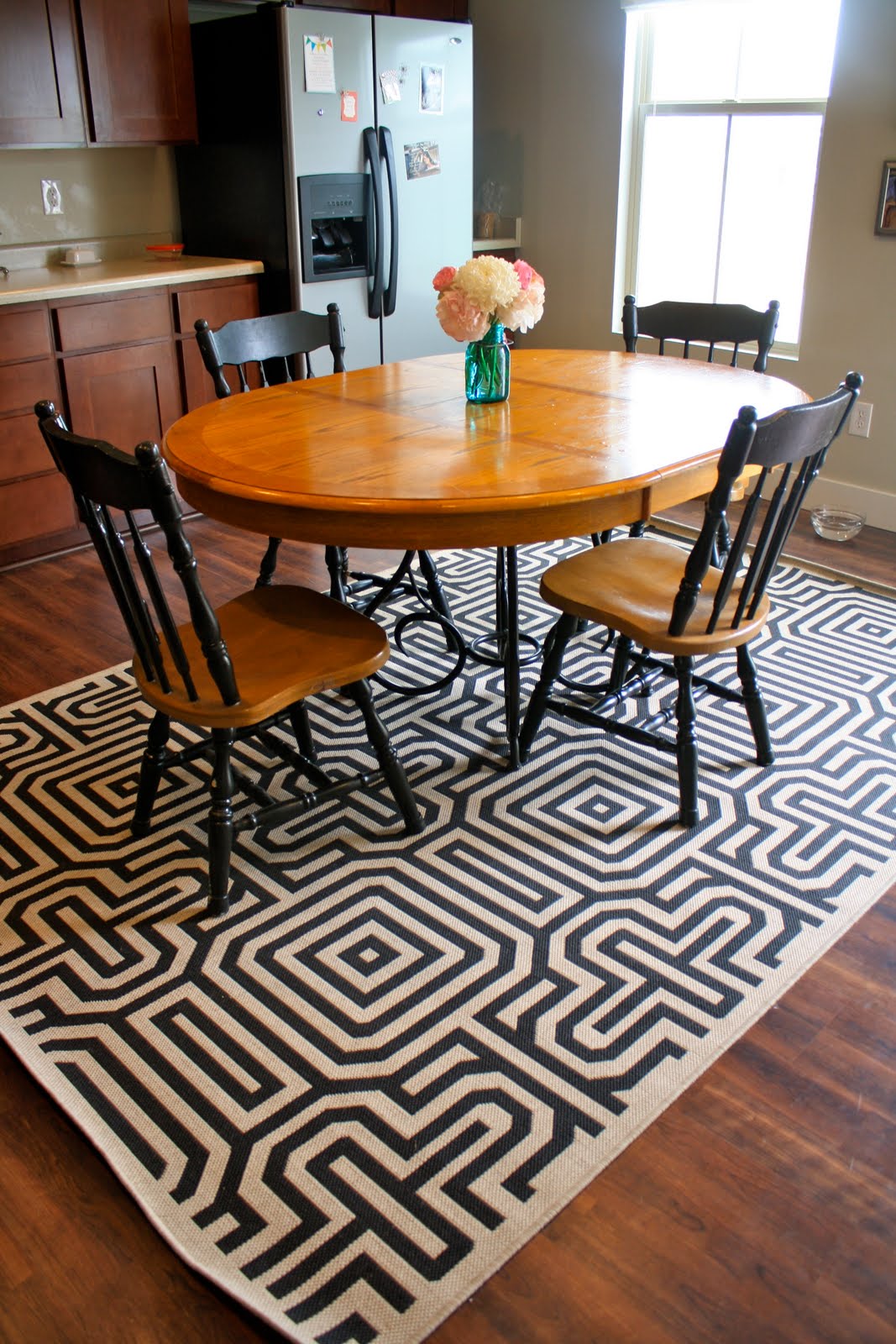 And to contrast the former example, here is a rug that brings life and vitality into an otherwise simplistic dining room. Its monochrome look and a unique pattern will both make sure your dining room never looks boring!
You're reading 30 Rugs That Showcase Their Power Under the Dining Table, originally posted on Decoist. If you enjoyed this post, be sure to follow Decoist on Twitter, Facebook and Pinterest.