Shopping for a round tablecloth? Today's post is for you! While many retailers carry tablecloths of the rectangular variety, it's not always easy to hunt down a round covering for your favorite table. Below we're sharing some of our top picks for round tablecloths, as well as plenty of inspirational photos to guide you as you select the perfect piece for your dining room, breakfast nook or patio…
Purchasing a Round Tablecloth
When shopping for a round tablecloth, choose a quality piece that's easy to clean. We're talking machine washable, folks! We love the classic look of offerings by Restoration Hardware. The three tablecloths that follow all come from Crate & Barrel, and their classic simplicity is hard to beat. First up: the Beckett Natural 90″ Round Linen Tablecloth, crafted from pure, natural linen: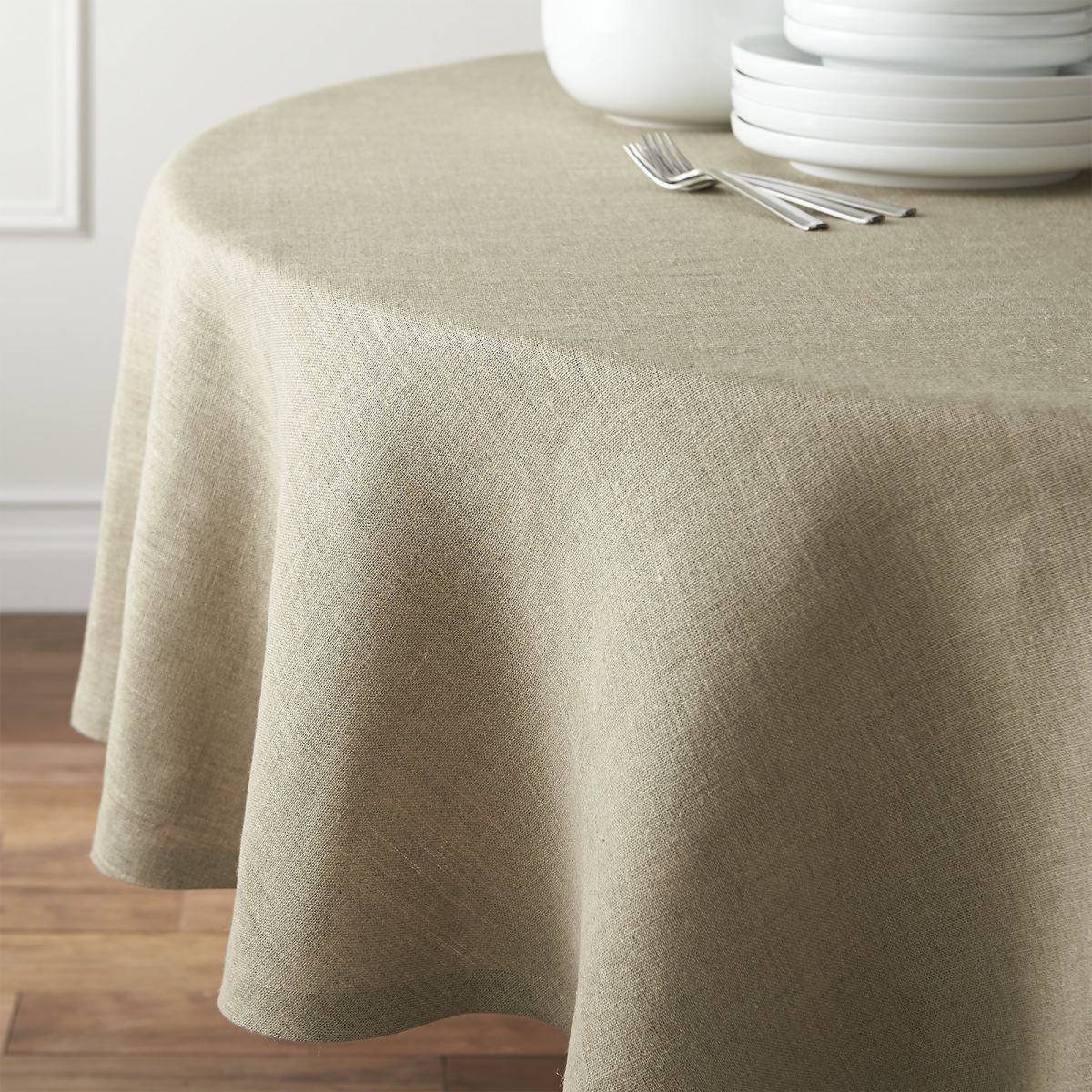 This Fete Pewter Grey 90″ Round Tablecloth is made from soft cotton, and the color beautifully offsets any vibrant meal you bring to the table! This one can even be thrown in the dryer if you tumble dry low: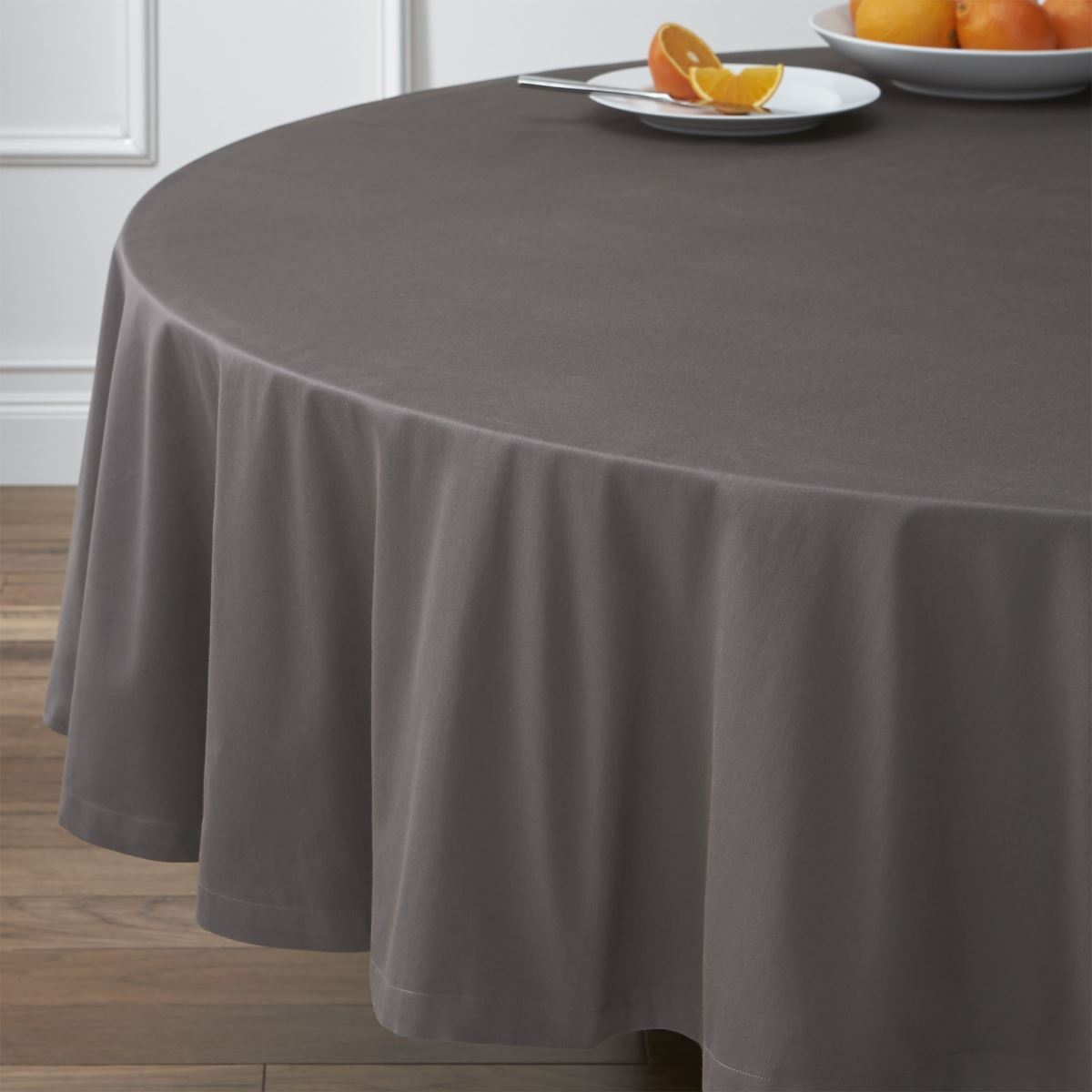 Another dryer-friendly piece: the Blue 60″ Round Umbrella Tablecloth. We love the way it can wrap around your umbrella pole, making it easy to place and remove. A 60″ diameter is an ideal size for many an outdoor table: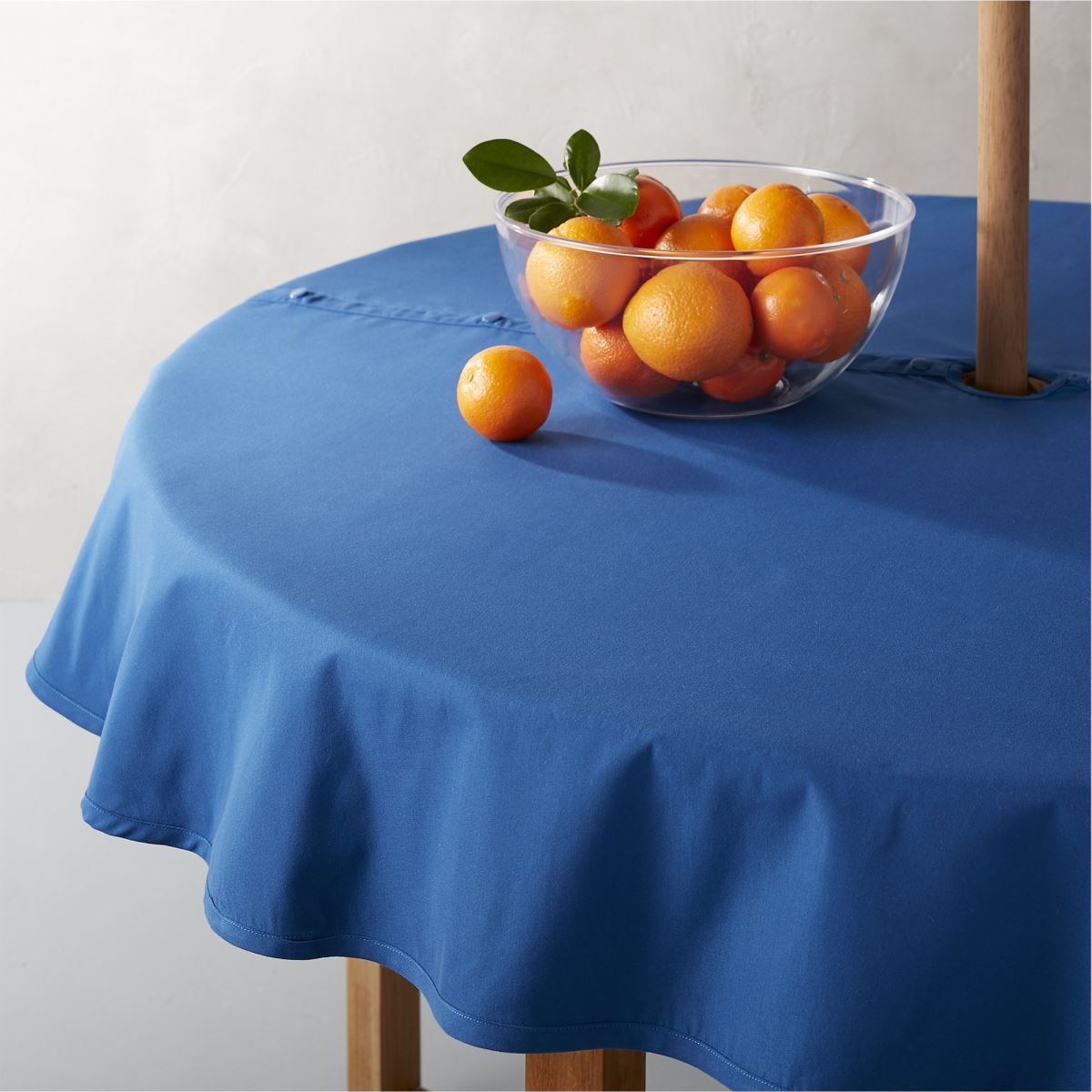 Our next two featured tablecloths come from Williams-Sonoma, and they bring a fresh dose of pattern to today's post. Say hello to the Berry Meadow Print Tablecloth in Blue, which has a diameter of 90″ and is sure to add Provençal style to the dining area of your choice: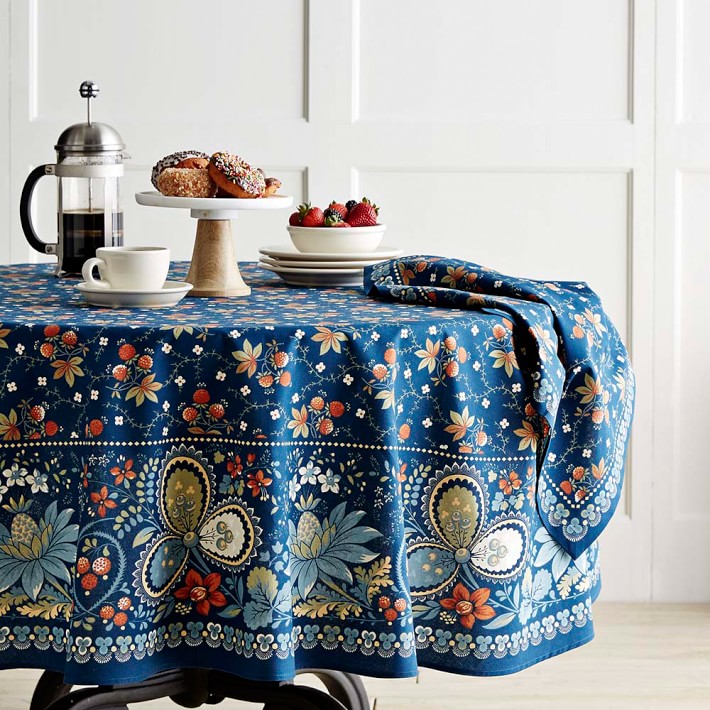 Another botanical piece with classic style: the Floral Blossom Round Tablecloth, woven in Turkey and available in grey and red (as well as blue). With fabric this soft, you just might be tempted to pick up all three…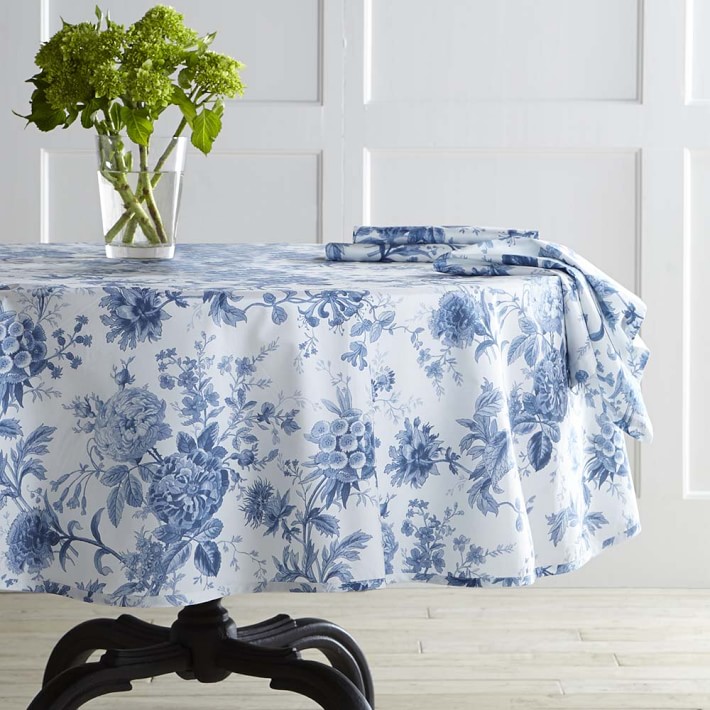 Custom Solutions
Looking for a specific style of round tablecloth that's a bit hard to track down? Don't forget the power of a custom solution. In fact, a little fabric paint can help you transform a light-colored round tablecloth into a true focal point for your dining room. Not feeling crafty? Another option: having a piece custom-made from the fabric of your choice, like this custom dotted tablecloth below. [photo by Jonny Valiant for Katie Lydon Interiors]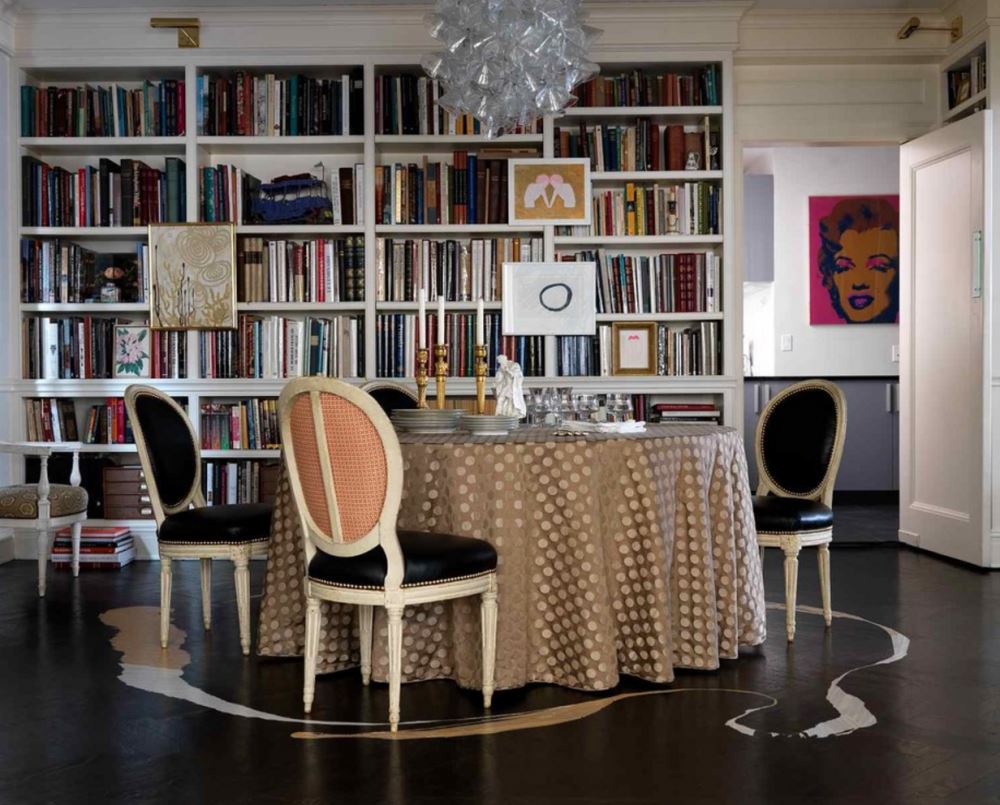 This eye-catching white tablecloth with black trim is a Crate and Barrel piece that has been embellished with grosgrain ribbon. The look is relaxed yet upscale. It's amazing how one simple addition can make such a big difference! [photo from Scot Meacham Wood Design]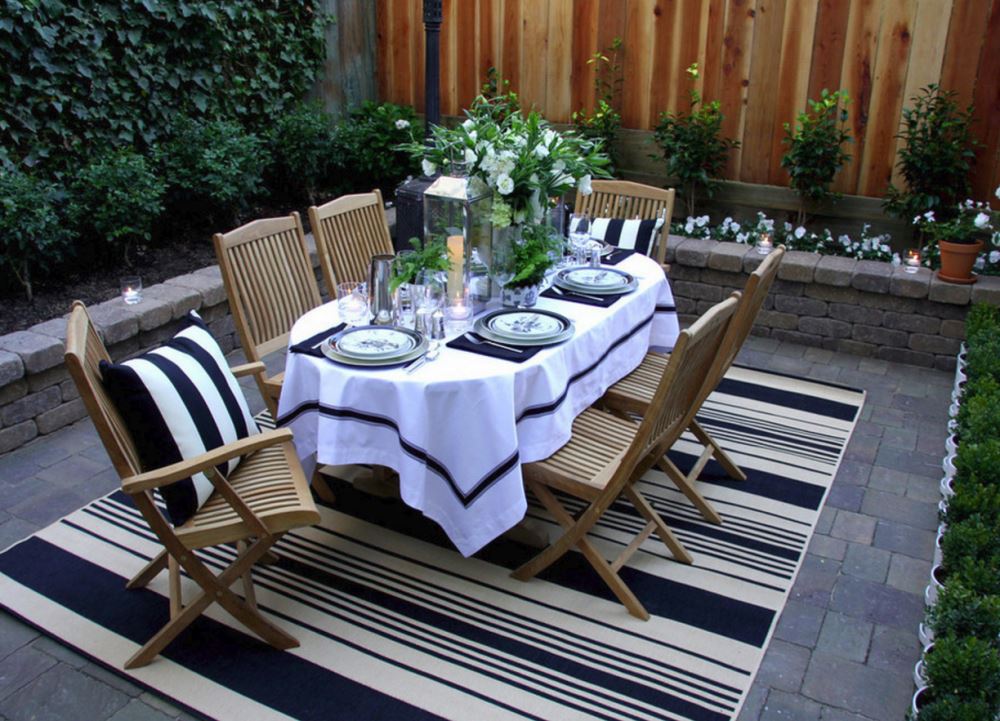 Tablecloth Styling
We now shift gears from shopping and customizing to design inspiration, starting with simple, crisp tablecloths in equally crisp settings. This dining area with a view is draped in neutral tones. A tablecloth in cream is a fitting choice for the space. [photo from Ryan Street & Associates]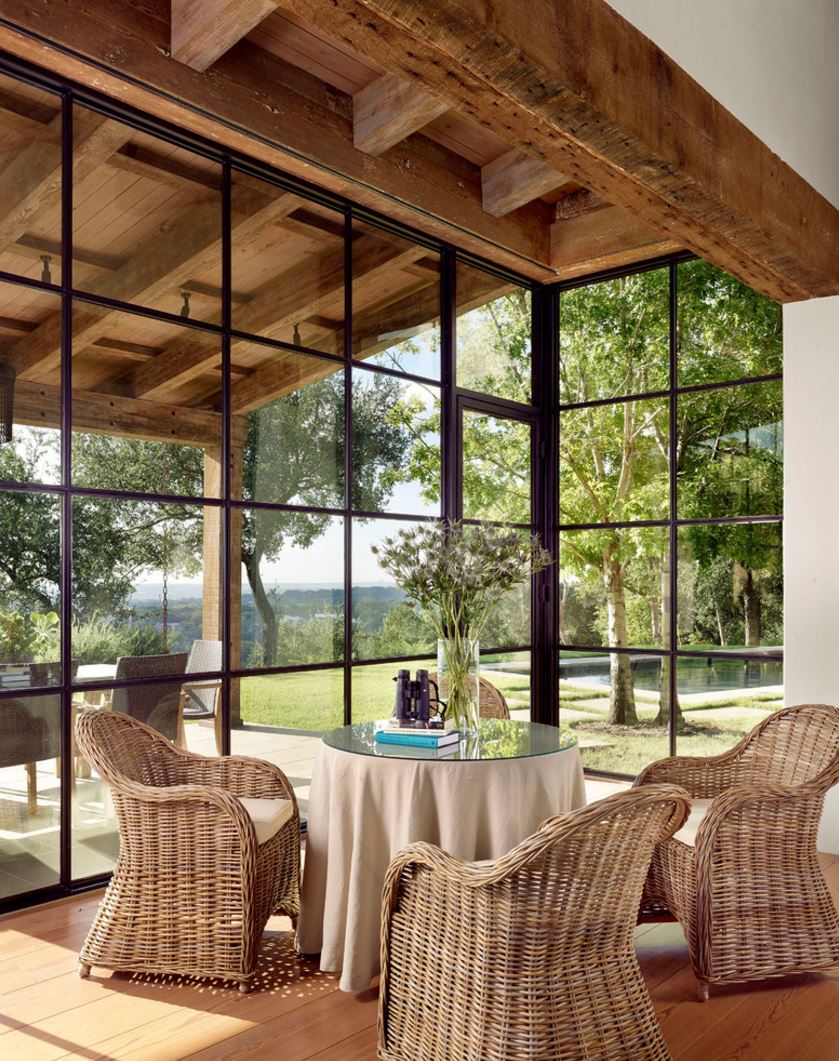 White is a calming force in this traditional dining area, and white seating combined with a white tablecloth creates a soothing, elegant feel. [photo from Lonny]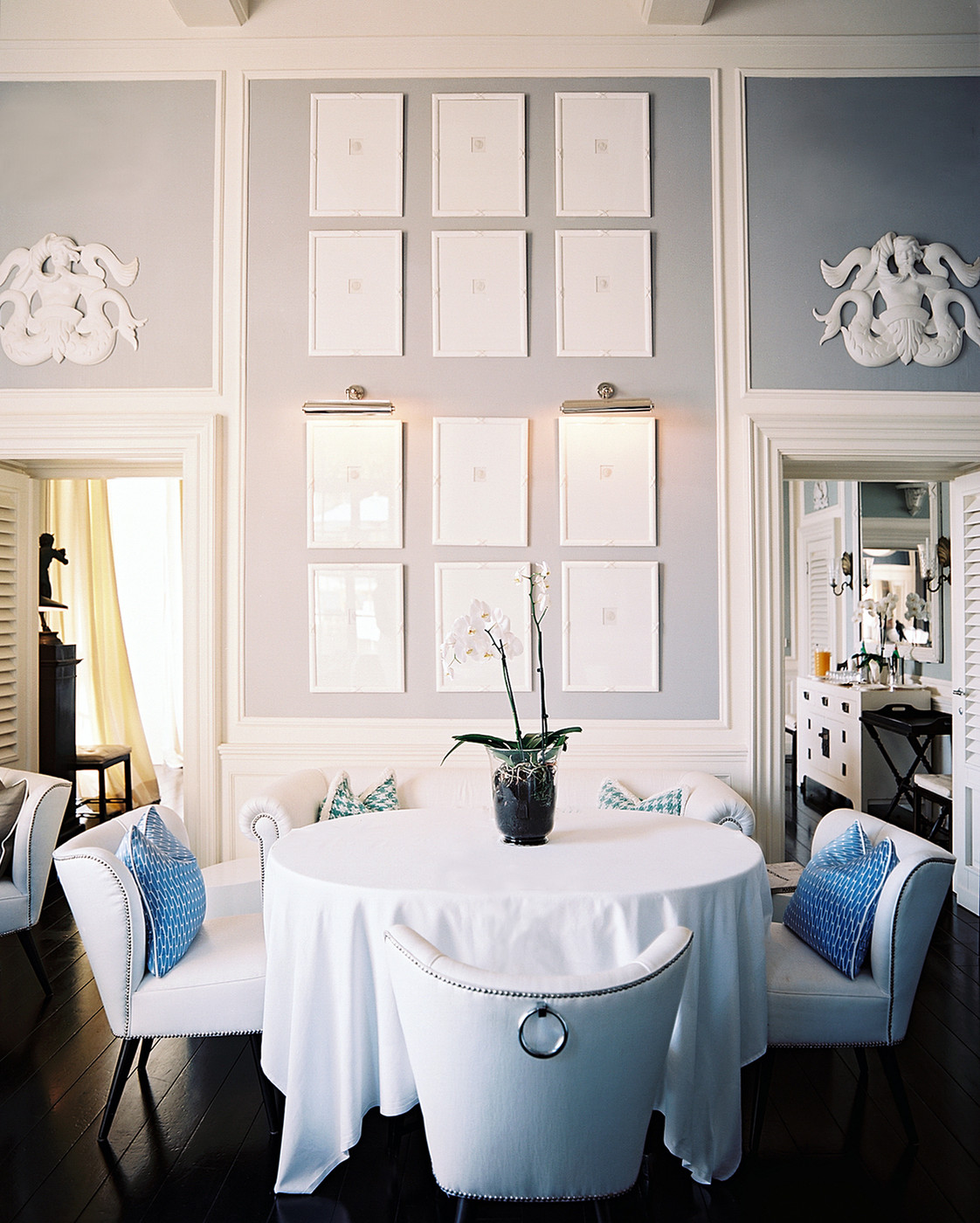 When a checkered floor is involved, a classic white-on-white approach is a stunning answer. Especially when the tablecloth is topped with a vase of vibrant flowers. [photo from Lonny]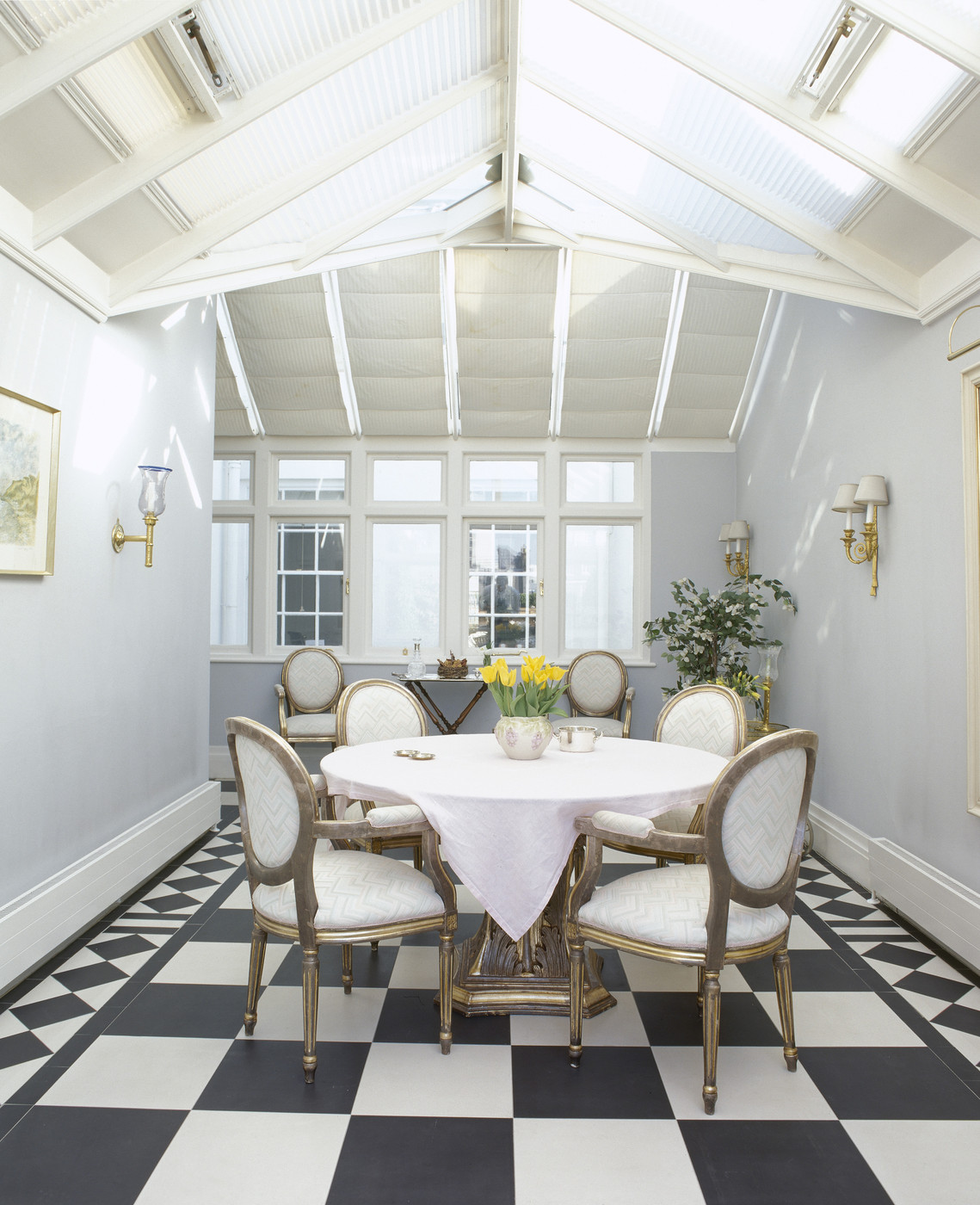 A white tablecloth can also evoke a sense of glamour, especially when reflective surfaces and crystalline shine are involved. White stylishly saturates the dining room below, in addition to icy flourishes. [photo from Lonny]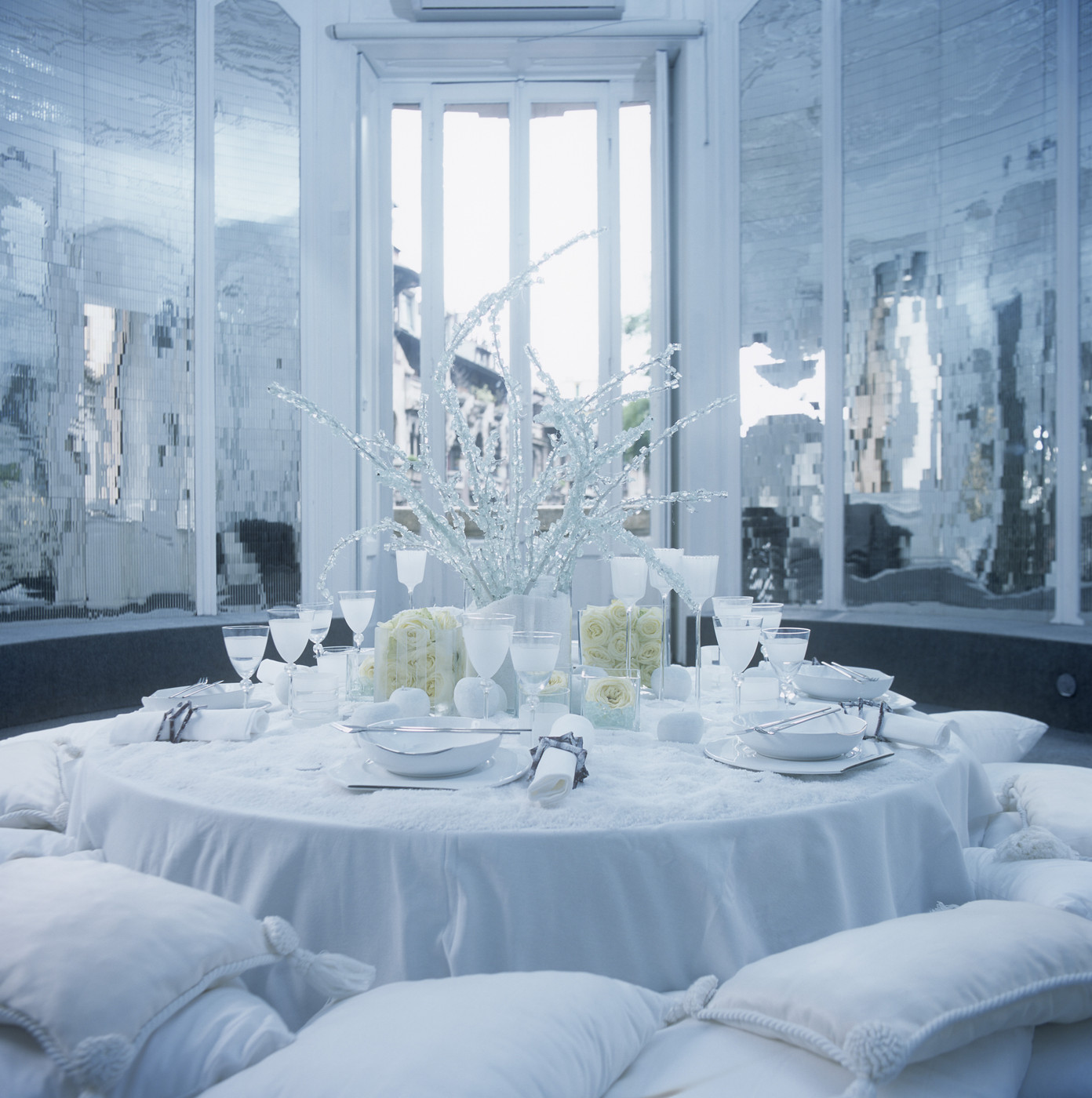 White is the summer-perfect choice for patio tablecloths, and when a blue grid is set against a pure background, the result is as fresh as a lemon slice! [photo from Lonny]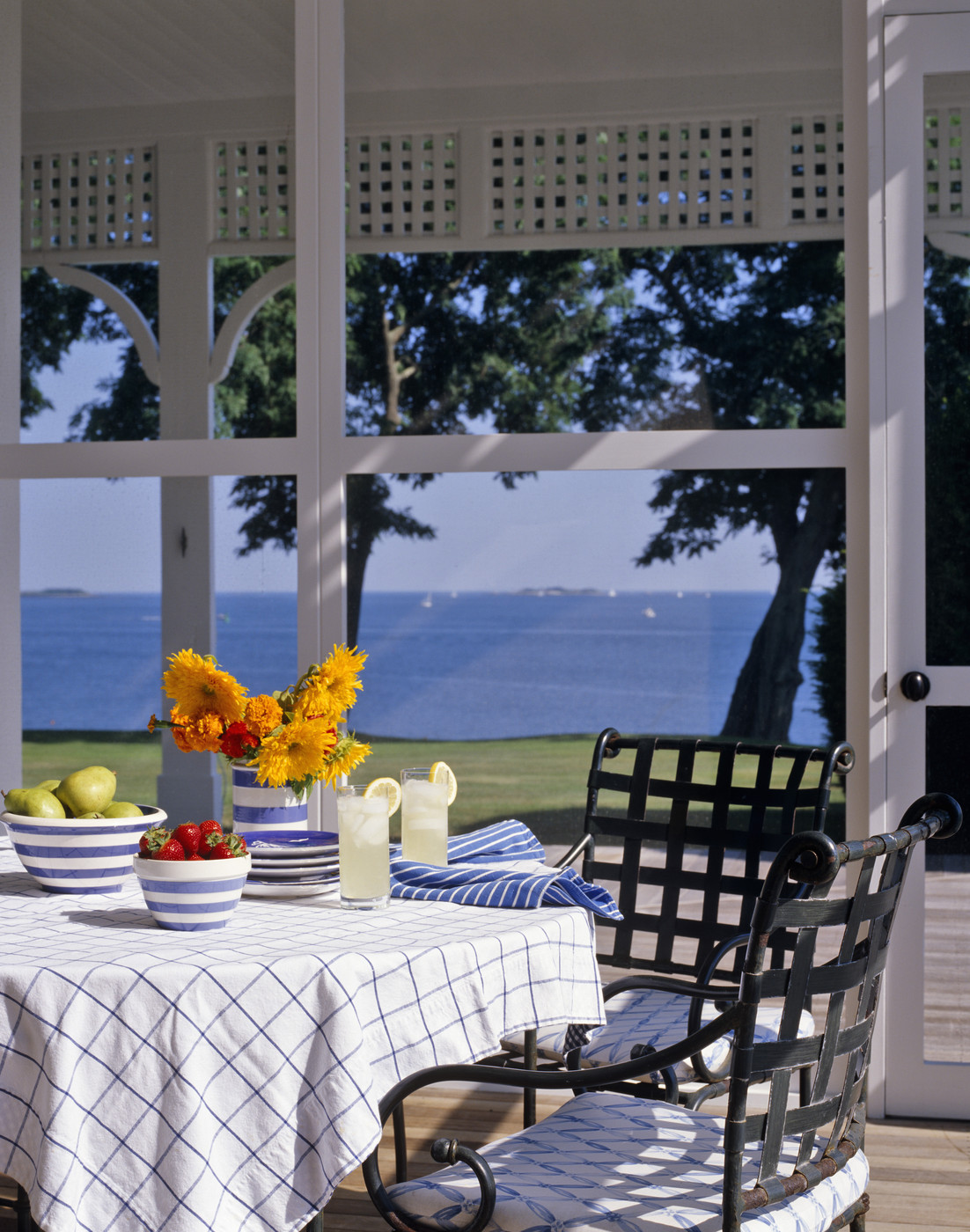 Round Tablecloths for Accent Tables
Round tablecloths aren't just for dining tables. In fact, there are many reasons to introduce a tablecloth into your living area as a covering for an accent piece, such as a side table. For one thing, it adds a dose of elegance, and it can cover even the most basic of tables, instantly upping the style factor. [photo by Ricci Shryock for Zoe Feldman Design, Inc.]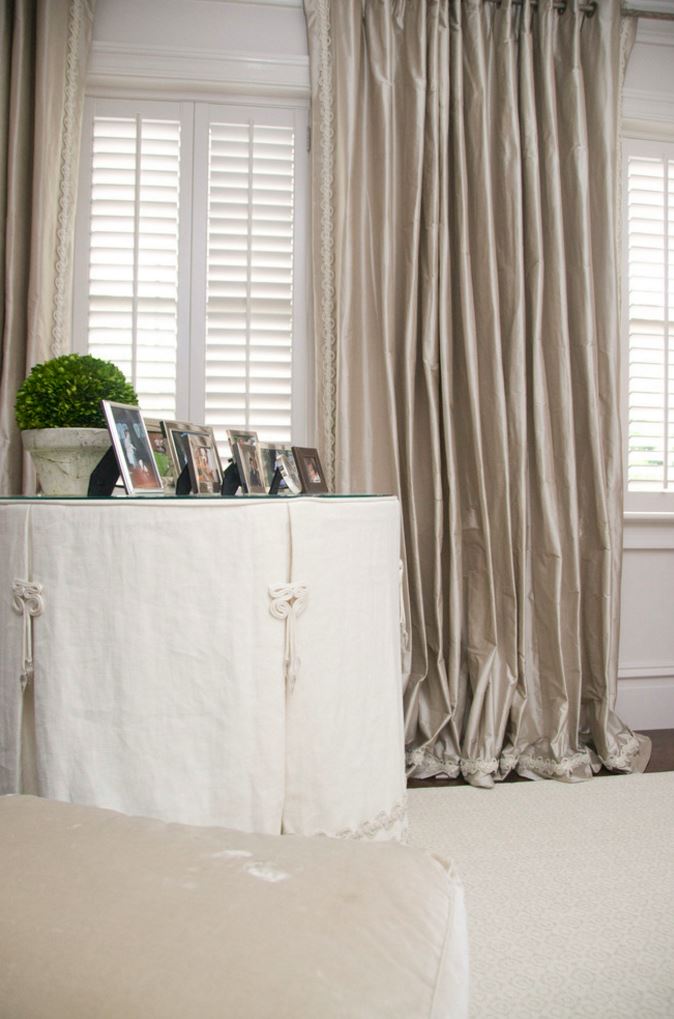 A tablecloth can also introduce an accent color into your interior, as shown by the blue and lavender living area below. [photo from Design House]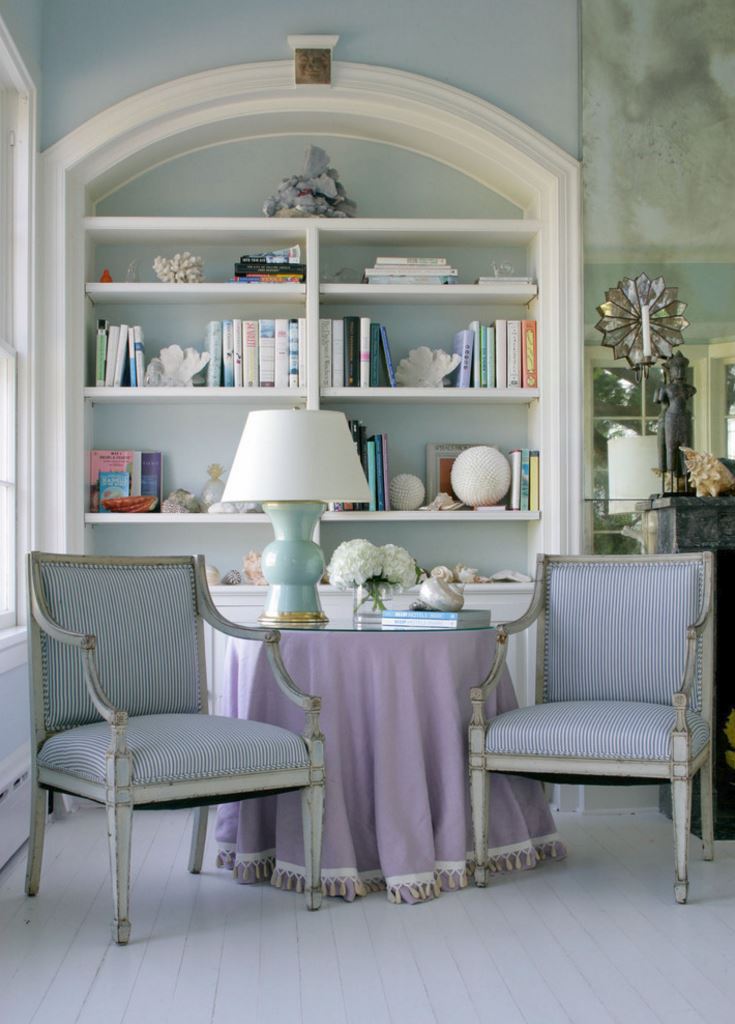 A tablecloth for a side table is the perfect way to introduce an element of pattern. Bring on the stripes! Or the florals. Or the checks. It's your choice! [photo from Brown Davis Interiors, Inc.]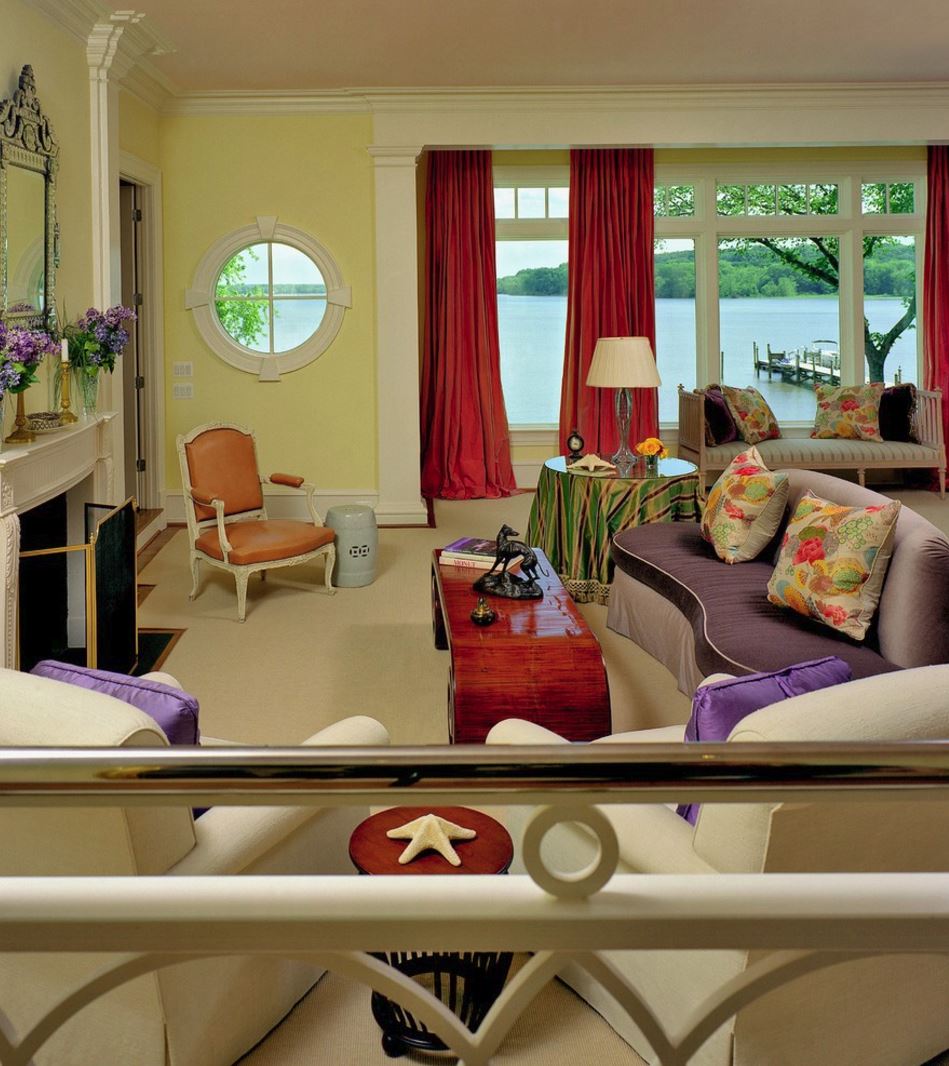 Vibrant Patterned Style
We end today's post by highlighting a top trend: vivid, patterned tablecloths for eclectic spaces. There's just something festive about a patterned piece, such as the floral tablecloth below. [photo from Alison Kandler Interior Design]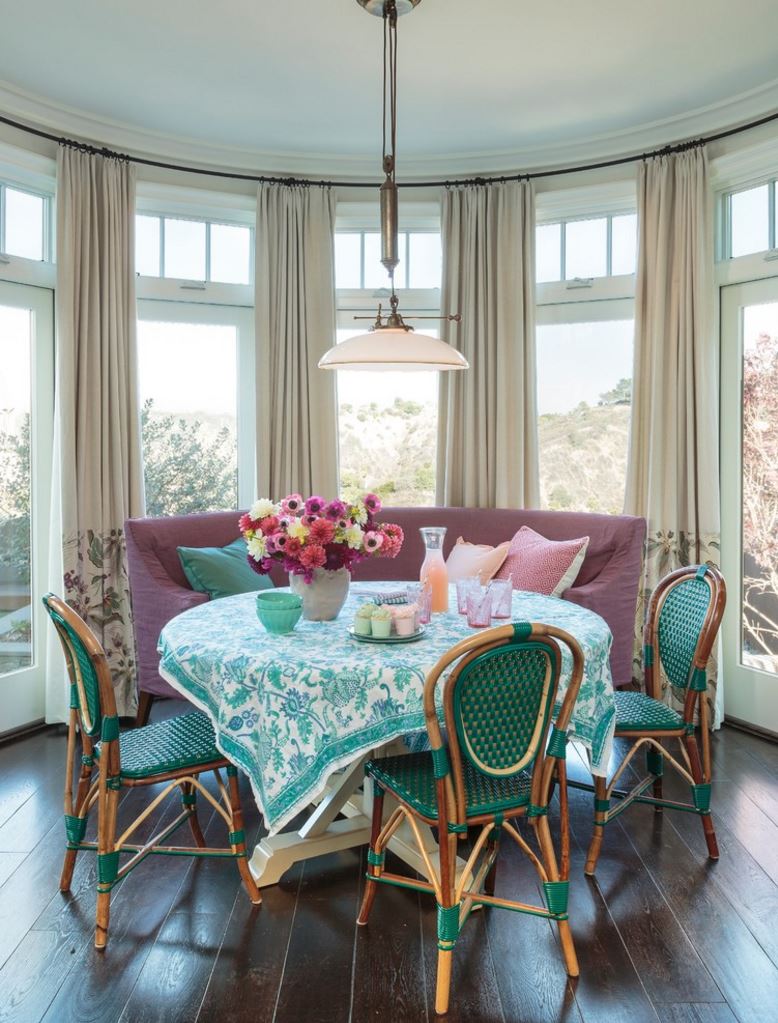 Turquoise, green and red are brought to this light-filled, charming dining room from Alison Kandler Interior Design, thanks to a floral tablecloth: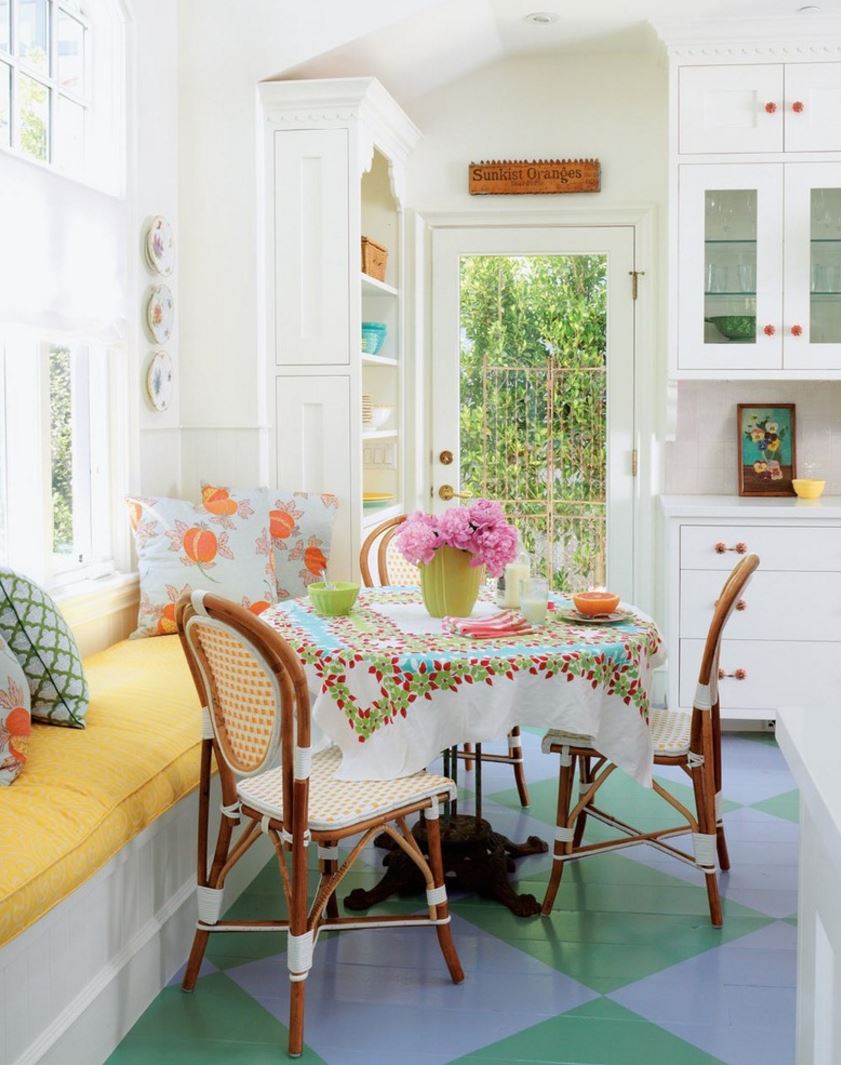 This vintage tablecloth from eBay is the perfect choice for a dining area that celebrates saturated color. Adding patterned chairs to the mix creates a truly eclectic feel. [photo from Design Manifest via Houzz]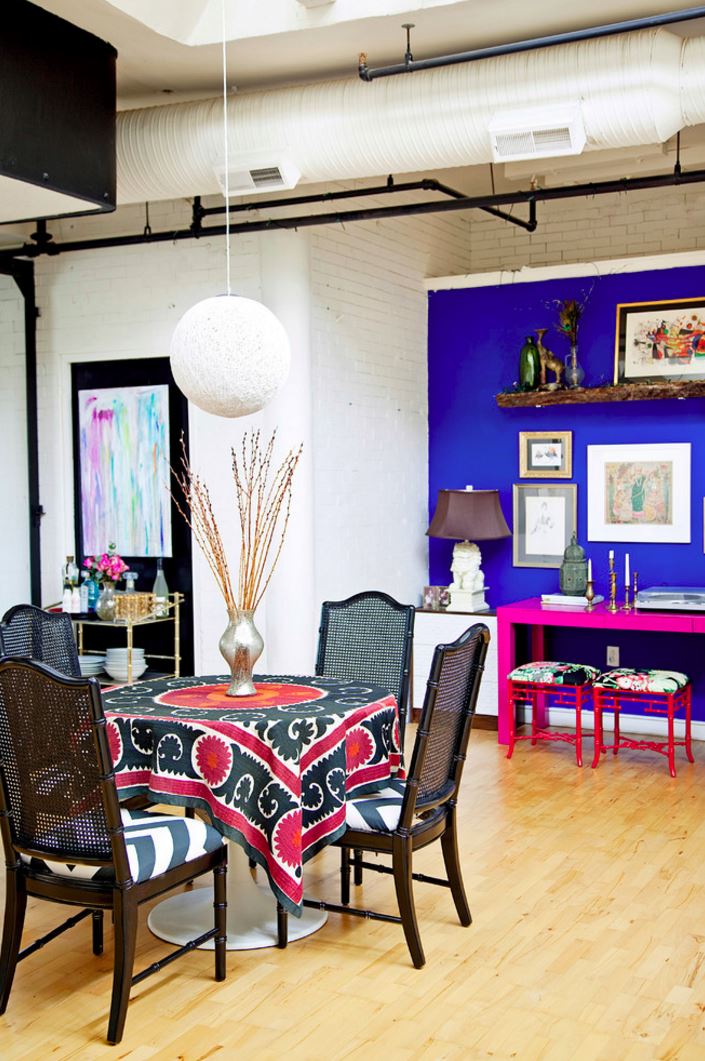 And what could be more fitting for a garden dining area than a colorful patterned tablecloth with floral motifs?! [photo from A Bloomsbury Life]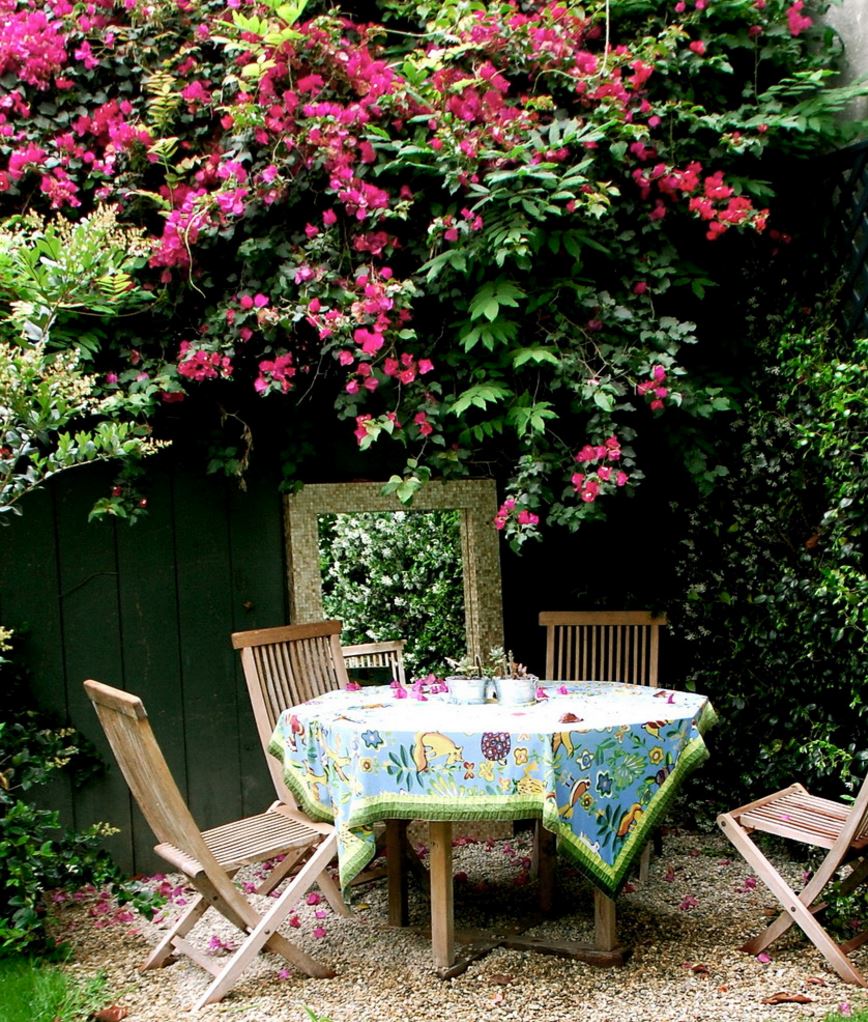 Will you be adding a round tablecloth to your interior or outdoor dining space? Tell us about your favorites from the post by leaving a comment below…
You're reading 20 Round Tablecloths for Summer Entertaining, originally posted on Decoist. If you enjoyed this post, be sure to follow Decoist on Twitter, Facebook and Pinterest.